Wellspring Harvest is a worker-owned cooperative that grows beautiful lettuce in our 1/4 acre hydroponic greenhouse. We're part of the
Wellspring Cooperative
  network of co-ops that seeks to build a more just, democratic and sustainable local economy by creating good jobs and wealth building opportunities in Springfield's under-served communities. As an employee-owned co-op, workers learn how to run their own business. As the business prospers, worker share in the profits and build wealth, helping to stabilize families and communities.

Sustainability
- This campaign will enable us to buy super efficient LED grow lights to maintain the pace of plant growth through the darker months of the year.
- Wellspring Harvest has turned a corner of a cleaned up brownfield - the Old Chapman Valve property - into a site of sustainable agriculture. 
- Our state-of-the-art hydroponic greenhouse uses approximately 1/10 of the water and fertilizers compared to conventional agriculture, and produces 10 times as much per square foot.
- The greenhouse keeps out many pests, but for those that do get through, we use integrated pest management.
- As climate change increasingly threatens field crops, our greenhouse enables us to control the growing environment.
- Wellspring Harvest is able to provide local lettuce all year round, cutting down on the food miles and carbon footprint of lettuce shipped all the way from the other side of the country. We harvest the day before delivery - you can't get much fresher than that.

Worker-owned Cooperative
Almost all of our workers live in the Springfield neighborhood of Indian Orchard. A couple of them were farm-workers and they can attest to the backbreaking nature of field work, as well as how much better it is to work in a state-of-the-art hydroponic greenhouse. None of the workers started with any familiarity with worker co-ops but all of them are learning how to run their own business and work together cooperatively.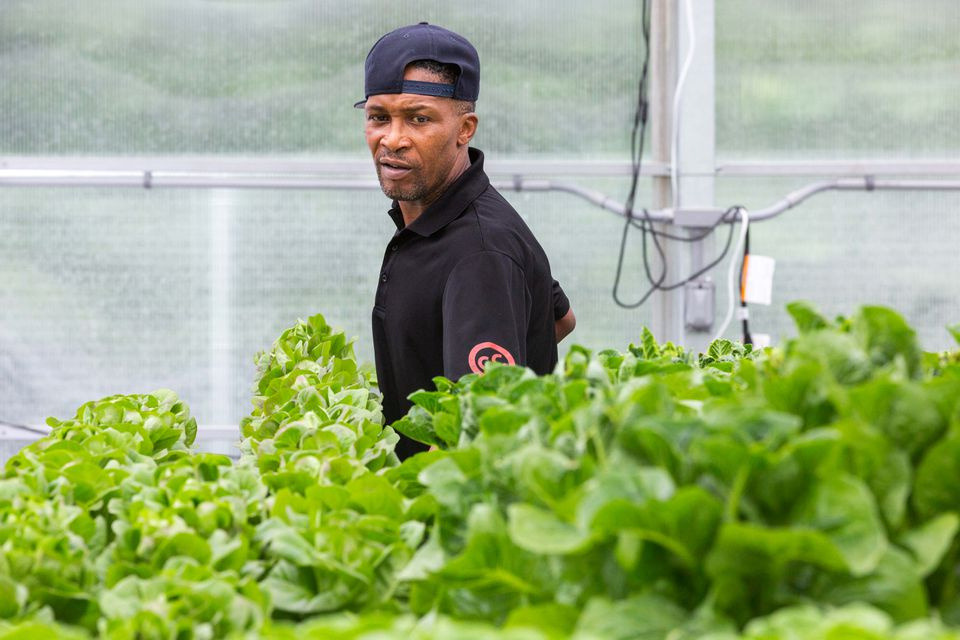 W
orker-owners Clive Ndlovu and Migdalia Garcia
Learning to work together and manage a business is challenging. It takes time, attention and training, which ranges from the business of growing, harvesting, packaging, and marketing a great product, to learning how to communicate, give and take criticism, and work through interpersonal friction. We also have trainings on our broader mission to contribute to healthier, thriving communities. At Wellspring Harvest, we're not only about growing lettuce, we're about growing people and communities.
Community engagement
Wellspring Harvest is working in the community to address food insecurity and to promote urban agriculture and sustainability.
- In the last 6 months, we donated 1,000 lbs of lettuce to the local Survival Center. We hear that fresh produce is a very welcome addition to the usual distribution of canned goods.
- We supply the Springfield Mobile Market that gets fresh produce out to the city's food deserts.
- In November, we will launch a free, healthy lunch program for seniors in partnership with the Indian Orchard Library and Yaad Food - Jamaican Restaurant.
- The Wellspring Harvest (WH) Community Group has organized a number of workshops on urban agriculture, sustainable energy, and healthy eating. 
- The WH Community Group is currently working with the IO Library and the Indian Orchard Citizen's Council to develop  community gardens. We built two raised beds at the IO Community Center. In the spring we'll plant greens, cherry tomatoes, beans, herbs and flowers that will be free for the taking - a demonstration of nature's abundance as well as the value of sharing.
Lights!
Wellspring Harvest just celebrated our first year of operation and we're happy that our sales continue to expand through local stores, hospitals and colleges. It's been a year to celebrate as well as to learn from.
WH Board member Zaida Govan with worker-owner Alicia Brown at our 1st Anniversary Celebration
One of the things that we learned is that our survival depends on supplementing our existing lights with energy efficient LED lights throughout the whole greenhouse.
As the days get shorter, plant growth slows down and without the lights we won't be able to keep up production at a pace that meets our customers' demand. The total cost of the lights and installation is $100,000 and we have raised half of this already. We need to raise another $50,000. Each LED light panel costs $320, so with the money we've raised so far, $160 will cover the cost of one light.
All donations are tax deductible

.
Please help us reach our goal so that we can continue to provide healthy, local lettuce all year round, reduce food miles, sustain good jobs and workplace democracy, and help our local community to thrive.
Thank you!
Fundraising team: Bright Lights (6)
Wellspring Cooperative 
Organizer
Raised $3,320 from 11 donations
Ludlow, MA
Eric Fedus 
Team member
Raised $40 from 1 donation
See all