Hopeless: A Star Wars Story Film
Hey gang! Please read this entire posting, and watch all the videos, and check out all the resumes of those involved. Everything is presented in full for your consideration.

John Armijo here. Last month we did a fundraiser to start production on our first short. Our goal was $1000, and we raised $1050. HUGE thanks to everyone who donated!

We originally planned on 3 days of shooting, which then grew to 4. At this point we realize that due to the scope of this project, we need to double our shooting dates, and gives ourselves double the time to do it, to create the BEST short possible. 

We're off to an awesome start, and are fully funded through July, 2017 from our first fundraiser.  Below is some of the footage we've already shot, to give you an idea of the 4k quality content we are capturing on 2 Panasonic cameras.  We're an all volunteer cast & crew, and everyone involved has graciously donated their time, talent, skills, gas, mileage and hotel stays, but there are some expenses that will come with an additional 4 days of shooting that we're asking for help with, IE taking care of everyone on set, and any unexpected challenges that come up, which come up on ANY production :)

Take a look at everything presented here, and see if it's something you'd like to support! We'd certainly appreciate the help  :)


4 minute compilation of footage. Turn up your speakers.


        Opening crawl of Hopeless: A Star Wars Story

                                       HOPELESS: FX TEST





Every donation will receive a 'special thanks' in our credits, and a digital copy of the finished product.

Any donation over $50 will receive a signed 8x10 glossy or 11x17 poster, as well as a 'special thanks' and digital copy.

Any donation of $100 will recieve all of the above, plus a producer credit.

Any donor is welcomed to join us on set at any time to hang out, watch, or even hold the boom mike! 

Our film is directed by Mike Anglin, check out his resume here: Mikes IMDB page. 




The role of Rebel Commander Gathgoran, is played by the talented Nathan O'Neal Smith. You can see his impressive resume here: Nathans IMDB Page. 




John Mangus plays the role of the prestiguous Imperial Commander. I've worked wtih John for years, and he's beyond talented. He brings the character to disturbing life! You can see Johns resume here: Johns IMDB Page. 




Next up is Jason Stanly, another wonderful actor from Baton Rouge. Jason plays the role of Lt Ruiner. You can check out Jasons resume here: Jasons IMDB Page. 




John Armijo, writer & producer also appears as the awestruck stormtrooper. Hamming up the screen with his long time "movie cop" John Mangus. You can see Johns resume here: Johns IMDB Page. 




We have Kerry Kelly Gridley starring as Resistance Commander Brady. A tough as nails soldier ready to accept the challenges before her, and kick some butt. Kerry is a well know, and VERY in demand local actress. We're beyond pleased to have her involved with this project! See Kerrys resume here:  Kerrys IMDB page 


Finally, Brian Held Jr stars as the man in black himself, DARTH VADER. Brian is the host  of "The Week in Geek" on 99.5 FM, WRNO, New Orleans. You can see Brians resume here: Brians IMDB Page. 




The BIGGEST stars of this production however are the members of the 501st Legion. We are beyond blessed to have participants from LA, MS, AL and FL.  Star Wars enthusiasts who loved the script, and wanted to get involved to help bring the project to life. We simply would have never attempted this without their help, and are beyond blessed to have them on board, and to call them friends.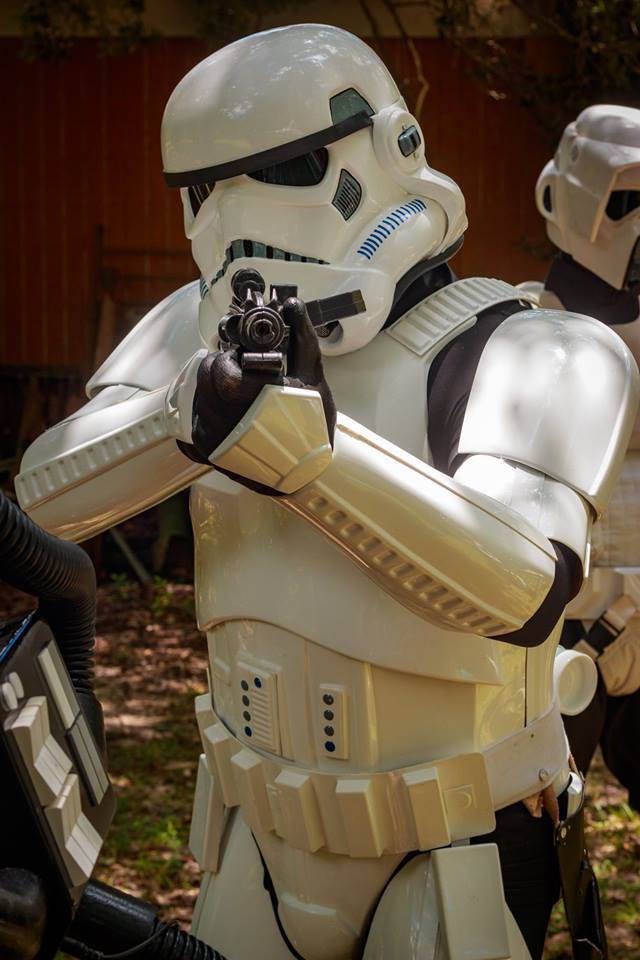 Organizer