Suzanne Whang's Ta-Ta to the Third Tata!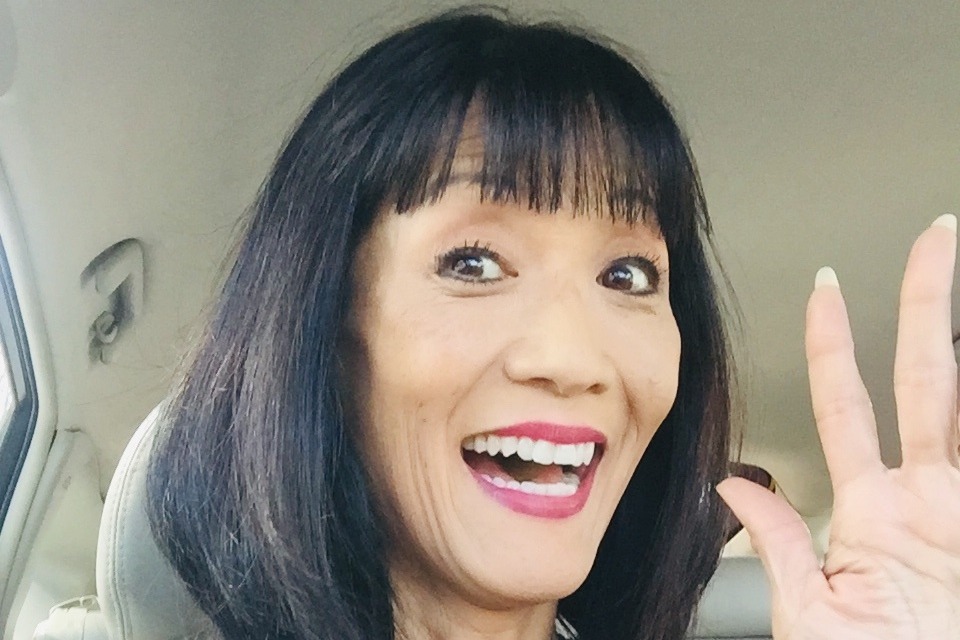 UPDATE 6/23/19
Suzanne Fuckin' Whang's "I'm Still Alive!" Fundraiser
Wednesday June 26th
7:30 pm
The Whitefire Theatre
13500 Ventura Blvd.
Sherman Oaks, CA  91423
Let's start with the good news.  I'm still alive!
It's been a wild ride since the last fundraiser.  Instead of graciously going away, Felicia (the sternum tumor) started growing by leaps and bounds, and I really thought I was on my way off the planet.  But since I'm still here, I know that there must be more for me to learn and experience.  "Dis-ease" means lack of ease, and since the largest tumor is directly over my heart chakra, I've done a lot of work in therapy lately on releasing past heartbreaks and betrayals.  As I've learned, resentment is like drinking a glass of poison and waiting for the other person to die.  It's a waste of energy.  The more I forgive, the faster I can reclaim my own health.  I think of myself as a helium balloon, and forgiveness is a divine pair of scissors that cuts the toxic umbilical cord tethering me to the block of cement, and enables me to fly freely.  I've been on a personal growth journey for decades, but this chapter has been especially powerful.  Since I've tried so many different mental, emotional, and physical treatments in the past, this time around I've been embracing new naturopaths, medical intuitives, and channelers, and I've also explored past life regression hypnotherapy, which has been fascinating.  And thanks to a referral from my amazing friend Karen Rontowski, I am embarking on a new adventure ~ a shamanic healing journey in Kauai for 2 weeks in July!  My preparation for the trip includes shifting back to all organic vegan meals, lots of juicing, and 3 different types of enemas (TMI?) cleansing my body of parasites, candida, and any sneaky tapeworms.  Woo hoo!  This is all in preparation for the spiritual work I will be doing in Kauai.  Jeff is coming with me, and I hope he gets to have some phenomenal surfing experiences while I'm on my healing path.  If you've been to Kauai, you know it's magical.
This has been such a brutal chapter of my life, walking through the depths of physical and emotional pain.  I have so much more compassion now for people who choose to end their lives.  I've faced my mortality more tangibly in the past six months than ever before, and become well-acquainted with the darkness in my soul.  If it weren't for Jeff's unconditional love, irreverent sense of humor, and irrepressible desire for me to stay on the planet, I don't think I'd still be here.   And now I believe that the glorious life waiting for me on the other side of this must be splendiferous, so that keeps me going!
Thank you from the bottom of my heart for the help that so many of you have already given me.  Your generosity has loved me back to life before, and I still need you.  I'm realizing that this is chapter is a marathon, not a sprint.
So I hope you can come to the fundraiser, make a donation, or spread the word.
I really do feel like George Bailey at the end of "It's a Wonderful Life."  I am blessed with an astonishing community of family, friends, and fans all over the world.  Thank you for sustaining me, in every way.
Here are the details for the event.  I plan to be there!
Wednesday June 26th
7:30 pm
The Whitefire Theatre
13500 Ventura Blvd.
Sherman Oaks, CA  91423
EVENT PLANNING COMMITTEE:
Vanessa Marcil, Traci Szymanski, Phoebe Carter, Todd Richards
***ONLY 5 SEATS LEFT***
To reserve your seat:
Make a $50 minimum suggested donation via
PayPal (to
[email redacted]
~ PLEASE USE THE "SEND TO FRIENDS & FAMILY" option to avoid service fees)
OR
GoFundMe:  
https://www.gofundme.com/suzanne-whang039s-cancer-fundraiser
***Either way, please attach a note that says your donation is for a ticket to the fundraiser.***
And bring some cash -- there will be raffle prizes!
AMAZING FOLKS SCHEDULED TO PERFORM, SPEAK, OR ATTEND:
Jeff Vezain, Bryan Callen, Kira Soltanovich, Dana Goldberg, Dwayne Perkins, Karen Rontowski, Mark Fernandez, Kristina Wong, Steve Postell, Amy Anderson, Ty Fance, Helen Hong, Gary Stockdale, Jodi Siegel, Cynthia Carle, Rev. James Mellon, Debbie Jhoon, Chris Bonno, Jack Kennedy, Mary Jo Mundy, James Lesure, Mo Gaffney, David Haverty, Lynne Stewart, Dante Spencer
Hope to see you there!
Big gobs of love,
Suzanne 
++++++++++++++++++++++++
UPDATE 2/25/19
HERE IS THE INVITATION TO MY UPCOMING FUNDRAISER ON SUNDAY MARCH 3rd!
Well, it's been quite a rollercoaster!  I had an amazing adventure at Hope 4 Cancer in Mexico, immersed for 3 weeks in intense detoxing (coffee enemas, full body hyperthermia, hyperbaric oxygen, near infrared sauna, etc.) and targeted cancer treatments (Sunivera Immunotherapy, Sono Photo Dynamic Therapy, IVs of Laetrile and Vitamin C, Ultraviolet light and ozone blood infusions, MaraGen, etc.).  My tumor marker numbers came down from my blood test results after 3 weeks, yay!  
I've been on a comprehensive home protocol since I returned on Dec 25th that involves many supplements, 3 organic homemade meals per day, and home treatments.  It's a full-time job.  
Yep, that's a photo of my chest.  I have 3 tits now, and the tumor is bigger than both of my other tits combined!  Sheesh.  I just wanted you to actually see what I'm dealing with. 
So let's all say Ta-Ta to the Third Tata!
It's actually growing much more aggressively than the doctors expected, so they have increased my dosage of Sunivera Immunotherapy, Vitamin C, and activated chlorophyll for the Sono Dynamic therapy, which is quite costly.  My 3 month follow-up appointment at Hope 4 Cancer is on March 25th, and my friends are throwing me a fundraiser in LA to help me raise the money to continue my protocol.
Here are all the details!
Sunday March 3rd
1:00 pm – 4:00 pm  (Please be on time!)
The Secret Rose Theater
11246 W. Magnolia Blvd.
North Hollywood, CA  91601
(***Limited stacked parking behind the theater.  Leave plenty of time for street parking.***)
Hosted by Tom Bergeron, Vanessa Marcil and Maurice Benard
Special guests who are attending, performing, or speaking include:
Tom Bergeron, Vanessa Marcil, Judd Nelson, Frances Fisher, Maurice Benard, Jeff Vezain, Robin Reiser, Anthony Fedorov, Genevieve Joy, Art Podell, Dave Podell, Nayo Wallace, Carmael Frith, Beth Sullivan, Demiana Mishreki, Karen Rontowski, Traci Szymanski
By this way, this will be like my fun "faux-neral"! 
I have already scheduled a great line-up of friends who will be performing, and some will give a brief Youlogy… which is my term for a eulogy you write for someone you love while they're alive, and read it to them while they can actually appreciate it!
ONLY 70 SEATS AVAILABLE!
To reserve your seat:
Make a $50 minimum suggested donation.
PayPal (to [email redacted], using the "Send to Friends & Family" option to avoid service fees)
OR
GoFundMe:  
https://www.gofundme.com/suzanne-whang039s-cancer-fundraiser
*** WITH YOUR PAYMENT, PLEASE INCLUDE A NOTE OR MESSAGE SAYING THAT YOUR DONATION IS FOR ATTENDANCE AT THE FUNDRAISER, AND THE NAME(S) OF THE ATTENDEE(S) ***
If you would like to donate healthy food, snacks, or beverages to the event, please let me know.  Otherwise, this will be a casual potluck, so BYO whatever and that way I can put all the funds towards my treatments.
I plan to feel good enough to be there!  Confirmed guests who will be attending, speaking, or performing include:  Tom Bergeron, Vanessa Marcil, Judd Nelson, Frances Fisher, Maurice Benard, Jeff Vezain, Robin Reiser, Anthony Fedorov, Genevieve Joy, Art Podell, Dave Podell, Nayo Wallace, Carmael Frith, Beth Sullivan, Demiana Mishreki, Karen Rontowski, Traci Szymanski
++++++++++++++++++++++++
Update (12/2/18)
Good morning, lovewaffles ~
Great news!
As you can imagine, it's been a brutal 7 weeks for me. Lots of tears, intense physical pain, the inability to sleep, and feelings of despair. As you know, I did extensive research on clinics all over the world and decided I want to get treatment at the Hope 4 Cancer Institute in Mexico. It's a 3 week inpatient program of cutting edge nontoxic treatments, they treat the disease holistically, and I know it's the right place for me. It includes a plethora of different daily treatments from 7 different modalities: Non-Toxic Cancer Therapies, ImmunoModulation, Full Spectrum Nutrition, Detoxification, Oxygenation, Restore Microbiome, and Emotional/Spiritual Healing. It also includes accommodations for 2 (so Jeff can come with me), 3 organic vegan meals per day plus organic juices and smoothies for both me and Jeff, and two follow-up visits for me after 3 months and 6 months. When I leave, they give me enough Sunivera Immunotherapy (which includes GcMAF) and MaraGen to continue my treatments at home for 3 months, and the Sono Photo Dynamic Therapy device I need to continue that treatment at home for 1 year. The cost is $47,000, which is why I started this GoFundMe page. The campaign started off gangbusters, but has tapered off, not surprisingly. What you don't know is that I have a large inoperable tumor over my sternum that is attached to my sternum bone and chest wall and it's been growing quite aggressively, so every day that goes by where I am in physical pain and not able to start treatment has been unbearable.
A couple named Olivia and Larry Cook saw my post about this on Instagram ~ their account is @naturalhelperx. They reached out to me as philanthropists who want to give as much as possible to people in need before the end of 2018. I was so excited, and I emailed them all about my situation. They replied that they could send me all the money I needed, but I would have to send them a $107 transfer fee. My heart sank. I Googled their email address and discovered that they are scam artists who prey upon homeless people and people in dire health crises. I started sobbing tears of despair.
Well, today I am crying tears of joy. Jeff did something heroic for me, something he would ordinarily have never considered ~ he made an early withdrawal from the IRA he's had since high school to get me the remaining money I need to start my treatment! We're leaving early tomorrow (Monday) morning, and we will be back on Christmas Day! There is a 60-day window within which he can replace that money so as to maintain the health and integrity of the account and not have to pay taxes and major penalties on that early withdrawal, so I am determined to make that happen. If you can make a donation, even if it's just a few dollars, I would be eternally grateful. Every bit helps.
GoFundMe does take 3% of each donation, so if you'd prefer to donate to me via PayPal, my email is
[email redacted]
 -- be sure to use the "Send to Friends and Family" option so that I don't get charged a service fee.
Or you can mail me a check ~ send an email to me at
[email redacted]
and I will give you my address.
I am SO relieved and excited to start my treatment! Thanks to every one of you for your emotional and financial support, and special thanks to Jeff Vezain, my twin flame, the love of my life, and my knight in shining armor.  By the way, we never got around to breaking up...
Send me good energy, and I look forward to regaling you with magnificent stories about my path back to wellness!
Love,
Suzanne
+++++++++++++++++++++++++++++++++++++++++++++++++++
Original post (11/15/18)
Holy crapwaffle.  I can't believe this is happening again.  I'm taking this Asian overachiever thing to a whole new level.  You know how they say God doesn't give you anything you can't handle?  Well, God must really think I'm a badass.  
Here's a video of my journey that was done in 2015:
https://youtu.be/-MjDg0n_R1k
Back in 2011 when I was given 6 months to live from stage 4 breast cancer, I went $500,000 in debt from cancer treatments that were not covered by my insurance.  With the help of family, friends, and fans back then, I raised about $250,000 from online fundraisers and fundraising events.  I thought I had reversed the cancer and was cancer-free since 2011, but it turns out that while the tumors were gone, the cancer stem cells were not.
I wanted to gather as much information as possible before creating this fundraiser.
Don't let my goal amount intimidate you.  Every dollar helps.
So... here's the latest chapter of my story.  
On the evening of Oct 15th as I was driving home from my friend Vanessa's birthday party ~ I started experiencing intense chest pains, shortness of breath, and tingling in my left arm.  I thought I was having a heart attack, so I asked Jeff to take me to the emergency room at Providence St. Joseph's Hospital in Burbank.  I also have a bump over my sternum from what I thought was costochondritis caused by my T-10 vertebra kyphoplasty back in 2011.  Several times in the past, I've had costochondritis which is inflammation caused by lifting something heavy and irritating the area over the sternum ~ I would ice it and rest for a few days, and it would disappear completely.  
The ER doctor, Dr. Herrera, did an EKG on me, and it came back normal.  That ruled out a STEMI heart attack.  Then he did blood tests on my cardiac enzymes that all came back normal.  That ruled out a non-STEMI heart attack and a blood clot.  Then he did an x-ray of my sternum, which came back normal.  That ruled out a broken bone.  And then he did a CT scan.  About an hour later, Dr. Herrera came into to my ER room with the CT scan results and a sad look on his face.  He said that this bump over my sternum is cancerous.  He said that's what was causing my chest pains.  He also found lesions on the bone of my sternum, on two of my ribs, and in both of my lungs.  The test results are consistent with stage 4 metastatic breast cancer.  So this is now my second time with stage 4 cancer.  Fuck.  He gave me a tiny dose of morphine to help me with the pain (the dosage they use for small children), because I am a lightweight when it comes to medication.
I was devastated.  Jeff was in the ER hospital room with me when I got the CT scan results, thank God.  He's been incredibly kind and loving and supportive.  
Then I remembered a documentary that a friend recently told me about called "The Truth About Cancer," so I watched it.
I already knew some of the information from my research in 2011, but a lot of it was brand new to me and incredibly eye-opening.  It was fascinating, infuriating, and ultimately inspiring.
Here it is, if you haven't seen it and are interested.
Episode 1:  
https://youtu.be/KqJAzQe7_0g
Episode 2:  
https://youtu.be/VK_sX5ko8SE
I am now energized and optimistic about reclaiming my health and curing the cancer at the root, this time permanently.
The next day after being in the emergency room, I was on the phone on hold for 6 hours with different physicians and branches of Medi-Cal (the health insurance that I have), in order to get an approved referral to Dr. Berkowitz, who was my oncologist in 2011 and the only holistic oncologist I've ever encountered.  He's awesome because he's open-minded.  I'm working towards getting referred to him, which is turning out to be much more difficult that I was told.
In the meantime, I've been using CBD, cannabis salve, frankincense oil, and eating organic vegan.  
After extensive research, I have selected the Hope 4 Cancer Institute in Baja.  It's an inpatient 3-week program.  Here is a link to the clinic:
http://www.hope4cancer.com/
I will be receiving Sono Photo Dynamic Therapy:
https://hope4cancer.com/our-therapies/sono-photo-dynamic-therapy/
And will be given what I need to continue my therapy for one year at home after I check out of the clinic.
And MaraGen:
https://ph.pronuvia.com/products/maragen/
I will be given a 3 month supply to continue taking at home after I check out of the clinic.
I will also be receiving Sunivera Immunotherapy:
https://hope4cancer.com/our-therapies/sunivera-immunotherapy/
And I will receive injections to continue the treatment at home for one year.
I need to raise $47,000 ASAP ~ because the sooner I get to the clinic, the sooner I can start these treatments.
The reason I'm trying to raise more money is because I don't want to stress about having to work for a couple of months, and my new healthy lifestyle will include food and supplements and treatments in LA to maintain my health (including things like acupuncture, massage, hyperbaric oxygen, hyperthermia, etc.)
Please feel free to share this fundraiser with anyone you think might be willing to help me.
Remember, if you're wealthy, you can donate up to $14,000 tax-free as a gift to any individual once a year.  
Hope 4 Cancer Institute's program includes transportation from San Diego, accommodations for 3 weeks, 3 organic vegetarian meals daily, juices and smoothies, not just for me, but for a companion as well -- Jeff is going to come with me!  It includes every treatment each day (up to 8 different kinds), and all the treatments I take with me to continue at home.
Here's how you can help me ~ visualize me getting better permanently this time, eradicating all the cancer stem cells this time.  Don't worry about me or tell me how worried you are.  That's doesn't help me.
If you don't agree with my path, keep it to yourself.  I have done thousands of hours of research since 2006, and I am in charge of my recovery.  If you want to share with me some new revolutionary treatment or holistic or naturopathic or nutrition-based information, first ask me if I've tried it or heard of it, and then ask if I want to learn more.
If you can't afford to make a donation, please share this with someone who might be able to.
Thank you in advance for caring about me.  I know that once again, I will be loved back to life.
And if I happen to see you somewhere out and about in the LA area, please hug me gently, because of my sternum tumor.  I am in a lot of pain today, but most days I feel good.
With love, gratitude, optimism, and confidence that I will reclaim my health ~
Suzanne