Mobile Environmental Education!
                           We need YOUR HELP to bring
                      Effective Environmental Education
                          to communities across America!
PLEASE DONATE AT: www.sustainableskoolie.org/donate
Scroll to bottom for bus photos! 
Help us reach our goal by donating and encouraging your friends, family, and coworkers to donate too! 
"Never doubt that a small group of thoughtful, committed citizens can change the world; indeed, it's the only thing that ever has."  -Margaret Mead
With environmental literacy in America being close to 12%, it isn't hard to see that there is a lack of accurate and effective environmental education.
Sustainable Skoolie Adventure is part of the solution to the environmental crisis, based on
the belief in the goodness and power of the people.
Sustainable Skoolie Adventure is born from the idea that if people had access to real environmental education, instead of the bombardment of mostly inaccurate information, an overwhelming majority would choose to make changes that better their own lives, their communities, and the Earth.
The Sustainable Skoolie is a mobile, interactive sustainable living classroom.
What started as a retired Blue Bird school bus, is being transformed into a beautiful, sustainable, off-grid home.
(Check out what other great skoolies look like here.)
Once completed in early 2018, the Sustainable Skoolie will hit the road to travel across America with a team of environmental educators on a mission, to educate individuals, train community leaders, and inspire change.
The bus will travel up to 7,500 miles each year to reach even the most remote American communities.


Scroll to bottom for bus photos!

Stopping along the at community centers, places of worship, schools, summer camps, conferences and festivals, Sustainable Skoolie Adventure will offer tours of the sustainable home and workshops on a sliding scale, depending on community need.
We believe that everyone deserves access to good education, so we won't turn anyone away based on location or financial need
(or any other silly reasons, please check out our
statement of inclusion
on the "About" page of our website
here
). 
Your contribution goes directly to completing the innovative and one-of-a-kind, mobile Sustainable Living Classroom and getting on the road to bring sustainability education to the masses! 


Scroll to bottom for bus photos!
Sustainable Skoolie Adventure is a registered Colorado Non-Profit, under fiscal sponsorship with In-Reach, Inc, a registered 501(c)3 non-profit. Donations are tax-deductible to the extent allowable by the IRS. 
-----------------------------------------------------------------------
MEET THE FOUNDER!
 


Chava Tzemach

Founder/Director
She/Her/Hers
Chava is an
educator and activist
who has spent the last nine years working in the non-profit field, in development, marketing, and programming. Building on her lifelong passions for the environment and sustainable living,
Chava created Sustainable Skoolie Adventure with hopes of empowering people to reduce their carbon footprints and raise Earth consciousness.
In addition to founding Sustainable Skoolie Adventure, she is also currently working towards becoming a Certified Master Environmental Educator (caee.org). When she isn't ripping apart of school bus you can find her hiking, cooking yummy meatless meals, snuggling with her cat companion, Virtue, or staring relentlessly at her computer screen working on ten projects at once.


------------------------------------------------------------------



BUS PHOTOS!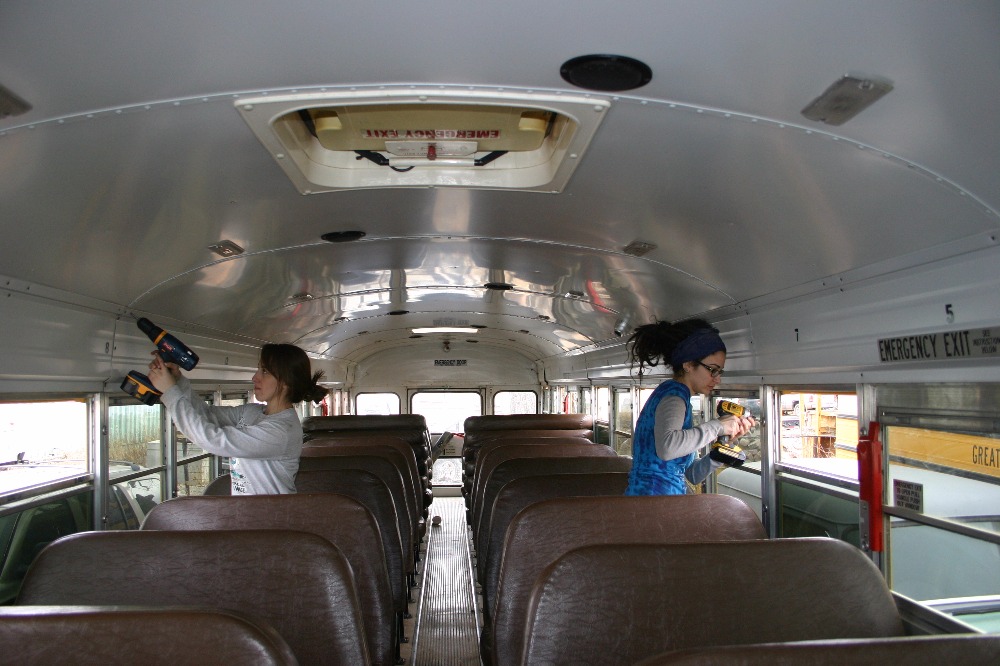 Organizer