Surgery needed for Titus The Pug
Dear Friends,
As all of you know Titus the Pug is my best friend. He is 13 years old and is a rescue pug that we adopted 10 years ago.  Last year he became a diabetic. We worked hard to manage this and he has done very well, he is even a good boy when getting his insulin shots twice a day. While expensive to care for diabetes we work hard to make sure Titus has everything he needs.
But 4 months ago Titus began to loose vision. While just a little troublesome at first, it has now begun to impact his daily life. He is afraid to walk up or down stairs, he cannot navigate to potty with ease,  and he gets lost inside our small apartment. It came to the point where we knew we would need to intervene with some sort of surgery option if allowable.
He had a very through visit with the ophthalmologist yesterday but we were over whelmed to find that it would be almost 6,000 in preoperative and surgical care.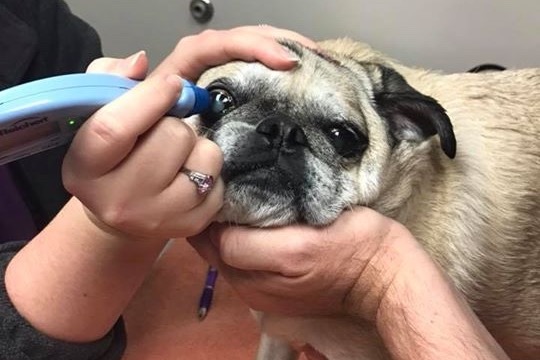 To make matters more complex when performed lab work to ready him for potential surgery he was found to have abnormal lipase reading and inflammation; suggesting Pancreatitis. Now today we must return to his regular vet in attempt to change from his diabetic dog food to another one that can help manage this, which will cause us to need multiple all day blood sugar level visit checks upwards of 1,000 dollars total.
Hearing that we were now on the hook for 7,000 in fees for Titus's care we looked to "care credit" which we did qualify for some, but not all of the amount. 
That is why I turn to you, my second families. I have always tried to do for others when they could not make it on their own. If I have ever helped you in some way; from finding a job to community service to making sure you had food on the table to getting you medical care to fighting at your side to being a good friend who wants you to succeed in all that you do and making you laugh while doing it; I ask humbly please help me give Titus the Pug the help he needs, the care he needs, and the quality of life he deserves. 
Our goal is to have get him surgery in the next 30 days. Please share this with other Pug owners you know , as they too know the joy a pug brings to your life. NO amount is too small, NO amount is too big. EVERY DOLLAR matters. 
Than you for those who can give.  For those who do not have the means, please share this where you can and send your continued good thoughts. 
Love Always Candace

Organizer