Supporting Rick Neely's recovery & rehabilitation
       
         Rick's Medical care and Rehabilitation journey
          For those of you that know Rick and Sue Neely, you will understand the tremendous amount of love and commitment they have, not only for one another but everyone around them.  For those of you that don't know them, here's a glimpse of their story. 
Rick and Sue met at Rose Gardens roller rink when they were just 12 and 15 years old and they've been together ever since.  After the miracle birth of their daughter Mandi, they vowed never to take life for granted.  Mandi, Jeff and their two grandchildren Sydney and Drew have been an integral part of their support system.  Rick was always an active man and worked hard to support his family.  He coached many of his daughter's sports teams and was always willing to lend a hand, never shying away from helping in the community or his friends and family. 
          In 1989 Rick was diagnosed with type 2 diabetes.  A disease he knew all too well from watching his mother suffer for years, eventually taking her sight and making her an amputee.  Years later, Rick found himself following the same path, having to leave his job and not being able to drive due to the deterioration of his health.  Even though Rick's health was starting to decline, Sue was always by his side.
In 2008 Rick's kidney started to fail due to a pre-existing kidney disease and was forced to start peritoneal dialysis.  In 2012, Rick was given a chance for a new beginning receiving a kidney transplant.  It took Rick a long time to accept that someone lost their life to save his; an overwhelming experience that Rick and his family will always be truly grateful for!
Spring of 2019, Rick's new kidney started to fail and he had to be put back onto dialysis, however, the kidney is just one of the many health struggles.  In July 2015, the neuropathy disease Rick has from diabetes began to deteriorate the circulation in his hands and feet.  After stubbing his toe and not having the proper circulation to heal it, Rick had to have a below the knee amputation of his right leg.  Although the rehabilitation was a lengthy and gruelling process, it was made bearable by the love and support of Rick's brothers who graciously   completed renovations allowing them to stay in their home for 35 years.
With Sue still working full time and trying to maintain the upkeep of the house and Rick doing what he could, they decided it was time to move.  In Nov. 2018, Rick and Sue moved to a one floor condo built on the same property where they first met almost fifty years before.
Happening a little faster then anticipated. Rick and Sue were hit with another set back.  Along with failing eye sight, On Sept. 14, 2019 due to another stubbed toe, Rick had a second below the knee amputation.  Yet another bump in the road. Their NEVER ENDING RESILIENCY is not only admirable but inspiring!!!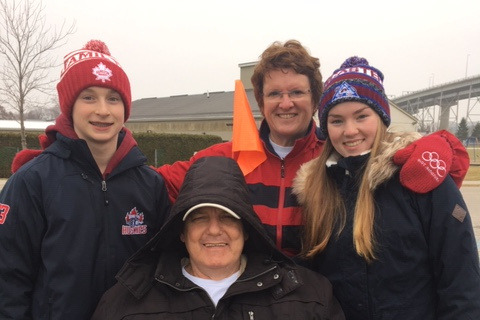 This GoFundMe page was set up out of compassion.  Hoping to allow Sue to stay at home to help care and be with her husband.  To also help with medical equipment needed to accommodate a double amputee and any developing needs that may arise as Rick progresses.  
Rick and Sue have a love like no other, unbreakable, undeniable.  Together they make a great team and together they will get through anything. Thank you everyone for your continued care and generosity.  They will be overwhelmed by your kindness.  Rick and Sue, as everyone knows would rather help than be helped, so we, their friends and family would like to take this opportunity to help them.
Thank you for letting us share their story.
We love you Rick, Dad, Papa <3
Become the first supporter
Your donation matters
Organizer and beneficiary
Mandi Neely-Clark
Organizer
Hamilton, ON