On Thursday, February 21st, my friend, Breanne received a call from her husband that their almost 4-month-old son, Nathan, was unconscious.  As Breanne arrived home, she knew immediately that Nathan needed care, urgently.  His breathing was faint and strained while he was limp and unresponsive in her arms.
Nathan was air lifted to Children's Hospital.  He suffered from extreme cerebral hypoxia (lack of oxygen to the brain) and subdural bleeding (hemorrhaging on the brain).  The next 4 days were a hard-fought battle by Nathan, surrounded by his mom, amazing and supportive doctors and nurses in the pediatric intensive care unit.  The primary objective at that point was to keep Nathan alive.  Nathan was on breathing tubes, being monitored for seizures, had a drain tube in his head to manage the swelling and bleeding, and he was unable to see.  But he was fighting.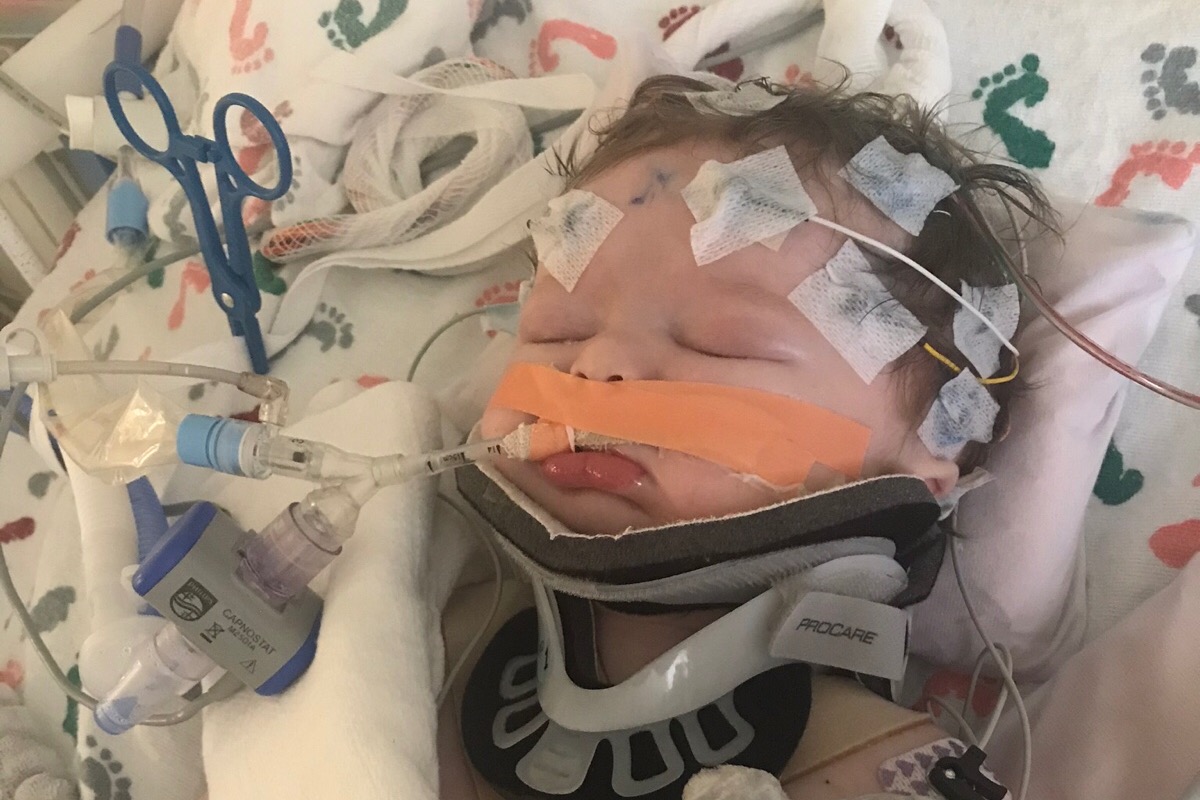 Morning of February 22nd
On day 5, the MRI.  The neurologist identified a large black spot on his left parietal lobe, dead brain tissue that would not recover.  This portion of the brain focuses on interpreting visual information and processing language.  Nathan's life, and his families, was forever changed. 
Morning of March 1st
His mom has not left his side in almost 3 weeks now, one of the most dedicated and loving people I know.  They still have significant challenges to overcome, but we are hopeful for Nathan to continue his fight.  The doctors have educated Breanne on the developmental challenges, and the ongoing, intensive therapy Nathan will require.  He will be in rehabilitation and require special care for many years to come.  
The unfortunate circumstances surrounding Nathan's injuries leave Breanne the only parent able to care for Nathan, and her 3 year old daughter, Emma.  The father is under investigation for intentionally or unintentionally causing these injuries to Nathan. Faced with an uncertain future of support and a mountain of expenses for long term care and major life change, Breanne and the kids need our help. 
Breanne was a school teacher for years and has a special gift of both love and education, that her children need now, more than ever.  A donation from you will help Breanne focus on Nathan's recovery and long term care, while providing a stable and supportive environment for her daughter Emma.  We thank you so much for contributing what you can to this amazing woman and these two beautiful children.
Evening of March 6th - You've got this Nathan!
All fundraising proceeds will be used exclusively for Nathan's road to recovery.
Fundraising team (4)
Nykki Gallegos
Organizer
Raised $2,150 from 9 donations
Littleton, CO
Britta Peters
Team member
Raised $4,325 from 36 donations
This team raised $36,725 from 329 other donations.