Support the SR Original Certified Farmers Market
Local Food is Essential! Support your local farmers market today!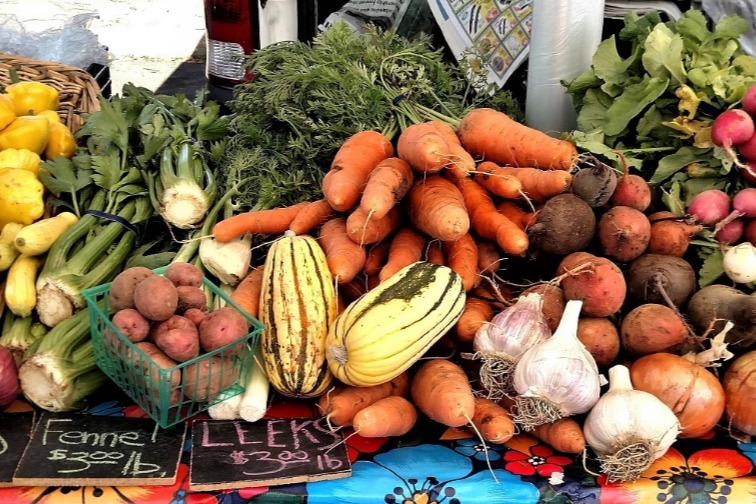 The Santa Rosa Original Certified Farmers Market is held at the Luther Burbank Center for the Arts,
Open every Saturday 8:30-1pm  year round & every Wednesday 8:30-1 pm March – December.
Our market has operated continuously since 1967 to bring the best in locally grown produce directly to our customers. As a market we are committed to giving back to the community and helping to provide Healthy Food for Everyone. 
We are a California Certified farmers market.  The word certified guarantees that all the fresh fruits, nuts, vegetables, eggs, honey, herbs and plants, cut flowers for sale here are grown and harvested in California (for our market, almost exclusively in Sonoma County).  All of the farm-raised meat products and poultry for sale here are California-grown too.  The word certified also means that the person who sells those fruits, nuts, vegetables, etc. is the farmer who produced them, their family or employee.
Our local producers are working harder than ever to safely offer the community fresh and healthy goods.
Help us maintain the farmers market's role during this pandemic, as a beacon of food security and a strong local economy.  Donate now to help us improve our response to COVID-19 and keep our community safe while ensuring access to fresh food
. 
With your support, we aim to:
-Create/improve signage for safe shopping
-Fund efforts for online ordering and curbside pickup of goods to at-risk shoppers
-Develop systems to reduce congestion and facilitate fast transactions
-Pay the bills- we are largely funded by our vendors participation in the market, and as only essential vendors are permitted to vend at this time, our limited budget has become tighter!
-Support farmer's efforts to create safe shopping environments
-Increase the visibility of the market and increase customer/vendor base
The Santa Rosa Original Certified Farmers Market would not exist without your support.
Through our combined efforts, we can meet the needs of our local farmers, bakers, ranchers, fishers, food processors, chefs, gardeners, community members, families, and so many others. We appreciate any donation, big or small, to help the cause.
Share this page with as many contacts as you have! Sonoma Strong!


Check us out on our website and on social media! 
https://thesantarosafarmersmarket.com/
https://www.facebook.com/pg/santarosaoriginalfarmersmarket/about/
https://www.instagram.com/santarosafarmersmarket/
Fundraising team: SROCFM Board (5)
Western Farmer
Organizer
Raised $40 from 1 donation
Santa Rosa, CA
Pegi Ball
Team member
Raised $385 from 8 donations
Dominique Cortara
Team member