Wow, this is a hard one. 
Adrian Nez, an amazing father (one of the best), a loving husband, a loyal friend, and a follower of Christ who cared for others more than anyone I've ever known passed away on Thursday, September 30th, leaving behind his 3 amazing kids (Caleb, Ethan, and Anna) and his wife, Amanda. 
As I was sharing the news of Adrian's passing with our team at Carrot (Adrian's work-family for the past 6+ years), Levi on our team had some amazing words of wisdom. He shared this quote with our team: 
"They say we all die twice. Once when we stop breathing. And the second, later on when somebody mentions your name for the last time."
I can write this with 100% confidence: even though we've lost one of the best humans God has graced this earth with, his legacy, his name, and his impact will live on far into the future.
Adrian… the ripple effects of your impact have touched so many people (hundreds of thousands over the past 6 years) that your legacy is only just beginning.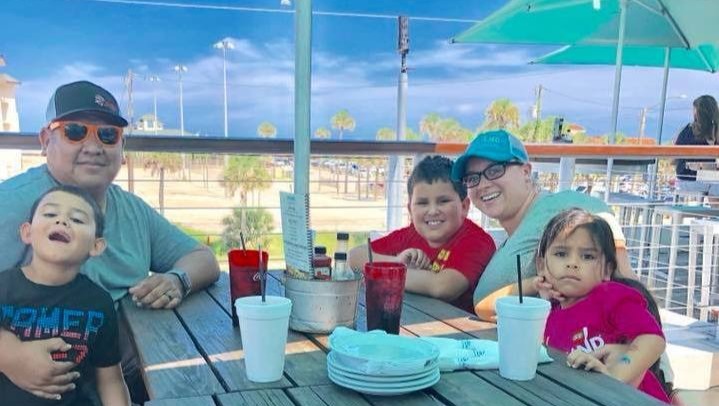 Adrian's Impact


So many things Adrian has done over the years pop up to mind that have rubbed off on so many of us.
In the form of… 
... the little bits of "Adrian wisdom" he'd drop on us all of the time.
… or how he'd quietly help others all of the time in their time of need while never asking for anything in return (Buddy, we noticed. And it inspired many of us to be better as humans).
… or the way he'd bring a light-hearted take to serious situations and bring us back to earth when we were losing sight of what's most important.
… or the way he led and loved and his kids by example in ways that made me re-look at how I was showing up as a father. Because of Adrian, I raised my own standard based on the way he was
fully involved
as a father. He was truly their Super Hero. 
… how proud he always was of his Native American heritage and the way he made sure his kids knew their history and were raised to be strong, thoughtful, and proud. It was so cool how he stepped into that and named his companies in honor of his heritage as well (Chief Real Estate and Chief Marketing).
… how he was
ALL IN for Jesus
and all in for using his platform both at Carrot and the influence in the real estate industry he'd grown to truly make an impact and help people gain true freedom and impact with their businesses (Buddy, I'm proud to have called you friend, mentor, and partner on this journey). 
… how he'd carry around cash all the time and find moments to bless random people with money. Buying the groceries at the checkout stand for a busy mother in need. Buying and donating thousands of dollars in toys for children in need during Christmas. Giving huge tips during COVID to waitresses with a note (this was a common occurrence, Adrian routinely gave 100% tips) thanking them for what they're doing for the community… the list goes on. 
… how he wasn't afraid to learn new things, even when he was nervous or lacked confidence in being able to do it. (Buddy, you stepped into my shoes at Carrot to represent our mission
so well.
Today people see you as Carrot's greatest ambassador).
… how he ALWAYS loved to have fun. When I was serious, he'd crack a joke. When people wanted to have fun at CarrotCamps, he'd organize nights out with the crew and entertain into the wee hours of the night. 
… how he'd take calls from Carrot customers after hours to help them to succeed because he knew when they grasped it the way he did in the beginning, it could change their lives. He truly bled "Carrot orange" and made us all better at the workplace. 
… how Adrian cared for those directly around you and showed up as the best possible example and mentor your kids could have. Seeing your boys grab hold of entrepreneurship and start their own business inspired me and my son Colton to start selling on eBay too. We LOVED seeing how involved your kids were in your work, and seeing how passionate you spoke of all 3 with their Jui Jitsu (especially Anna) and how she whooped up on the boys in her Jui Jitsu competitions spoke volumes for how much you love them. The text below is from one of Adrian's recent Facebook posts. 
I could write another 100 of these… but a quick glimpse at his
Facebook posts
from this year will show the kind of man he was and the amazing example he is for all of us (especially those of us fathers out there). 
His kids and wife Amanda could probably write another 10,000 of these. 
We're all very saddened by his passing. It doesn't make sense. None of us asked for this, expected this, and at times like this, it's natural to ask,  "Why a person as good as Adrian?"
We won't have those answers in this life, but as I reflect on the impact Adrian made during his 45 years what comes to mind is this:
It's cliche, but it couldn't be more true. Most of us say we hope that with our time on earth we "leave the Earth better off than we found it".
Adrian my man… you did that in a big way.
The Funds


Adrian was the sole income provider for his family.  We'll be working with Amanda to see how we can help with his real estate business, marketing clients, and make it as easy of a transition as we can. 
In the meantime, I'd love to ensure a few things for Amanda and the kids. 
1. Their Mortgage:
I don't know what is left on the mortgage, but let's make a huge dent in it to lessen the burden of having to worry about a house payment as they settle into the next phase.
2. Allow Amanda to remain a stay-at-home mom as long as possible
. Let's give the family a big jump start so Amanda doesn't have to worry about trying to juggle a job and caring for their 3 kids for a long long time. 
3. Medical Bills
: We don't have any of the medical bills yet. I know Adrian had insurance but I imagine the bills from being in the hospital and ICU will not be insignificant. Let's see if we can release that burden from the family. 
4. Legacy Fund:
I'd love to set up a legacy fund of sorts to enable Caleb, Ethan, and Anna to continue to do amazing things in this world. Whether it be used for college, to start their own businesses, or to have funds to continue their Dad's legacy of giving to others. Let's help Adrian's legacy stay alive and be there side-by-side with the kids over the years.
100% of everything given will go directly to Amanda and the kids.  
Carrot will receive the funds and pay all expenses on our end to distribute them to Amanda and the family as fast as GoFundMe will allow. I've never put one of these together so honestly, I don't know how it all works. But we're just the conduit. 100% of everything goes directly to Amanda and the kids. 
Honestly, when I put a number down on the fundraiser, I didn't know what to put. Whatever amount the community raises (the Carrot community, the local community to Adrian and Amanda in North Carolina, family/friends, etc.) will be hugely impactful for the family and remove some of the burdens that money can solve. 
For me and Carrot:
We would like to continue paying Adrian's Carrot salary for the next 2 years so his family has consistency and predictability in their finances for as long as possible. We'll also be digging in really deeply with Amanda and the family to find other ways we can both lessen the burden but also be alongside you guys on this journey as friends, family, mentors, and partners in life. 
For the Carrot Community:
Let's challenge ourselves to do something special in memory of Adrian. Let's blow the goal out of the water. Remember the impact Adrian had on you and how much that has meant to you. And if you feel called to give, we're so so so grateful. Adrian was always the first to give when we were in need, let's return that energy back 100x and shower his family with love so they can see how impactful he was in our lives. 
A few final tidbits & incentives… 1. If you give $25k or more:
For up to the first 3 people able to give $25k or more, I'll personally fly you out to CarrotHQ for 3 days in 2022. We'll mastermind your business (the way Adrian and I used to do together) for 2 full days to 2x (or more) your revenue and buy back your time so you can invest even more in your family and impact. I'll put you up at a great hotel, we'll go either fly fishing for steelhead on the famous North Umpqua River with a world-class guide and myself
or
we'll go golfing at Bandon Dunes golf course and we'll brainstorm ways to change the world together following Adrian's example. Plus, we'll give all 3 people tickets for a CarrotCamp event in Adrian's memory in 2022 or 2023.  One tweak to your business or mindset could easily bring in an extra $100k+ in the next 12 months (plus the incentives below as well).
2. If you give $10k or more:
For up to the first 5 people able to give $10k or more, we'll schedule two 1-hour calls throughout 2022 to mastermind your business, life, impact.  If you're looking to grow past 7 figures and gain back your time in your business, I'll give you the path to do it in a 1-on-1 fashion over two 1-hour Zoom calls in 2022. Also, each of the 5 will receive a ticket to a 2022 or 2023 CarrotCamp (normally $3k). You'll also get 1:1 Voxer coaching access with me for 6 months so I can help you through those growth blocks as they come up in 2022.
3. If you give $1k or more:
For the first 25 people who give $1k or more, I'll give you 1:1 Voxer coaching access to me for 6 months. Ask me anything about business, life, how to scale past a spot in business you're stuck, how to buy back time so you can spend more time with family like Adrian did so well, how to become a master marketer, mindset stuff to get you past the limiting beliefs you may currently have, etc.
4. For any other gifts, EVERY AMOUNT COUNTS.
You can be a part of helping to give to someone who gave so much to us. If you have $1 to give, it's not the amount that matters, it's the heart and the token of love it sends to Amanda and the family and tons of people out there care. Whatever you're able to give to lighten the burden, you're amazingly appreciated and you're a part of Adrian's legacy forever. 
In closing…
I remember one time a few years back Adrian and I were on a call and Adrian had told me what was on his heart.  
He said… "Man, I was nervous, but I had $500 in my pocket and I just felt called to give it away to someone in need. I didn't know who or how… but I knew I needed to bless someone since I've been so blessed over the years.  So I came across this older lady at the grocery store who looked like she could use some help... so I bought her groceries. She cried and said 'it couldn't have come at a better time'. That one moment I think changed my life. I feel it's my duty to bless others and put a smile on their face. To let them know they're cared for".
I could tell at that moment a few years ago that a switch had flipped in his mind. And from then on out a huge part of his purpose was serving others with what he had. 
As you can tell, this is more than raising money for a family. It is that and it's needed. Each dollar is a burden lifted for Amanda and the kids and a digital "heart" sent their way. But it's also a big shot into the universe to tell Adrian how much we all care for him and that we're here for his family from here on out. Adrian's legacy will live on through all of us, let's start it right here. 
I appreciate you all. Amanda, Caleb, Ethan, and Anna… the Carrot community
IS
your family. We're in this together. 
We love you, Adrian. You'll be missed, but never forgotten. 
-- Trevor Mauch & the Carrot Family
Organizer and beneficiary
Trevor Mauch
Organizer
Roseburg, OR