Rebekah's Recovery & Our Battle with Mold
At the beginning of the year, Rebekah's health quickly took a dramatic turn for the worst. She became bedridden and our family was desperate for answers. After spending hundreds of hours and thousands of dollars, we discovered that she is battling Chronic Lyme. In addition, while treating Lyme we discovered our rental house was contaminated with mold—and because of this Rebekah's symptoms were exaggerated due to mold illness. On top of a mountain of medical bills, we've had to throw away many of our belongings. If you are able to give financially, we thank you for your love and support and thank God for how He is using you. We thank you all for your prayers.
—
Below is the complete story of Rebekah's health journey, our move, and more details about our financial situation.
Well, you need to do something...
Throughout 2018, Rebekah struggled with pain in her neck, back, and head. And during the Fall, she began to experience extreme fatigue. It worsened until Christmas—and that's when we began to realize something was really wrong.
By mid-January, Rebekah's health was so compromised that she could no longer care for our children and our home. Simon was struggling to run his business. It was at this time that a dear friend of ours encouraged them "to just do something" about Rebekah's health—and that was just what we needed to hear. So we took action and immediately started looking for a doctor who could help and we invited Simon's mom, Jennifer, to stay with us temporarily as live-in help while we sorted things out.
Learning about Lyme
We found a doctor in Bend who came highly recommended by those same dear friends who gave us the ultimatum we needed to realize this was a serious issue. It didn't take the doctor long to recognize that Rebekah was likely dealing with chronic Lyme disease.
The diagnosis was surprising, but likely. When Rebekah was 8 years old, she was bit by a tick that carried Lyme. She was treated with antibiotics and immediately felt better. She never thought she would deal with Lyme again. It turns out that she was wrong.
Lyme disease is a stealth microbe—which means it's a disease that stays in your body for your entire life. Sometimes with no negative effects, but when the immune system becomes compromised, it can begin to cause many issues like extreme fatigue, mental fogginess, and joint and muscle pain—the exact symptoms Rebekah was experiencing.
Through January and February, Rebekah's health continued to decline and she spent her days alone, isolated in our room. 
Finding a Doctor
The trouble with Lyme disease is that it is difficult to find a doctor who will care for you. Medical doctors in Oregon do not treat Chronic Lyme because it is not recognized by the CDC (Center for Disease Control), even though there is evidence that it exists. It's hard to blame them for not treating Lyme because, often, they run into legal trouble with insurance companies and can even get their license taken away for treating a Lyme patient. So we started looking into other options.
We turned to Naturopathic care. But the naturopathic doctor who diagnosed Rebekah's Lyme (and others who confirmed it) did not want to work on her case because she was pregnant. That's when we found out that Naturopathic doctors don't typically treat pregnant women.
So we felt stuck. Medical doctors wouldn't recognize her issue. And Naturopathic doctors wouldn't help. But after hours of research, Rebekah found a Lyme-literate doctor in Pennsylvania who works with pregnant Lyme patients. Praise the Lord! 
Lyme Treatment
We immediately flew out to Pennsylvania to meet with the doctor. We were blessed that the doctor was only 15 minutes from Rebekah's aunt and uncle's home. Traveling across the country was intimidating, as Rebekah was 32 weeks pregnant and had spent the last two months in bed. She was weak and tired. But Simon pushed her through the airports in a wheelchair, and we were able to find outlets to plug in heating pads to ease Rebekah's pain during travel.
The Pennsylvania doctor was exceptional. We spent all afternoon at her office (they were very thorough), and she was able to easily identify symptoms of both Lyme and Bartonella (a common co-infection of Lyme). We did additional testing to look for other infections and viruses that may be affecting her immune system.
She started Rebekah on a treatment protocol. Within a few days, we began to see improvement, especially in Rebekah's energy levels. We were excited! We were even able to visit Valley Forge and go out to dinner—fun events that were becoming so rare.  
Returning Home & Fatigue
We went home with a new treatment plan and were waiting for better health. Unfortunately, when we got home, Rebekah started to feel awful again. Her fatigue came back as hard as ever and she felt nauseous most days. The doctor said it was likely that Rebekah experienced an initial honeymoon phase and that this was a part of the process of the infection dying off.
So we continued to wait. A month went by and she was still feeling the same. Something wasn't right.
Then we received a few tests results in the mail that the Pennsylvania doctor recommended. When we received the results we were shocked. Rebekah's body tested extremely high in all four categories of toxic mold. Our home came back with positive results as well. The doctor indicated that the mold was worsening Rebekah's Lyme symptoms and preventing her from healing. She strongly recommended that we move out of our house immediately. So we did.
A Sudden Move
As soon as we got the test results and news from the doctor, we packed up our essentials and headed for Simon's parents' home.
Within days of being out of our rental home, we began to see an immediate improvement in Rebekah's health. It was clear that mold was a significant issue and we would not be returning to our house. We needed a new place to live.
We spent a week and a half with family before heading back to Bend. We had let the property management company know about the test results and had worked out with them to terminate our lease. We promptly headed back to Bend to move our belongings out.
During this time, we rented an Airbnb for two months to allow time to move out of the moldy house and prepare for baby Ivy's birth. 
Throw It All Away
Having mold in your home is pretty much like having a house fire. Mold spores float around in the air, land everywhere, and contaminate every nook and cranny.
We had to throw out our mattresses, pillows, couches, and anything porous that cannot be soaked and sanitized. Some of our other belongings even had mold growing on them. Paper and books harbor mold. All of our unfinished wood furniture needs to be sealed or painted. We are soaking and sanitizing many items hoping to save what we can.
Here's a picture of Simon right before he took a load of couches and mattresses to the dump.
Ivy's Birth
We've been extremely blessed to have been able to rent an Airbnb in Bend so Rebekah could birth Ivy at home and be supported by the same midwives she'd seen throughout the pregnancy. Praise God that Ivy Villeneuve was born on April 21st at 5:26 a.m. We prayed for Rebekah to have the strength to get through labor and God provided that strength. Rebekah was able to have uncomplicated labor at home and Ivy is a normal, beautiful baby.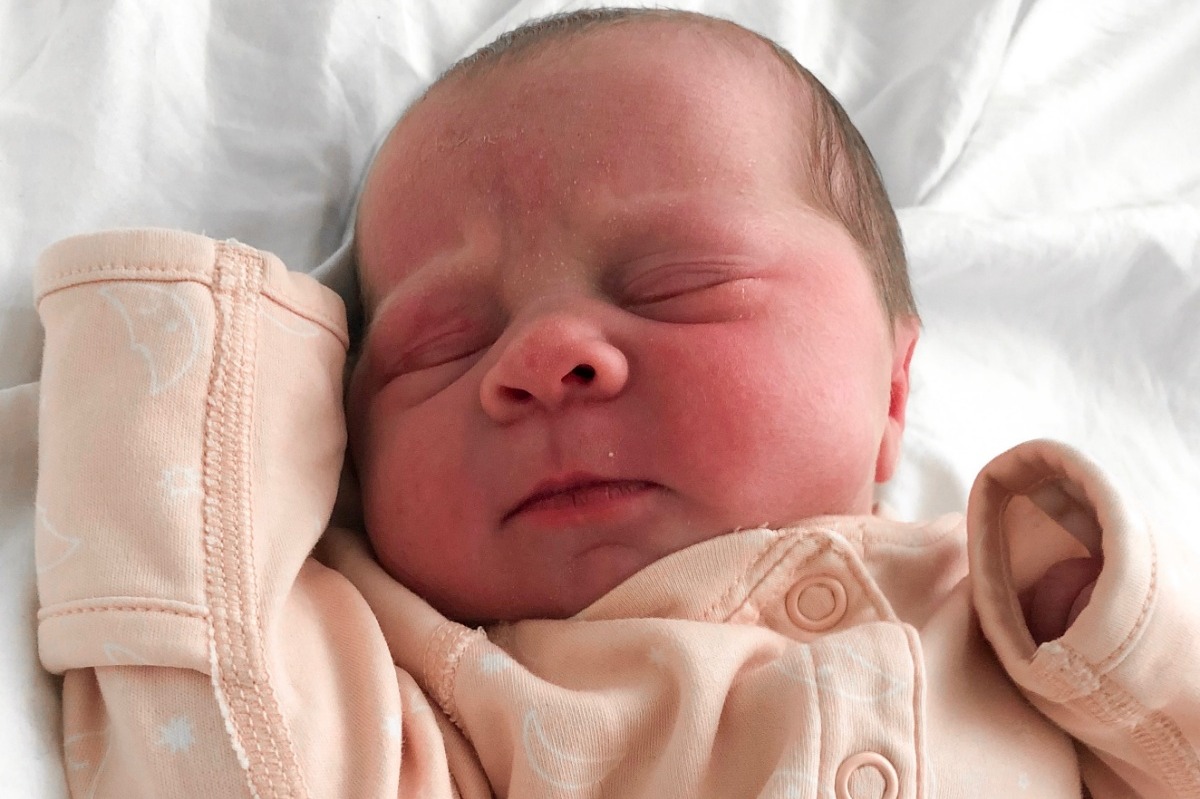 We collected blood samples from the cord blood and sent them into multiple labs. Ivy is being tested for the same infections that Rebekah came back positive for (Lyme and its co-infections as well as the biofilms that harbor infections and mold). While we're hoping that Rebekah's body fought hard for Ivy's health in utero, any or all of these same infections Rebekah was struggling with could also have been transmitted to Ivy. We will receive results in about a month and have an appointment with our doctor about what kind of care she will need moving forward.
Rebekah's Healing
Ever since moving out of the "mold house" (as Olive calls it), Rebekah's energy levels have been improving. It's exciting to see significant progress!
But since Ivy's birth, Rebekah has been experiencing more symptoms of mold illness. She has had various symptoms such as painful veins, aching hands and feet, and itchy skin. She is still trying to build strength and energy stores.
Her doctor says it is likely that she is experiencing another honeymoon phase and it will likely get harder again. The journey to health is still a long one and we aren't sure what we will encounter along the way.
Insurance
Because Rebekah has experienced the symptoms of biotoxin illness for a couple of years, Samaritan Ministries (our insurance alternative) has termed her case a "pre-existing condition" and will not cover any of the medical costs. We are applying to receive donations through their Special Prayer Need Program where other members can donate to our need—but there's no guarantee we'll receive anything.
Our Medical Burden
In the last few months, we have spent over
$14,000
in medical expenses. And because both Rebekah and Ivy will need continued care and medicine, it's likely we'll have to spend another
$10,000
in the next few months. 
In addition to medical expenses, we are also dealing with unexpected moving costs and we're having to replace our belongings. We expect the total cost of moving (in and out of the AirBnB, into permanent housing, deposits, and supplies) and replacing our belongings (beds, furniture, necessary personal items) will cost roughly
$15,000
.
If you total up the expenses for the year, it comes to about
$40,000
. As you can imagine, this is a heavy burden for our family to carry.
Peace & Provision
In closing, we want to share how God has already provided for us in many ways. He has provided direction, community, protection from harm, spiritual growth, and maturity. Additionally, God has already used a handful of people to bless our family with financial gifts. But we still need help. We're carrying thousands of dollars of unforeseen medical debt—and it's not over.
Your financial gift will supply our family's needs—but it's much more than that. Your gifts are supporting Peter, Olive, Ranger, and Ivy: our quiver of arrows that God is going to use to do His Work. And lastly, your gift is a testimony of God's abundant and overflowing work in your own life. 2 Corinthians 9:12-15 says it this way:
"For the ministry of this service is not only supplying the needs of the saints but is also overflowing in many thanksgivings to God. By their approval of this service, they will glorify God because of your submission that comes from your confession of the gospel of Christ, and the generosity of your contribution for them and for all others, while they long for you and pray for you, because of the surpassing grace of God upon you. Thanks be to God for his inexpressible gift!"
Thank you for your gifts, your prayers, and your support. Thank you for walking this journey with us and allowing us to be open, honest, and authentic.
Blessings,
Simon & Rebekah Villeneuve