Support Prayer Prompter Development - Version 2.8
The design and development of the free Prayer Prompter app has cost more than $53,000 since its introduction in 2012. Almost all of that money has gone to pay a senior programmer who works on Prayer Prompter in his spare time. His invoice for upgrading Prayer Prompter to this latest version (2.8.0) is $3,625.
Here is a visual summary of the features we added and things we fixed.
If you have been blessed by your use of Prayer Prompter and plan to continue using it to enrich your prayer life, please consider helping the design team pay the programmer for his work. We would like to keep Prayer Prompter free forever but we can't afford to do that without your help.
Here are some of the things that we are hoping (and praying) will come to pass:
★ A choice of the KJV and NASB for new users  (Target: Version 3.0 coming this fall)
★ A Scripture memorization capability this year (Target: Version 3.0 coming this fall)
★  A choice of  other popular Bible translations (NKJV, ESV, NIV, NLT) as an in-app purchase because these publishers required a royalty.
★ Prayer Prompter in Spanish as soon as possible. Cost estimate: $2,000
★ Prayer Prompter for Android as soon as we can find a competent and trustworthy Christian programmer and the $25,000-$30,000 to cover the cost.
We are already thinking about new features and functions for Prayer Prompter 3.0.  Here is a screenshot of a portion of our Trello development board.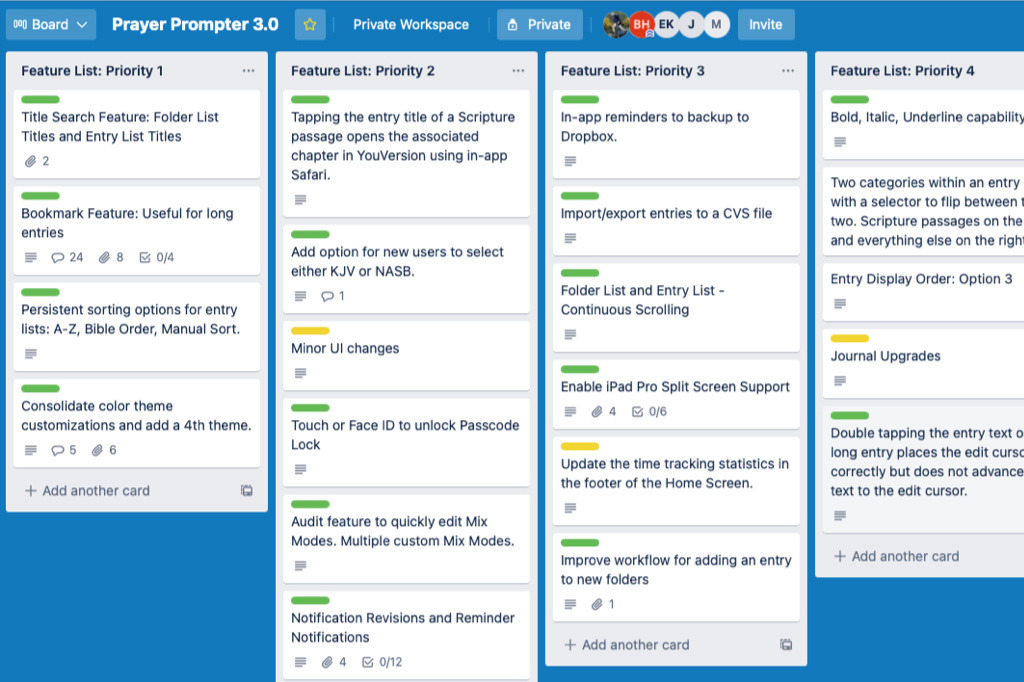 Organizer
Rick Austin
Organizer
Cedar Park, TX