Dear Reader,
I remember my first visit to the Alexandria office of the Small Business Development Center. I was nervous about meeting with a financial advisor and trying to convince them that I could make a retail brick-and-mortar bookstore work in the digital age. It felt like the deck was stacked against me - rents in Old Town were high, I didn't have any outside funding, I hadn't owned a business before, or, for that matter, ever even worked in a bookstore. But I had a feeling that Old Town needed a new general interest independent bookstore. I dreamed that there was a community of readers here ready for author events, book clubs, and writing classes. I desperately wanted to be part of that community of readers and writers myself. 
In that meeting I got some sobering advice about opening a bookstore. I got denied loans and credit cards. The financial advisor looked at my year three sales goal in my business plan and laughed. 
Fast forward a year and a half later. I surpassed that year three sales goal in year one. I hired a staff of brilliant booksellers. Together we hosted more than 100 free and low cost literary events, brought dozens of authors to Old Town, and produced a literary festival for more than 800 attendees.  I was on my way to my ultimate goal for Old Town Books - that it would become  an Old Town institution. I had always aimed to create a bookstore that felt like it had been there forever, and could last for generations. In just 18 short months, my dream was coming true. 
But now the situation at hand is so extreme and so unpredictable that we're asking for your help to ensure Old Town Books is here for good. I never thought I would be turning to crowd funding to keep the store open. This fundraiser is to cover payroll, rent, and fixed costs during the shut down. It will keep the store open through the next very uncertain year while we adapt our business model to continue operating through the COVID-19 outbreak. I want Old Town Books to be here when the clouds part, and I hope you do, too. 
Why a Go Fund Me? Online sales pale in comparison to our usual in-person operations. While I am extremely grateful for online sales - they are keeping our staff busy! -  I also know that they will only keep us open for a short time. To stay open we need the financial support now, not in a few months once loans and grant funding come in.
Thank you for helping keep Old Town Books in Old Town. We want to be here for good, to do good, and to keep bringing reading and writing events to Alexandria. Any little bit helps. 
- Ally and team Old Town Books 
#SmallBusinessRelief
Scenes from our 2019 Emerging Writers Festival, which hosted 30 classes, free readings, and book signings.
Our amazing staff and volunteers at the 2019 Emerging Writers Festival produced free and low cost literary arts programming for the first literary festival in Alexandria.
Scenes from a book club: We host four book club meetings each month, as well as writing classes and book signings. 
Shop dog Scout, the unofficial host to all of our book clubs and events, watching over our new Lit Loft events space.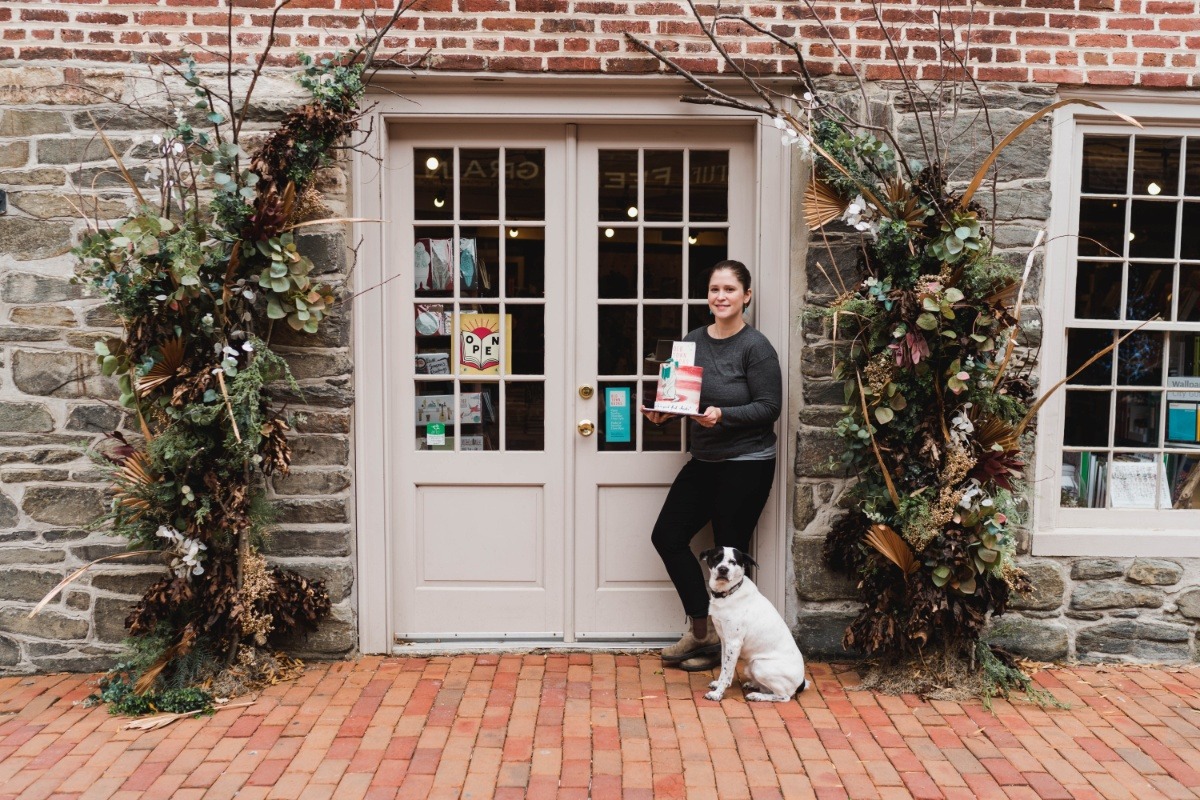 Scout and I on the one year birthday of Old Town Books.