Support for the Folk Artists of Oaxaca, Mexico
Financial Relief for the Folk Artists of Oaxaca, Mexico: How You Can Help
Oaxaca is set in a vast fertile valley crossed by the Sierra Madre mountain range where the Zapotec and Mixtec have lived for more than a thousand years. Indigenous, pre-Columbian and Colonial influences come together and continue to this day. Oaxacans are self-reliant, care-free and gracious people. It is through their folk art, however, that they are able to express their approach to life and death, by using vivid colors, textures, and materials in various themes.
In a matter of months everything has changed, as COVID-19 spreads throughout the central valley of Oaxaca. The villages have sealed themselves off from the outside world, but the virus is rapidly increasing. By taking this necessary action, they have little or no sales for their folk art and therefore no sustainable income, which naturally puts them in severe economic jeopardy. To make matters worse, on June 24th, a violent earthquake struck Oaxaca causing property damage and folk art to fall off the shelves and break. The quake just added to the challenges and misery of a deepening pandemic.  
The problem seems overwhelming, yet there is something we can do…donate money. We selected a sample of 26 gifted Oaxacan folk artists to receive, not only relief funds, but sales for their work. Donations of $300 USD or more will receive a free gift of an original, signed piece of folk art, with a COVID-19 pandemic theme, by one of the 26 artists. Please consider making a donation and ask your friends and colleagues to join you. The more people we can reach, the more successful our appeal will be, and the sooner we can get funds where they are needed most.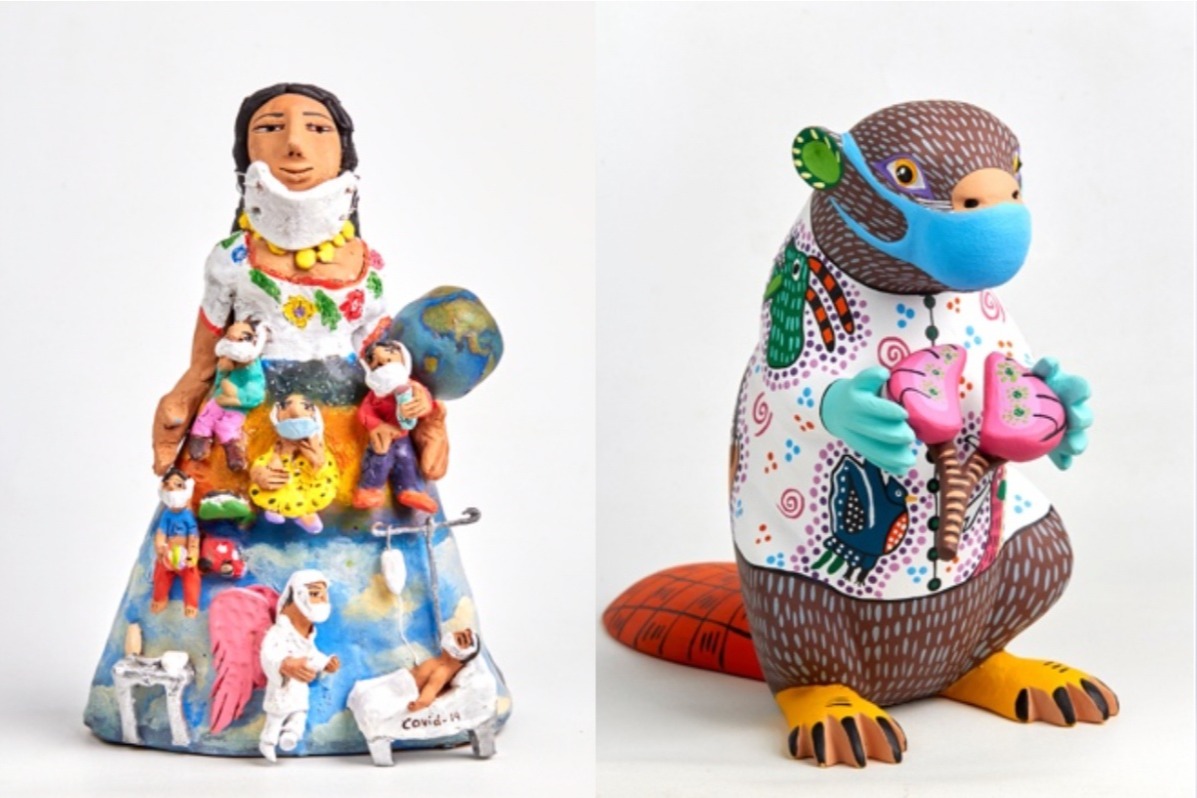 Note:
These photographs are examples of artwork donors will receive who contribute $300 USD or more. Also, the pieces are handmade, specially ordered, and shipped from Oaxaca, so some pieces may take a few months to arrive.
Participating Folk Artists
Agustin Cruz Tinoco
Angélica Vásquez Cruz
Angélico Jiménez
Armondo Jiménez
Avelino Peréz Muñoz
Coindo Melchor
Concepción Aguilar
Demetrio García Aguilar
Eloy Santiago
Gabino Reyes
Guillermina Aguilar
Irene Aguilar
Jaimie Santiago Morales
Jenifer Teresa
Josefina Aguilar
José Juan Garcia Aguilar
José García Antonio
Juventino Melchor
Letica García Aguilar
Luis Valencia Mendoza
Margaretta García
María Jiménez Ojeda
Maximimo Santiago
Ricardo Santiago Pacheco
Sara Garcia Mendoza (SEGM)
Sergio García