In 2017, I established the first and only Black female owned fine art screenprinting business in New York and have since collaboratively printed editions for artists, designers, and institutions such as Aya Brown, Diagonal Press, and The Museum of Arts and Design. I now need financial support to expand my print shop out of my bedroom and into a commercial space of my own.
All energy contributed to the ecology of Du-Good Press is recycled outward into collaborative relationships that positively effect the entire creative ecosystem, one impression at a time. To learn more visit
my website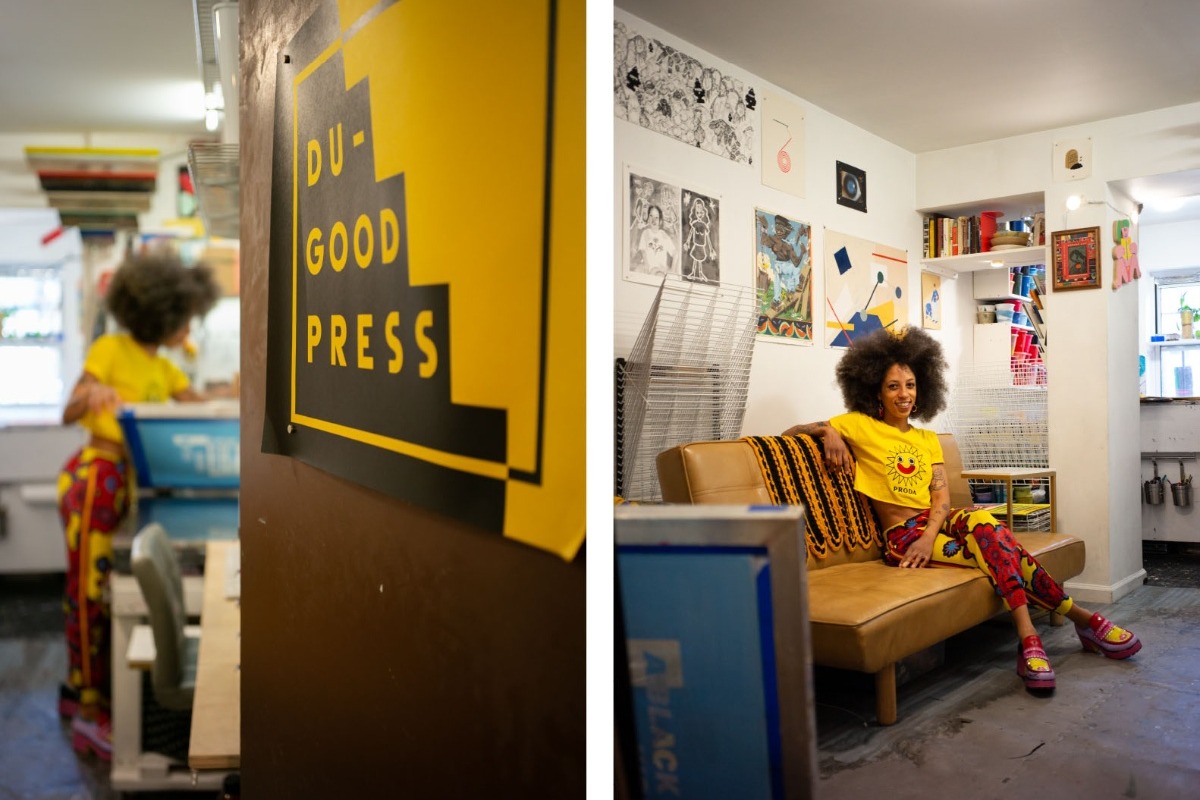 Photos By Waylon Bone
Now and always, it is critical to support production that reflects sustainable, ethical, and inclusive practices. Investing in the growth of Du-Good Press directly supports an artist-run small business ecology, designed by an artist for artists and art practices.
Left: Searching for Inner Fire, 2020 By Bruce M. Sherman | Right: MTA WORKER, COVID-19 and NURSE 3, COVID-19, 2020 By Aya Brown,  Photos By Waylon Bone
UPDATE
I lost three commercial spaces in the last year due to landlord mismanagement and am paying a hefty price to store my large industrial equipment that no longer has a place to function. Presently, I don't have enough capital to get off the ground and into a space of my own.
I know what I'm asking for might be difficult for some to imagine, which is why I've been working hard to increase visibility of my role as a printmaker and peer leader within the artworld economy. 
DU-GOOD
Subliminal Projects
1331 Sunset Blvd, Los Angeles, CA
On view June 5-July 18th
Top Left: 808, 2019 By Maya Hayuk, Grape Thirst, 2018 By Sam Keller, Inner Offerings, 2019 By Dominique Fung, Late, 2019 By Aliza Morell | Bottom Left: rainbow with pink, 2020 By Nova Lazzarini, A Friend for you and Me, 2021 By Nadia Fediv, Untitled, 2021 By Mosie Romney, Untitled, 2019 By Leslie Diuguid, Self-portrait, 2020 By Rhasaan Oyasaba, Looking Back To Find A Way Forward, 2020 By Leslie Diuguid, Photo By Morgan Rindengan
"I've been a printmaker long before people considered me an 'artist,' and my entire practice is founded on the skills that I learned refining the process. I think Leslie Diuguid's talent in this space is one to be celebrated, and seeing her process and command of the craft is inspiring. I can't see a better fit for Subliminal Projects. Leslie is an important member of the art and printmaking community, and I hope we can all help to support her in opening her print shop in Brooklyn!" 
- Shepard Fairey
Diuguid has distinguished herself with the unique ability to work with artists and take their vision to print with remarkable skill and detail. The exhibition aims to pull the curtain back between the viewer and the world of art fabrication by showcasing a comprehensive retrospective of over 70 prints made by Diuguid, with esteemed institutions and artists such as Barry McGee, Hassan Rahim, and Dominique Fung. In conjunction with the opening of the exhibition, Subliminal Projects and Du-Good Press will release a limited series of new prints with artists Shepard Fairey, Emma Kohlmann, Justin Hager, and B. Anele.
Left: Floral Face, 2021 By Emma Kohlmann | Right: And then they showed me things I'd never seen elsewhere to revitalize my spirit, 2021 By B. Anele
Left: Pyramid Top Icon, 2021 By Shepard Fairey | Right: Alienated, 2021 By Justin Hager
"The curation of DU-GOOD represents my journey of creating a space for myself and artists in my network to thrive. I aim to create an ethical model of production based on reciprocity, collaboration, and mutual respect. Quality is primary, but so is the need to operate at all levels in harmony." - Leslie Diuguid
DIUGUID

Reading Our Fathers: Making Black Men by my father, Lewis Diuguid, unlocked a chain reaction by revealing the history of his father, Dr. Lincoln I. Diuguid.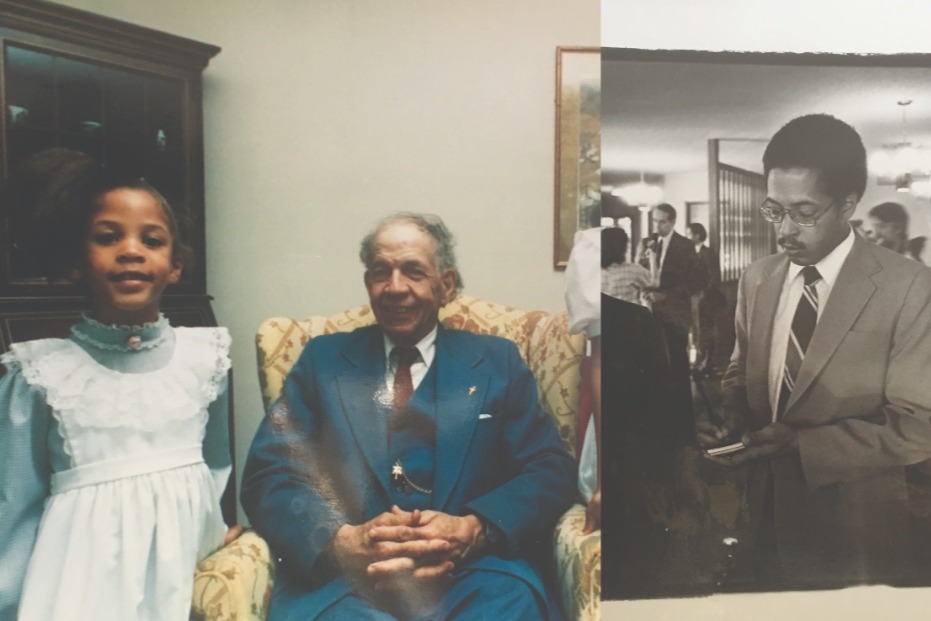 Kansas City, MO Left: Leslie Diuguid and Dr. Lincoln I. Diuguid Easter Sunday 1989 | Right: Lewis Diuguid 1981, The Kansas City Star
Despite being the first Black man to graduate with a doctorate in chemistry from Cornell University, my grandfather, Dr. Lincoln I. Diuguid found that the only positions he was offered at large chemical companies required him to "pass" as white. In the face of this discrimination, he started his own company in 1947 St. Louis, Missouri.
Dr. Lincoln I . Diuguid / Lewis Diuguid excerpts from his book, Our Fathers: Making Black Men
Recently declared a National Landmark, the Du-Good Chemical Laboratory building is the most closely associated site with his innovative career and investments in uplifting the black community through engagement and purposeful mentorship.
PHYSICAL SPACE BREEDS CREATIVITY
Having a stable, secure physical space allows for more frequent and thoughtful creation. While regularly problem-solving a workspace, my energy is being diverted from the actual art-making. This new storefront would allow for more regular collaborations and thought-sharing. A larger space would permit invited artists access to the resources of Du-Good Press and the screenprinting process while still having room for in-progress work to continue.
With the freedom of a professional working space secured, I will have the time and energy to expand Du-Good Press. In turn, new artists will gain exposure to screenprinting and new art collectors will have the opportunity to purchase work. Growing this community of artists and collectors depends on Du-Good Press being able to expand production in a new, fertile, creative landscape. 
IDEAL SPACE

LOCATION: BROOLYN, NY | BEDFORD-STUYVESANT
800 - 1200 SQFT
RENT: $2,500 / MONTH
BUILDOUT $21,860
EQUIPMENT
$17,095
ON HAND (STORAGE & SUPPLIES)
$16,500
CONTRACT LABOR
$15,000
DEPOSIT + 3 MONTH'S RENT
$13,500
BUILDING MATERIAL
$83,955 NEW GOFUNDME GOAL

Any funds you can contribute to this effort are greatly appreciated!
Sincerely,
Leslie
Organizer
Leslie Diuguid
Organizer
Brooklyn, NY