Support Deepika for Antarctica Expedition
Hi, I am
Deepika Rawat
and I have been selected from among hundreds of applicants to participate in the
International Antarctica Expedition
(24 March - 4 April, 2022) and the '
Leadership of the Edge
' program by the
2041 Foundation
to promote actionable solutions around
sustainability
,
climate change
, and
renewable energy use
.
The Expedition
is led by
Polar Explorer, Sustainability Champion, Environmentalist
and the
UN Goodwill Ambassador for the Youth, Robert Swan OBE —the first person in history to walk to both Earth's poles,
alongside
Barney Swan
and
Jeff Bonaldi.
The Expedition's
mission
is to
inform, engage and inspire the next generation of leaders
to take responsibility, be sustainable, and know that
now is the time for action in policy development, sustainable business generation,
and
future technologies—for a better future—
and in doing so,
preserve Antarctica,
the last great wilderness on Earth!
This fundraiser campaign is to
seek your support
to raise the required
funds
needed for me to participate in this Expedition.
(2041 International Antarctica Expedition | 2021 | Trailer)
_________________________________________________________________________________________
ABOUT ME:
I am currently a
Ph.D. Student
at the
CEN Center for Earth System Research and Sustainability, Institute of Geography, University of Hamburg, Germany
with a research focus on
climate change adaptation and sustainable development of marginalized communities in the high-altitude regions in Indian Himalayas.
I also work part-time as a
Teaching Assistant
at my university where I teach Bachelor's students Geomorphology and the impact of climate change in the world's ecozones. I am originally from the Himalayan state of Uttarakhand but grew up in New Delhi. I also have prior work experience in the field of
natural resource management, GIS mapping,
and
children's education.


_________________________________________________________________________________________
MY STORY:
Antarctica contains approximately 90% of Earth's ice and roughly 70% of our planet's freshwater. The most visible effects of climate change i.e. melting glaciers and ice shelves have been observed in Antarctica, a largely pristine wilderness that belongs to no country. Likewise, numerous studies conclude
'the Himalayas is one of the world's most sensitive hotspots to global climate change, being affected at a rapidly alarming rate.'
Warming temperatures, erratic rainfalls, melting of glaciers, loss of snow, natural disasters, etc. are leading to water scarcity, crop loss, food insecurity, loss of biodiversity, economic uncertainties, and migration, threatening the lives of millions, including my own community, my own region.
As a person hailing from the Himalayas, I have automatically grown to be very close to nature as I knew no other way. My most cherished memories as a kid are from my village back home where I used to accompany my grandmother to work on fields, fetch water from a nearby stream, milk the cows, collect fodder and firewood—which I believed was a "normal way" of living until I realized the "changes" around me.  And as I grew up, I became more aware of my surroundings, about the environmental crisis we are in the middle of. Coming from a mountain village,
I have experienced the implications of changing climate on the agricultural practices, lives, and livelihoods of my own community,
along with the occurrence of various extreme disasters, such as the
2013 Kedarnath flash floods
. Due to such personal experiences, the theme of climate change, women in the midst of changing climate scenarios, and sustainability are really close to me.

All my past experiences have driven my career choices in the field of climate action and sustainability because I am certain that we can combat climate change by sustainable means and collective action.
For me, the Expedition is not just an expedition to Antarctica, it's a once in a lifetime learning opportunity to see the
real climate change happening up close; to get to know diverse individuals from around the world and all walks of life, and to learn and get inspired from each one of them.
Furthermore, meeting and learning from renowned and inspiring environmentalist Robert Swan himself would be a dream come true!
_________________________________________________________________________________________

ABOUT 2041 FOUNDATION


◼️2041 Foundation was founded by
Robert Swan OBE
with a mission to inspire the next generation of leaders for the preservation of Antarctica by the promotion of renewable energy, recycling commodities, and sustainability to combat the effects of climate change. 2041 Foundation is named after the year '2041', the year in which the
Antarctica Treaty
established to preserve the 'last wilderness'—that belongs to no nation, can be renegotiated. The treaty prohibits nuclear explosions, disposal of any radioactive waste material, and mining; and promotes scientific research and peace for international cooperation to create a sustainable world. 
◼️2041 Foundation also aims to create a movement of energy/climate champions also to facilitate
ClimateForce initiative
 , a
7-year commitment to clean up 360 million tons of CO2 from the atmosphere
through strategic offsetting partnerships, led by
Barney Swan, the first person to trek 600 miles to the South Pole powered solely by renewable energy
.
_________________________________________________________________________________________
WHY DO I WANT TO GO ON THIS EXPEDITION?
◼️This 'carbon-negative' expedition aims to inspire, develop, and train the next generation of leaders to promote a more sustainable future. Through lectures, shore landings, hikes, group discussions, workshops, and more, the Expedition will train inspirational participants on up-to-date climate science, sustainability, and leadership skills and will equip them with the tools to create meaningful impacts in their communities, institutions, companies, and governments in order to benefit this planet that we all call home.
◼️I will
experience and learn
about the
first-hand impacts
of climate change in Antarctica and
brainstorm on the most innovative solutions
to combat climate change globally. 


◼️
During the expedition, I will be receiving various
intensive leadership training and workshops
 from Robert Swan and other renowned climate and sustainability experts. 
◼️As an
aspiring Policymaker
, having an opportunity to participate in this Expedition would tremendously benefit me in
learning more about the latest developments and innovations
in line with my climate research which would define my future actions towards fighting climate change.
◼️
Being a Researcher and an Educator
, I would be able to
increase the visibility of my individual research and projects
, apart from creating
environmental awareness
. 
◼️As much as the thought of crossing the tempestuous Drake Passage to reach Antarctica brings me thrills, I am thrilled about
meeting and learning
from Robert Swan and so many other
global climate experts and leaders
on this journey.
◼️Coming from a country with a population of nearly 1.4 million,
youth engagement
in tackling the climate crisis is much needed, because if not we, then who?!? But I personally believe that there's so much lack of information and knowledge gap, which then becomes our responsibility as individuals and as youth, to
come to the forefront and initiate the climate dialogue and action
within our own communities and beyond.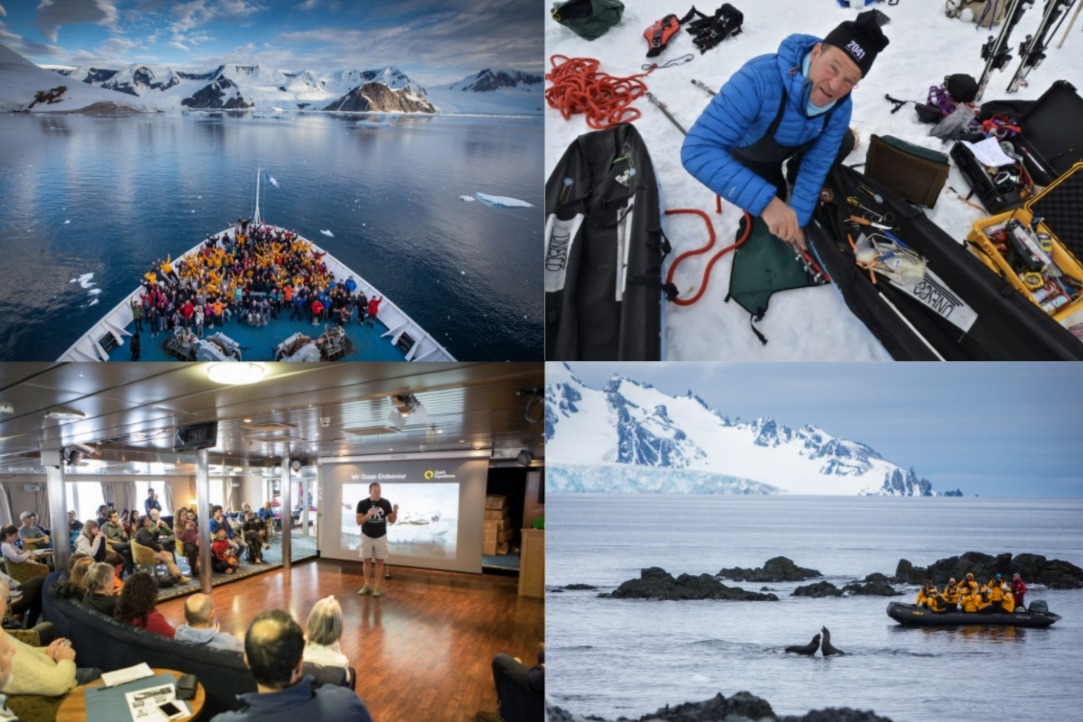 _________________________________________________________________________________________
WHAT I AM GOING TO DO POST-EXPEDITION?


Post-expedition, as being one of the
2041 ClimateForce Ambassadors
, I will use my learning to amplify the need for collective climate action, sustainability, and use of renewable energy, because, well,
actions speak louder than words!
◼️ I will continue my
ongoing multi-country environmental awareness campaign
'The Faces of Tomorrow '
(started in August 2020 and supported by Climate-KIC)  focusing on spreading awareness regarding the
positive impacts of sustainable living through storytelling
and educating people
on various environmental issues.
◼️ I will continue
working at storytelling creative podcast 'No Place Green Enough '
(supported by Climate-KIC & 350.org) that blends the art of creative tales and real-life events to shed light on major global issues (and
United Nations Sustainable Development Goals
or SDGs) related to climate, human rights, health, environment, economic development, and more.
◼️ I will closely
work and collaborate with university student unions
to run learning programs and knowledge sharing to sensitize our youth towards
simple ways to contribute to climate action and sustainability
.
◼️ I will
share insights and experiences
from the Expedition on my social media and personal blog to inspire young people to become
climate warriors
because that's what the world needs right now!
◼️ Furthermore,
my future vision is to transform my Ph.D. research into practice.
In any crisis, poor people are the most vulnerable ones that are affected the worst and so, I want to create a
sustainable and profitable social enterprise for community empowerment and ecological restoration for the marginalized communities in the Himalayas.
_________________________________________________________________________________________
MORE ABOUT ME:
◼️ I am an
Alumni
of the
European Institute of Innovation and Technology's Climate KIC , European Union's largest climate innovation initiative, and the world's largest summer school.
I was
one of the 400 participants
selected from all over the world at Climate-KIC Summer School-
The Journey 2020
 , I learned about climate action, climate innovation, systems transformation, and community building from host institutions—
Norwegian University of Science and Technology (NTNU)
, and the
University of Helsinki in Finland
. I also successfully achieved an overall Excellent grade.
◼️ I have previously
worked and volunteered
with various national and international organizations (
Azim Premji Foundation, 
Centre for International Projects Trust-
Columbia Water Centre
  (India office),
Pravah
,
GVNML
,
Kids Care Campus ev
 ).
◼️ Since 2013, I am a recognized Lifetime member of the
Golden Key International Honours Society
, Atlanta, USA
, selected on the basis of academic performance during my undergraduate degree.
◼️ Apart from the typical studying stuff, I am a bit of a fun person too! I have played and participated in university
football
tournaments during my bachelor's and master's studies and have represented the University Of Delhi in
Lincoln University, New Zealand
under an advanced football training camp by
Asia Pacific Football Academy
back in 2013. 
◼️ Presently, when I am not studying, I am either
trekking
and
hiking
(been to many in India, Germany, and Poland),
painting
, or doing
photography
!
Lastly, as I dive deep and learn more every day about what we are doing to our planet, I am realizing what more I could be doing on an individual basis to reduce my own environmental impact and in the process engage and motivate others too—
YOU
. This would sound like a small accomplishment but I and my siblings were able to convince my parents to have a rainwater harvesting system and solar heating panels at our new house back in India, although they still need to be a bit improvised—
changes are possible!In a nutshell, let's make the world a little bit better together! 
_________________________________________________________________________________________******CALL FOR SUPPORT******


I believe that this Expedition would get closer to my dreams and reveal paths I might otherwise never discover. But, for me to take part in this Expedition, I need
YOUR SUPPORT
.
I need to raise approximately
20,400 USD (~17,000 €)—
I hope to pay as much of this out of my pocket, however, for the rest, I am looking for sponsorships and crowdfunding support. I am trying to raise
8000 € from this fundraising campaign
and any donation-big or small-will help me immensely and will be appreciated!
A
breakup of the expenses
is:
Expedition fee: 16,900 USD (14, 200 €)
Gears and extreme weather equipment: ~1000 USD (~800 €)
Return flight tickets from Hamburg to Buenos Aires and Buenos Aires to Ushuaia, Visa, Travel Insurance: ~2500 USD (~2100 €)
REWARDS as a token of appreciation!


I would like to
thank you
for any kind of support as I embark on this
incredible journey—
be it
monetary
or
sharing
my campaign with others. I am so grateful for this opportunity and I hope you can help me make it happen!


Thank you very much! Danke! धन्यवाद!

***PLEASE NOTE:
If you happen to have any problem with making donations, please contact me.
***
_________________________________________________________________________________________

MORE ADDITIONAL LINKS:

About Expedition:
CFA21
|
Call for Support from Robert Swan


About Robert Swan:
Robert Swan TED talk
|  
Robert Swan x NASA
|
Robert Swan x CBSN
  |
Robert Swan x Chronicle Live
|
Robert Swan x Mongabay


About Barney Swan:
B
arney Swan x CNBC
|
Barney Swan x The Times UK


About ClimateForce:
Restoration Projects


About The Faces of Tomorrow:
Website
|
Instagram
  |
ClimaTalk Feature


About No Place Green Enough:
Website
|
Instagram
  |
Twitter
  |
LinkedIn
  |
ClimaTalk Feature


My contact details:
LinkedIn
|
Instagram 
Inspirational video link to why it is imperative that we should care about climate change:
An urgent call to protect the Third Pole by Tshering Tobgay 
Organizer