Stop Big Tech Election Interference
FULLY FUNDED! THANK YOU TO ALL THE BRAVE PATRIOTS THAT CAME TOGETHER TO MAKE THIS POSSIBLE!! YOU ARE THE VANGUARD! YOU HAVE MADE US PROUD! ALL ADDITIONAL DONATIONS WILL BE USED TOWARD THE LEGAL CASE WHICH WE EXPECT TO BE PUSHED ALL THE WAY TO THE SUPREME COURT!
If you are interested in joining the plaintiff pool (in the future) please use this form.
(note - there is an entire section about the Attorney Cris Armenta at the bottom of this campaign content. Please click through.)

Updates:
  * Oct. 26th: EMERGENCY INJUNCTION IS FILED! 
    * PRESS RELEASE 
    * INJUNCTION
  * Oct. 28th: District Court Orders first hearing on Nov. 2nd. PDF 
  * Are you using paypal or want to make a (tax-deductible) donation through paypal? Use this link .

Hi, my name is Zach Vorhies and I'm known as the Google Whistleblower. I'm working with Ryan Hartwig, Facebook Whistleblower on this campaign.

I worked at Google for 8.5 years as a senior software engineer. The last three years of which was spent at Google-owned YouTube.

With much regret, my former employer YouTube has now become a direct threat to the United States of America and the Republic for which it stands. YouTube is engaging in reckless censorship by doing a mass purge of content creators it deems "brand unsafe."
Why would Google take actions that seemingly squash the clear exchange of ideas and differing points of view? Doesn't that seem to interfere with free speech? The election? In fact, this is EXACTLY the case. Google is deliberately attempting to influence the election by preventing certain opinions from being shared.

Here are just a few of the Youtube channels that were deleted last week by Google/Youtube:


Images courtesy of altCensored.com/channel/deleted
This behavior is nothing short of an election coup!

People may think that the phrase "election coup" is too strong, maybe even hyperbole. Google wouldn't ACTUALLY want to do a coup… would they?

As someone who saw the inside of Google, my answer to this is: "Yes, without ANY doubt".

I know because I saw it with my own eyes. It took me several years of watching Google build this election-rigging machine before I came to the conclusion that Google would certainly try to steal the 2020 election. This was not something they tried to hide.  Instead, they carefully documented as a huge project named "Machine Learning Fairness" - which I downloaded and disclosed to the public in August of 2019. The disclosure is 950 pages and can be seen here.

Don't just take my word for it, Jen Gennai, a current high level Google director, admitted last year to an undercover journalist that only something the size of Google could "prevent the next Trump situation".

As a former employee, I understand the scale of Google. I am terrified about what could happen to me for fighting the biggest election rigging machine the world has ever known.
What is one small individual like myself compared to this GIANT? If I were Google I would have this company whistleblower killed. Does this sound outlandish? Here is what Google did to me when I sent that 950 pages to the DOJ in August of 2019: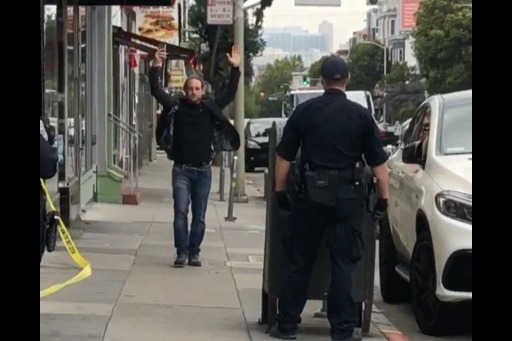 What you see here is a wellness check that included the San Francisco Police department, the FBI and the Bomb squad. I wish I was making this up but it actually happened.
This is a David VS Goliath moment




The only thing that terrifies me more than dying and my family being targeted is the world that Google is building for all of us. This is really our last stand. This is more than a coup on the US election, if Google wins it will be a coup on humanity. Why? Because Google see's YOU as a programmable unit; programmable via its control of the information they return to you when you use Google search, Google news and YouTube. For example, this Google slide details how the company manipulates you.


(link)

This intention to program YOU (the American Public) is also found in other documents from the company:


This is not a "Left vs Right" or "Conservative vs Liberal" issue

This fight has nothing to do with politics. It is a fight for the future of humanity. I do this not just for you, but also for your children, your children's children and for generations to come. They deserve the free world that we inherited. The torch of freedom must be passed on.

This is a once in a lifetime opportunity to stand together and fight against Google. As a single person I mean nothing. It has always been YOU, the American people that has made this fight possible. Together Google CAN and WILL be stopped!

Stand with me and FIGHT NOW!  I am putting $5k of my own money into this to say "no more". Others have done the same. Stand with us with a donation of $5, $10 or $15 dollars which together will fund this emergency injunction. 

Amplify, share and like this story as much as Big Tech will allow. Time is of the essence.  We are being censored. Go NOW to all social media platforms and SHARE punchgoogle.com. Share it with your friends, your family and your co-workers.

Regardless of your political affiliation, together we can TOPPLE Google and restore freedom of speech to our land. Pledge now. And make sure you tell your friends about this campaign found at punchgoogle DOT com (which will redirect to this gofundme).

Thank you,

~Zach


About the Attorney Cris Armenta
I want to mention that I (Zach Vorhies) did an extensive vetting of many attorneys across the country. Cris Armenta was the one with the strongest knowledge about how to defeat Google. 

The necessary criteria for selection includes:
1. The attorney practices in California.
2. The attorney has specific knowledge and strategy on how to attack YouTube/Google.
3. The attorney are prepared to file the suit immediately.
It turns out the Google/YouTube terms of service requires that the person sue Google in California. Although the venue could possibly be challenged in court, doing so adds additional risk.
What sealed the deal beyond the conversation about legal strategy was also the coincidence that Cris Armenta was also selected by my friend and YouTube content creator "Young Pharaoh" (500k subs on YouTube) to represent him in his case against YouTube. Cris Armenta's case history against Google means she has a well thought out strategy. After going in depth and playing a bunch of angles with Cris Armenta during the vetting process it was clear why "Young Pharaoh" chose Cris Armenta to represent him.


LEGAL STRATEGY

This is essentially a breach of contract lawsuit against Google.
Here's the brief summary of our strategy:
1. Case to be filed by the top conservative accounts that were purged on October 15, 2020.

2. Google/YouTube violated its own Terms of Service by shutting down the accounts because they can only do so when 3 conditions existed by their own TOS.

3. They claim they were shut down for repeated violations and harassment.

4. But, the channels were not repeaters nor did they harass, and the new harassment policy was enacted in a way to complete decimate these channels specifically.

5. The Plaintiffs will be seeking a TRO or emergency injunction to put the channels back up.

6. The Plaintiffs have a First Amendment right to speak, large reach, and there is "state action" in so far as Representative Schiff demanded that "conspiracy" channels come down and HR 1154 condemned the type of speech up on these channels.

7. This is a First Amendment case, but it will be simplified by holding YouTube accountable to the very TOS it itself imposed.

8. The attorneys involved have extensive experience in litigating with Google and are shaping up the case to either win at the Ninth Circuit (President flipped the circuit) or to create clear path for the amendment of Section 230.

9. Last week, SCOTUS declined to hear the case where the Ninth Circuit said that 230 immunity is NOT "boundless."

10. We have a good chance of success and paring back the Section 230 immunity and getting the conservative pro-Trump content back up before the election, just in time, if we are funded adequately.
An in-depth discussion about the legal strategy can be viewed in the following video (around 45 minutes).


Q&A

Q: When will the injunction be filed?

A: Assuming this crowdfunding reaches the funding goal, the injunction will be filed by the end of the week. Around the 26th or sooner.
Q: Can I be a party to the suit?

A: Yes, we have an open call for those that have been wrongly terminated by YouTube for political reasons. If this sounds like you, please fill out this form.
Q: Is a class action status being considered?
A: Yes.
Q: How can I book an interview with Zach?

A: Use this link to book a zoom meeting.

Q: Can the donation be tax deductible?

A: Yes! We allow a tax-deductible charitable donation, just follow this link.

Q: Who is Ryan Hartwig and why is he connected to this campaign?

A: Ryan Hartwig is a Facebook whistleblower that I have been working with for a number of months. Ryan has an Arizona non-profit. All funds will be donated to legal fees and costs.

Legal Disclaimer

The donations will be used to fund a lawsuit against Google, YouTube and Alphabet directed to speech that is protected by the First Amendment and that was purged from YouTube through demonetizations, terminations or suspensions in violation of the YouTube Terms of Service.  The donations will be used to fund attorneys' fees and costs on behalf of the named Plaintiffs in the lawsuit, and any Plaintiffs thereafter added.  All donations of any amount are welcome, but only funds from U.S. citizens and permanent residents will be accepted.  All donated funds will be used solely to defray attorneys' fees and other costs related to this legal representation.  By donating, the donors agree that they understand that they have no authority to direct the representation or have access to confidential client or privileged communications. Any unused funds at the conclusion of the representation will be returned to The Hartwig Foundation for Free Speech.
Organizer and beneficiary
Ryan Hartwig
Organizer
Phoenix, AZ