On January 8, 2017 Alex fell & hit the back of his head on our concrete garage floor. He was taken by ambulance to Athens regional. When he got to the er they did a ct scan that showed his skull had a closed fracture, his brain had started to swell & he had numerous hemorrhages. Then he had to be transferred to Grady Memorial cause Athens Regional didn't have a pediatric icu. At Grady he was diagonsed with a tbi with a severe diffused axonal injury & some mid brain damage. They had to do daily ct scans to monitor his brain & the swelling. He was put on a ventilator because he was only simi conscious at this point. Then he had a icp monitor placed in his head for a week till his icp levels stayed in the normal range. Once he was took off the ventilator he had to have a trach & g-tube placed. He still wasn't alert enough to protect his airway or able to take any food or drink by mouth. He was in pediatric icu for 30 days. On February 8th he was transferred to Children's healthcare of atlanta scottish rites rehabilitation unit. Alex had to relearn everything that we all take for granted on a daily basis. He was in therapy 7 days a wk. After about a month of therapy, Alex started making progress. This is where my faith in prayers work came alive. Alex started opening his eyes. But from where he hit his head, that part of the brain controls your sight. We found out he couldn't see. Doctors told us he may not regain his sight cause the nerves were damaged. But Alex being Alex he proved that the odds were in his favor. He began seeing light in his left eye. His progress was fairly quick. Then he suprised us by wanting to walk (with assistance). Then he found his voice again, one of the first words I got to hear him say was "mom". After 2mths he started taking puree foods & drinking. No more g-tube at this point except for when he needed his meds. Before he left choa on 4/17/2017 they removed the trach & g-tube. I am very thankful for all that choa did for Alex & the amount of progress he made. After choa he started going to choa out-patient rehab m-f 6 hours a day. He rode a shuttle to & from therapy. We stayed at the ronald mcdonald house in Atlanta during this phase of his rehab & recovery. Alex graduated from the day rehab on June 16th. Since then he has regained a good bit of his eye sight with the left eye being stronger than the right. He's able to see well enough to communicate on social media with his tablet to family & friends. Now Alex is doing another out-patient rehab in Athens @ the St.Mary's rehab center. He's home now so we take him twice a wk for that. We live off a single income. Alex still requires around the clock care & supervision to insure his safety. With my anxiety issues & having to take care of him & his needs I am not able to work. We have filed for disability, but Alex has not yet been approved. He's covered under Corey's insurance but we all know that doesn't cover everything. All money will be going towards Alex's hospital bills, gas to & from therapy & daily expenses.


This was at Choa....


He loved when his friends would come to visit.


The day he was discharged from Choa.


Through it all he still managed to smile.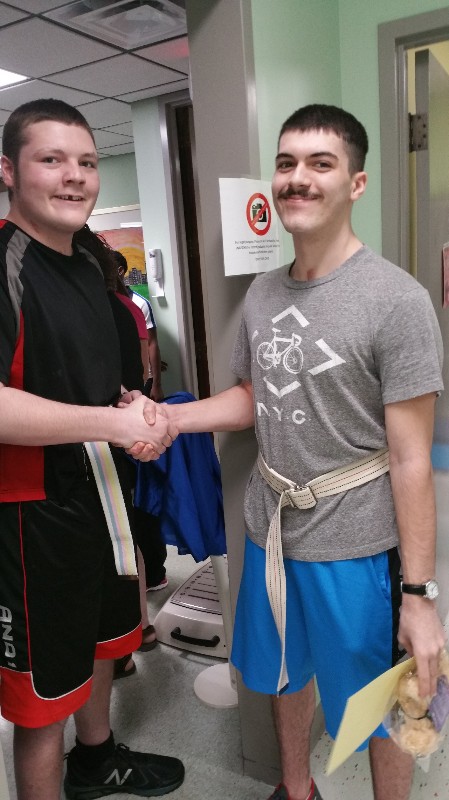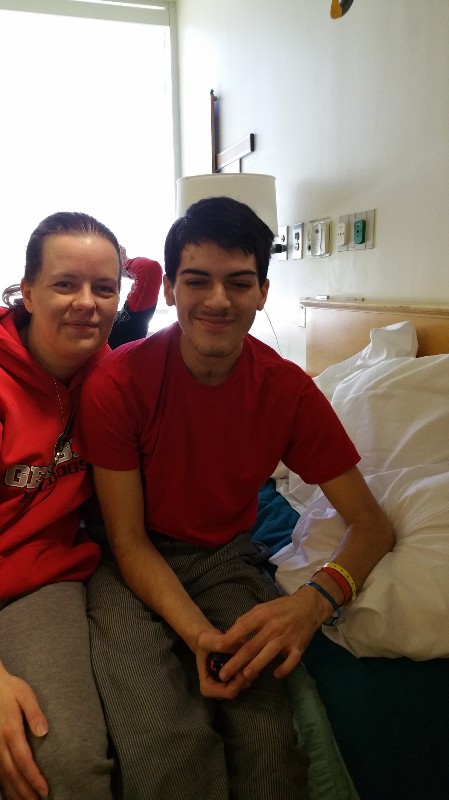 Organizer