SUPER CUMBIA need your HELP!
⚠️ ATTENTION CUMBIA FAMILY ⚠️
********      (English Version Below)      *********
TENEMOS MUCHA PENA EN COMUNICAR UNA MALA NOTICIA ...
El Domingo 7 de Abril hemos sufrido un accidente automovilístico en la autopista A13 de Padova-Bologna, Italia. Fuimos embestidos desde atrás por otro auto y perdiendo el control de nuestra furgoneta terminamos dando vuelcos fuera de la ruta. Por un milagro, por protección de aquellos que nos custodian desde el cielo, estamos todos vivos, recuperando de a poco nuestra integridad física, en evolución positiva, rodeados de mucha luz. Estamos recibiendo mucha ayuda de amigos y familia de Bologna y alrededores.
Una experiencia que nos pone a reflexionar acerca de los verdaderos valores de la vida.
Queremos compartir y comunicarles que una vez calmadas las emociones nos pondremos a replantear las posibilidades de completar el resto de meses de gira que teníamos programados. Claro está que hasta no encontrarnos todos en óptimas condiciones de salud no estaremos disponibles.
QUÉ NECESITAMOS? 

Proponemos este proyecto con el objetivo de recaudar fondos para adquirir otra furgoneta, ya que como verán la nuestra quedó destruida, y varios de nuestros instrumentos musicales también (Guitarra, Batería, Altavoces, Instrumentos Técnicos, etc). Demás está decir que todo este material perdido era el fruto de muchos años de trabajo y dedicación en la que formaron parte muchísimas personas que acompañaron el camino de la cumbia por todo el mundo.
Es una petición que nace de varios amigos de la banda que se han acercado a ayudarnos y nos han dado la idea de llegar a todos ustedes a través de esta herramienta virtual de recaudación de fondos y así propagar el mensaje de manera más amplia, contar en lo posible con la ayuda económica de aquellos  que así se lo puedan permitir, y de ésta manera recapitalizar nuestra cosas y poder recomenzar con nuestro trabajo lo antes posible, una vez estemos todos curados definitivamente.
Desde la humildad de la cumbia, con el agradecimiento de todos nosotros que formamos parte de este equipo de Super Héroes, les dejamos un gran abrazo a toda la familia de Super Cumbia Y la Liga de la Alegría, comunicarles que volveremos recargados de fuerzas y optimismo para continuar con nuestra misión en este planeta cuanto antes.
Gracias por todos los mensajes de ánimo y fuerzas, estamos muy agradecidos por toda la buena energía que nos están enviando desde todas partes del mundo.
Iremos informando novedades.
GRACIAS POR DIFUNDIR
Salud y alegría, que nunca nos falten, el resto es pura ficcion.
Amor para todos.
http://www.polesine24.it/veneto/2019/04/08/news/schianto-in-a13-furgone-vola-fuori-strada-otto-feriti-38885/
____________________________________________________


*********    (ENGLISH VERSION).   **********
HAVE A LOT OF SADNESS TO COMMUNICATE A BAD NEWS ...
On Sunday April 7 we suffered a car accident on the A13 Highway from Padova to Bologna, Italy. We were hitted from behind by another car and lost control of our van. We ended up flying out of the way. By miracle or for the protection of those who guard us from heaven, we are all alive, recovering step by step our physical integrity, in positive evolution, surrounded by a lot of love and light. We are receiving a lot of help from friends and family in Bologna and surroundings. This experience that makes us reflect on the true values ​​of life. We want to share and communicate that once the emotions are calm, we will reconsider the possibilities of completing the rest of the months of the tour that we had scheduled. Of course, until we are all in optimal health conditions, we will not be available.
WHAT DO WE NEED?
We propose this project with the goal of raising funds to acquire another van because - as you can see - ours was destroyed, like several of our musical instruments (Guitar, Drums, Speakers, Technical Instruments, etc). Needless to say that all this lost material was the result of many years of work and dedication of many people who accompanied the path of the cumbia around the world.
This is a request that has born from several friends of the band who have come to help us and have given us this idea to reach all of you through this virtual fundraising tool and to spread the message in a broader way, have a financial help from those who can afford it and in this way recapitalize our things and be able to restart our work as soon as possible, once we are all finally cured.
Humble as the cumbia, with the gratitude of all of us whom are part of this team of Super Heroes, we leave a big hug to the big family of "Super Cumbia and the League of Joy" and we want you to know that we will be full of strength and optimism for continue with our mission on this planet as soon as possible.
THANKS FOR SHARE THE MESSAGE
Thank you for all the messages of encouragement and strength, we are very grateful for all the good energy that you are sending us from all over the world. We will report news. Health and happiness is the only thing that matters, the rest is pure fiction. Love to everyone.
http://www.polesine24.it/veneto/2019/04/08/news/schianto-in-a13-furgone-vola-fuori-strada-otto-feriti-38885/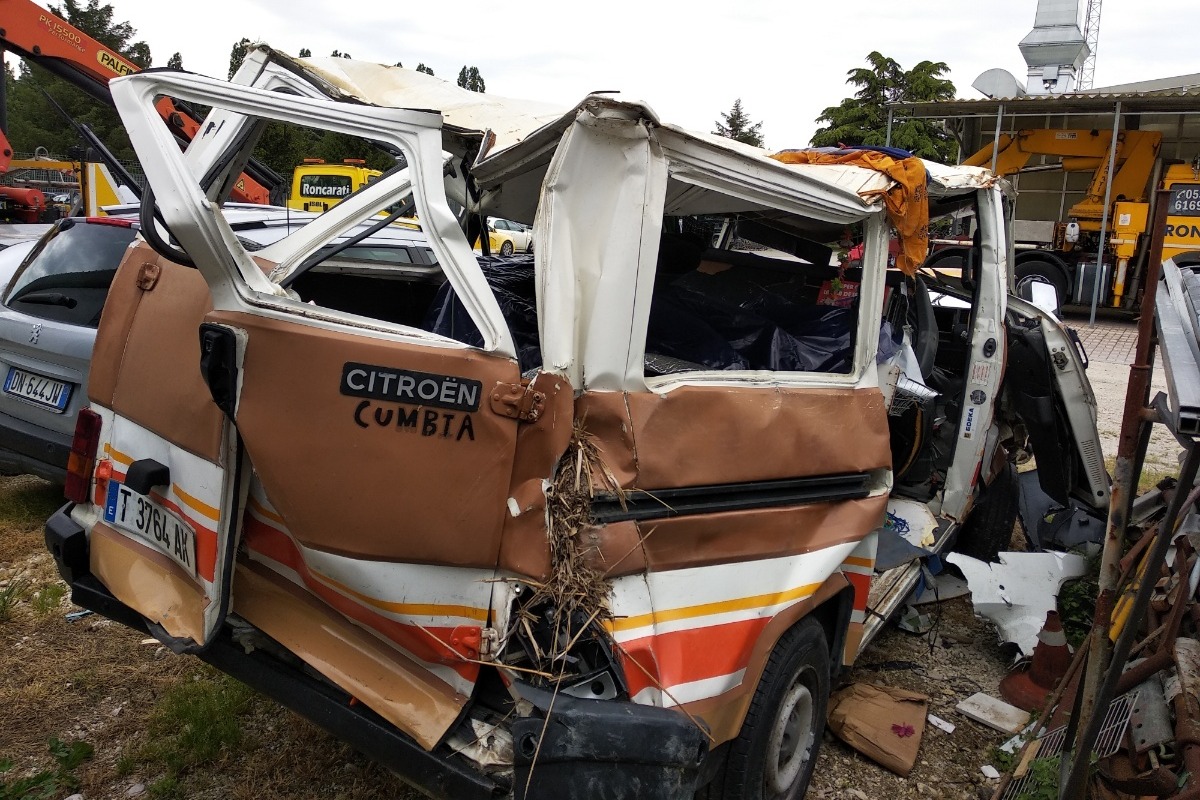 eleni janine & rémy cumbia 

Fundraising team: La Liga de la Alegría (2)
Jonatan Cruz del Monte 
Organizer
Raised €635 from 14 donations