Sumatran Slow Loris rescue
MEET OUR LOCAL HERO, RUDIANTO SEMBIRING

Rudianto, director of the Indonesian Species Conservation Program (ISCP) in Sumatra, is a true hero for wildlife and often heard saying "if not me, then who?". ISCP was completed in August 2017 but since March 2016, 53 lorises have been saved and 42 released in the forests of Sumatra.


Rudianto confiscating a Sumatran Slow Loris kept as a pet by a villager.

Rudianto has extremely limited funds to run his organisation and always needs support from the general public and organisations like Wild&Free. Dedicating your life to saving wildlife is no easy task, it is a hard and skilful work, emotionally and physically demanding. It is understandable that some think of giving up, but not Rudianto. He cares too much about the fate of Sumatran wildlife and therefore fights through the dark times. I'm so glad to have met him, with the hope that we can support him to do his work.

Wild&Free  has been raising funds for wildlife rehabilitation centres worldwide that successfully rehabilitate and release animals back to the wild for over 4 years, with 100% of the donations raised for specific projects sent them. You can check all our projects here .

Wild&Free has raised about £170 to date on small projects for ISCP for 2 rescued females slow lorises: Selma who has now been released, and Loreili still in rehabilitation. But we want to help a lot more and when asked what he really needs to continue his work, Rudianto immediately answered medical equipments.

This is the purpose of this crowdfunding and we need to raise £1565.


FALL IN LOVE WITH THE SLOW LORIS

This small nocturnal primate has round head and eyes, with small ears which are almost completely hidden by fur. Looking more like a cuddly soft toy or cartoon character, it is easy to understand why people may want to keep them as pets.  In fact, the illegal pet trade is their main threat.


This female Sumatran Slow Loris was rescued from the pet trade. 

But the slow loris is also the only known venomous primate. When a slow loris feels threatened, it raises its arms above its head and gives its two two brachial glands a lick. The glands' fluids mix with the animal's saliva to create a toxic combination. This venom then gets injected into wounds when the slow loris bites.

For this reason, when kept as a pet, their teeth are cut off and almost always with no hygiene precaution leading to horrendous and painful infections. This of course means, that even if rescued, they would not be able to survive in the wild. 

The wild for them is the leafy rainforests of South and Southeast Asia, not anyone's home. They are very sensitive primates with a specific diet that nothing but the rainforest can provide.

The Slow Loris is endangered and as 60% of its primate cousins, slowly driven to extinction. All species of slow lorises are supposed to be protected by local laws in southern Asia and by the Convention on International Trade in Endangered Species (CITES), a treaty that aims to prevent trade that could threaten wild species' survival. Still, countless slow lorises are captured each year from their rainforest habitat and sold online, across borders, or to local wildlife markets.


WHAT ARE WE RAISING FUNDS FOR?

Ideally, Rudianto would build a new clinic for all new arrivals at the centre. But the centre isn't located on a permanent land so this will happen at a later stage. However, he desperately needs medical equipment for the treatment and surgery he needs to do on the primates. Currently, the basic equipment allows to do dental examination, bandages and injections but for anything more specific, ISCP has to take the animals to other local NGOs and pay for the veterinary. 


Current Clinic at ISCP centre.

This situation is not sustainable as it is timely and costly, but also a shame as Rudianto has the skills to do more advanced treatment.
Once he has all the equipments listed below, he will be able to save time, money and more lives.

Cost breakdown:

Fantastic news as some items have been bought or donated by other individuals or organisations, so ISCP and I are hoping that we can raise enough to purchase the items marked in black in the table below:



REWARDS

Wild & Free is a small charity but has grown over the past few years, not in size but in impact. And now that we have merchandise to offer, I am pleased to be able to give the following rewards for your generous donations:


Slow Loris Postcard - A6 format.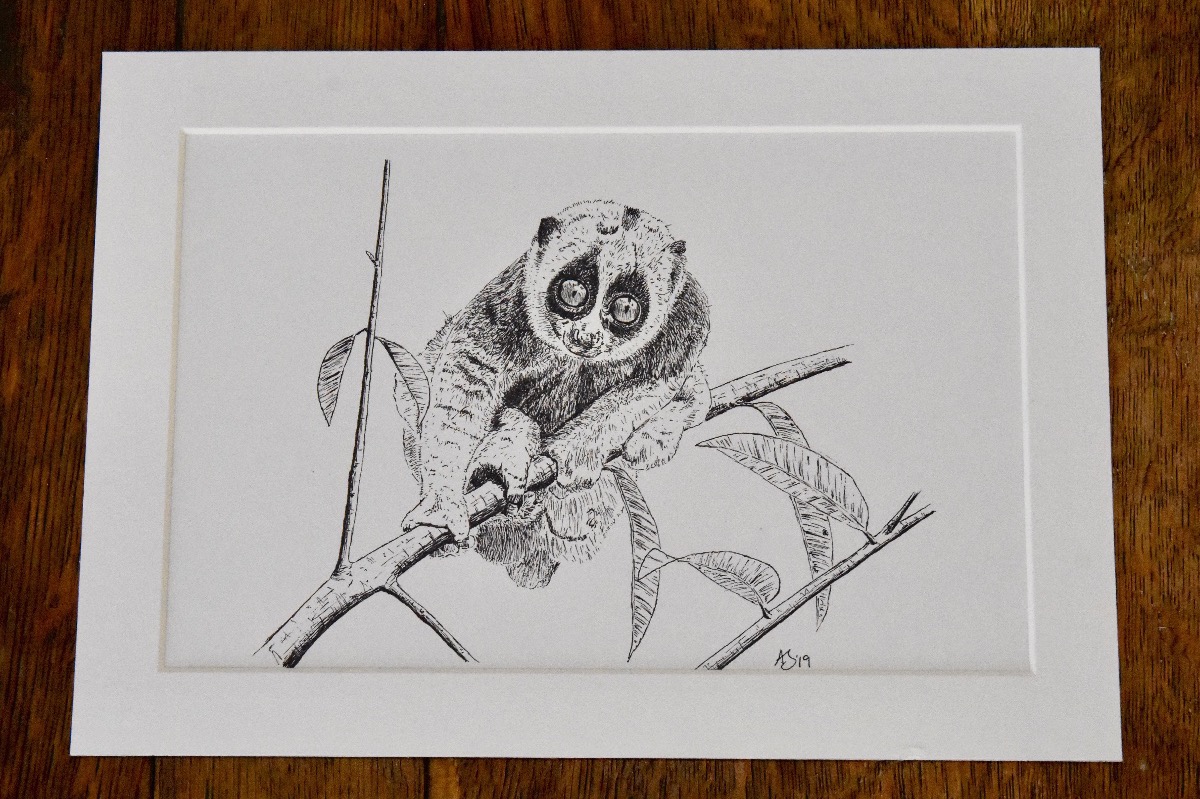 Slow Loris Print - A4 white paper 250 gsm, comes with a white mount and backing card and is delivered in a protective sleeve.



Slow loris t-shirt (Size S, M, L) available in limited numbers.

Here are the rewards you will receive if your donation is:

£10 or more : Slow Loris Thank you postcard, hand written by Geraldine.
£30 or more: Slow Loris Print + Slow Loris Thank you postcard, hand written by Geraldine .

£50 or more: Slow loris t-shirt limited edition (adult size, only for this campaign) + Slow Loris Thank you postcard, hand written by Geraldine.

£100 or more: Slow loris t-shirt limited edition (adult size, only for this campaign) or Wild & Free hoodie (adult size) + Slow Loris Print + Slow Loris Thank you postcard, hand written by Geraldine.


Rewards will be sent in batches for every £500 reached.

Please note that due to GDPR policy on data protection and privacy for all individuals, your contact details such as email address is not provided when you make a donation. Therefore, I will contact you via GofundMe platform to ask for your email address and delivery address.


WHY SHOULD YOU SUPPORT THIS PROJECT?

Since I've started the charity Wild&Free - Rehabilitation and Release in October 2014, I've researched and listed many wildlife rehabilitation centres worldwide that successfully release rescued wild animals back to the wild. I focussed on small centres, particularly those working with primates and less known but critically endangered mammals, that achieve amazing results with often very little support, recognition and of course funds.

So how do they do it? They never give up. They are truly dedicated to the animals they save because not only do they care about the animals themselves and want to give them a second chance to live where they belong in the wild, but they see the bigger picture: their role in the ecosystem, their intricate relationship with the fauna and flora around them. Without those people, we wouldn't be able to enjoy the sound of birds in forests, we wouldn't travel to faraway destinations to see iconic species such as African elephants, Mountain Gorillas, Polar bears, Bornean Orangutans and others as there would be very few left, possibly even extinct. 

It's very tough for small rehabilitation centres, their work often slows down or comes to a halt due to lack of funds. They can do nothing but keep asking for donations to try save animals. Despite the struggle, each animal safely released back to the wild makes it all worth it. 

I want to continue supporting their work and be a charity that you to trust because:

- I have done my research and spoken to the director of each centre Wild&Free fundraises for. I have also personally visited the centres supported by the charity, or about to in the case of ISCP.
- The projects we raise funds for are important to the centre and your donations are quickly used, meaning that I can update you on the achievements thanks to your support. 
- 100% of your donation go to the centre we support.
- If you have any question, I personally answer them to you and always make time for supporters to feel confident about their choice of charity.

As we raise funds for ISCP to help their work with the Slow Loris, I will send donations in batches and will update you when the first medical equipments are purchased and used.

I also hope that you enjoy the rewards, which are from bespoke drawings by Alex Sawyer specifically made for this campaign.


WHAT HAPPENS IF WE RAISE MORE?

This would be incredible of course! 
Less urgent but important additional equipments need to be purchased, so any donations above the target will allow to go towards:

- 1 x X-Ray (mobile) and scanner: LTA160 VET High frequency animal x-ray machine veterinary- £930
- 1 x Anesthesia Machine & Isoflurane TEC 3 Vaporizer Veterinary - £1247


FINAL WORDS

I will be visiting ISCP in July 2019 so that I can help physically at the centre but also update and show you how your donations are being used. 

If you think that you can source some of the medical equipment directly, I will be happy to bring the small ones directly to Rudianto in July.

Finally, I want to thank you in advance for supporting Wild&Free charity and for making a difference to wild animals that deserve to live undisturbed in their natural environment, where they belong.

Geraldine Morelli
Wild&Free - Rehabilitation and release
Founder and Director
Organizer
Geraldine Morelli
Organizer
England

WILD&FREE - REHABILITATION AND RELEASE
Registered nonprofit
Donations eligible for Gift Aid.