Strong for Strong (Cancer Treatment)
Update 3rd May:
Thank you all for your generous donations. Unfortunately, Fi passed away on Tuesday morning. She remained strong and incredibly stoic throughout.
It was her wish that if she wasn't able to use the funds raised for her, they go towards charitable causes close to her heart. We will be setting up a charitable foundation in her name.
Funeral details will be shared once they have been confirmed.
-------------------------------------
This is the story of our friend Fiona Strong; a strong willed, kind and generous human being, who has an exceptionally rare form of cancer. The story is a tragic one and without our intervention, sadly, it is one without a happy ending.
After two years of intensive treatments Fi's options have run out... except for one: Immunotherapy, a new form of cancer treatment that boosts the body's natural defenses to fight the cancer.  Immunotherapy could provide radical, life saving treatment. 
The catch? The overstretched NHS cannot offer this treatment. A round of immunotherapy starts at a
minimum of  £90,000- £150,000
and is dependent on how many cycles and the duration of the treatment..
... and that's where you come in.
You can make a difference. You can save Fi. The last part of the story has not yet been written, but we are desperate for a happy ending. Please help us. Give your money, give your advice, give your ideas and thoughts.
With your help and love, we can reach our target amount that will get a generous, sweet, courageous young woman the help she so desperately needs to keep fighting this terrible disease that affects so many of us.
Please help us, donate and share her story now for a chance to make a difference.

Full Story 
Fi Strong was devastatingly diagnosed with Rhabdomyosarcoma aged 28, in the late summer of 2015, previously filled with happy memories of music festivals, house warmings and wedding parties.  When she suddenly became troubled by a strange mixture of symptoms, including thumping headaches, facial numbness and blurred vision. She saw multiple consultants, but no one could figure out a diagnosis. Over the next few months, her symptoms rapidly worsened and she could no longer eat, drink or sleep and quickly became exhausted and dangerously dehydrated.
After multiple A and E presentations,  she received a CT scan result confirming the devastating news; that the young woman with a seemingly limitless future was told that she had, a rare type of cancer typically found in children, situated awkwardly in the bone and sinus behind her right eye, and it was growing extremely aggressively.
The rounds of chemotherapy and radiotherapy were relentless, and gradually each drugs efficacy stopped working. Seemingly never away from the hospital. She suffered facial paralysis and spent her 29th birthday in intensive care battling sepsis.
In January 2017, Fiona was told wonderful news, that nugget of hope everyone had been praying for, the cancer was gone. :) :) :)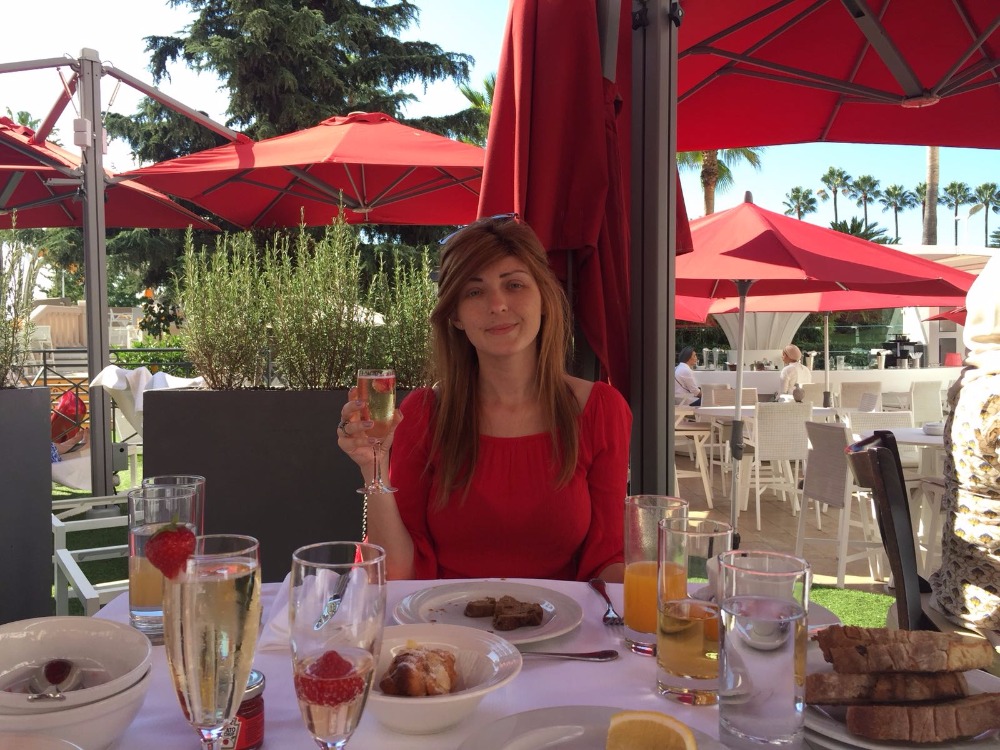 Our brave Strong was so strong throughout. Not only did she face this vicious beast with humour, dignity and courage, but during her darkest times; through multiple
infections, through losing her hair (three times), she fought for others. Fiona and friends have raised over £10,000 for cancer charities, including The Royal Marsden where she was treated, Sarcoma UK and fundraised by donating her gorgeous hair to the Little Princesses Trust before chemotherapy destroyed it!

Sadly, the story of Fiona Strong took a tragic turn for the worse only four months later. The headaches and vision changes returned and a new tumour was discovered, once again in the orbit of her right eye. Further courses of chemotherapy ensued, different types tried and trials conducted, but all to no avail. This time, despite multiple treatments and operations, she finally began to lose her sight and ultimately, her eye. The cancerous tumour this time seemed stubborn to beat. Fiona Strong, our tenacious hero has struggled through it all with the same strength and bravery, while the hearts of those around her broke once again.
Now, in April 2018, Fiona's doctors have told her that they've run out of traditional options and the only remaining avenues are emerging treatments like immunotherapy drugs, none of which are currently available for her cancer through the NHS. We have been looking at private clinics in Hamburg, Istanbul and Harley Street who can offer these treatments but with deposits of care and starting costs beginning at £90,000 excluding additional costs such as travel, we can't do this alone.
Please help us raise as much as we can for the treatment Fiona now desperately needs. This girl's shown time and time again she's up for the fight
and she's not backing down now. 
A huge shout out to some fabulous friends who are undertaking extraordinary challenges to help with fundraising including:*
29th April- 12th May 2018
Cycling 1000 miles Land's End to John O'groats- Sal and Abs- people can join for day legs of the cycle.
* June 2018
A team of hikers lead by Ness and Jonny taking on The Three Peaks
*September 2018
A tough Mudder gang getting muddy in Manchester recruited by Alex Paxton. **if anyone wants to take part or for more info on the listed fundraising please get in touch**
We'll continue to raise money anyway we can but now we're asking for your help to help us raise the (£135,000) and to
share Fiona's story
. If there's anything we've learnt from the unpredictable and sometimes impossible-seeming journey our friend has been on over the last few years, it's the incredible capacity for love and compassion within all of us. Please help in any way you can to support Fiona's fight and share her story.
Lastly, Fiona wants you to know that any money raised through this campaign will go directly to her cancer care and treatment however, in the event circumstances or treatment plans change, any money raised will be given to cancer charities.
Thank you for taking the time to read this story, please share, follow the updates and send positivity. Anyone lucky enough to know Fiona as we do knows this is not where her story ends.

Organizer
Susan Strong 
Organizer
London, Greater London, United Kingdom
#1 fundraising platform

More people start fundraisers on GoFundMe than on any other platform. Learn more

GoFundMe Guarantee

In the rare case something isn't right, we will work with you to determine if misuse occurred. Learn more

Expert advice, 24/7

Contact us with your questions and we'll answer, day or night. Learn more