Stretchmark Ambassador Fund. ♥
I'M A STRETCHMARK AMBASSADOR... ♥

I celebrate stretchmarks for a loving (*not an error) and have been doing so since Sept 2013. It's what I'm built and gifted to do.

I've a particular interest in reprogramming/rewriting the script about parts of our bodies we're often told to ignore, hide/bury, put down, attack, dislike or be shameful of or apologetic about. Stretchmarks is one of them.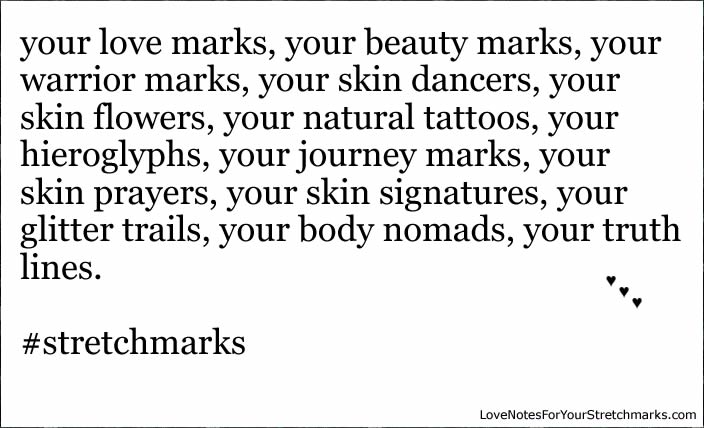 (love note example)


1) I WRITE/SHARE LOVE NOTES...

One of the key things I do is write love notes about stretchmarks - my response to messages that often tell many of us that when we have stretchmarks, we should despise our skins for it - we should feel ashamed, less than; we should fix it, cover it up, hide ourselves, our beauty.

Repetition is powerful. It can be a lullaby, a soother, a healer - or it can be slow colourless poison, binding itself to psyche, belief.

So, in the spirit of positive repetition, I started writing/sharing love notes, heart bytes, affirmations. I started writing, re-imagining, excavating, re-truthing.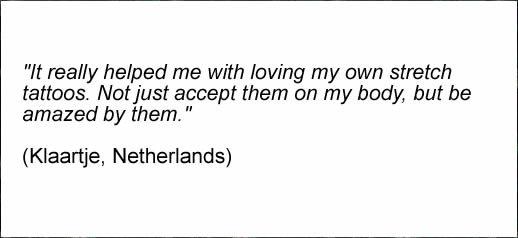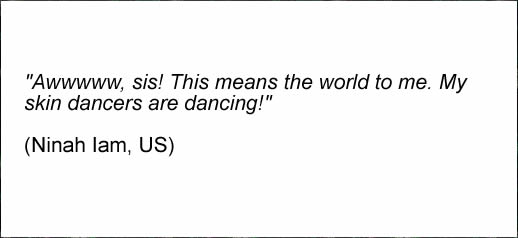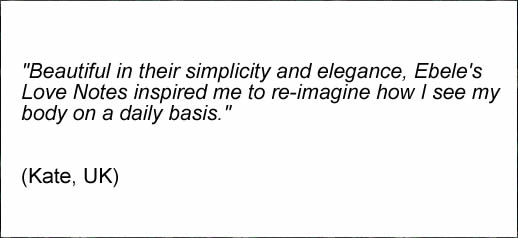 To date, I've written over 200 notes and plan on doing so for the foreseeable future. You can find many of those notes on my blog, Love Notes for Your Stretchmarks.



2) I RUN A FACEBOOK PAGE: Stretchmark Ambassador

This is the belly of my work. The kitchen. The living room. It's where I interact, write/share love notes, thoughts, updates, positive stretchmark-related content I come across, etc.



3) I RUN THREE PRO-STRETCHMARK BLOGS...

i) So there's the already-mentioned Love Notes for Your Stretchmarks. No other content on that blog but love notes. All notes I share there are text-based images. It's the oldest of the three blogs with 100+ followers since it was up in late April. I post one note every day, sometimes every couple of days.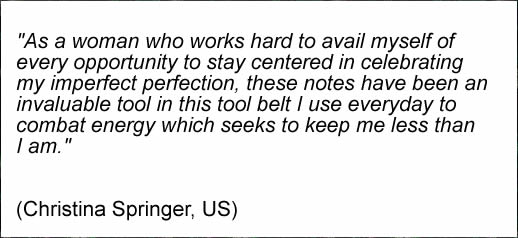 ii) The other blog's 'Skin. Stretchmark. Fin.' and is about the conversations that take place between a stretchmark and the skin it fell for. These are a mixture of dialogues previously shared on the Stretchmark Ambassador page and more recent ones. However, given the space and time, I can come up with a whole lot more. / I think the dialogues are a useful part of stretchmark acceptance. If you can imagine friendly discussions b/w your stretchmarks and your skin, and foster those convos often, then I believe it can enhance how you see them.


iii) The last is the Stretchmark Ambassador blog. It's relatively new, but is coming along.



4) TWITTER PAGE: @stretchmarklove

My main intention behind having a Twitter presence is to use it as a support platform, to sometimes search through it for the stretchmark hashtag and respond to the tweets that I can, offering my wisdom/ support/ expertise/ creativity. This is one of the ways I feel I can contribute positively to Twitter when it comes to certain stretchmark-related tweets.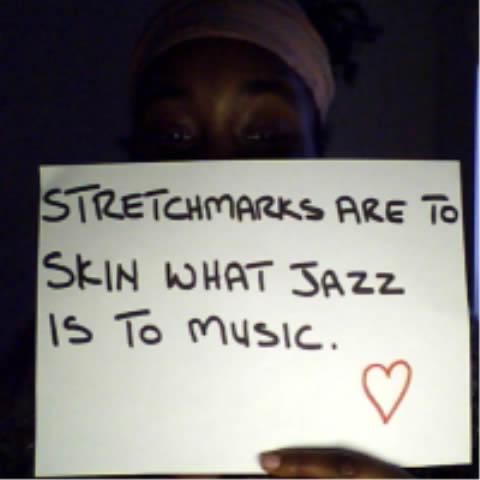 (♥) JUMPING IN FULL-TIME UNTIL DEC 2015...

I've decided to jump, fully committing to this work until the end of next year.

That's the time and focus it deserves. Consistent time. Full time.

This is legacy work. change work. beauty work. love work. necessary work. needed work. A quick search on Google tells me that this work is necessary. It has to be done. I can no longer do it in bits and pieces or else the true impact of the work will never be fully realised, neither will it attain the reach it potentially can.





(♥) MUCH TO DO...

There's much to do, including:

 - preparing the love notes for touring in early 2015 (especially for International Women's Month).

- getting the love notes about stretchmarks up to 1000 by Jun 31st 2015.

- a collective online flower-wave of stretchmarks shared and celebrated on different platforms, over a weekend, or over a month, or however long the wave chooses to carry itself.

 - focusing more on the three blogs, especially Skin, Stretchmark, Fin. (I also feel a 4th blog coming on!)

 - focusing on the Twitter page. (haven't had the time I'd like.)

 - planning workshops/possible future collaborations

 - networking/promoting


It's a full-on job and needs to be. There's a lot to keep me busy; it deserves that level of commitment for the people it's touched and the people it can reach. 



(♥) WHAT I'M ASKING FOR...

I've been celebrating stretchmarks for over a year now - largely unfunded - on an as-and-when-I-can basis.  

If I'm to jump into the work fully, serve fully, I'm gonna really need your support for the first couple of months. Thank you if you can. ♥


(♥) WHAT YOU GET...

* My endless gratitude.

* A shout-out on the Stretchmark Ambassador page (named or anonymous).

* Specially handwritten & pictured love notes (like the one I'm holding above).

* Or a personalised gift  where I create something based on a picture of your stretchmarks.


These rewards are optional. If you do not wish to receive one with your donation, I believe you can select 'Or, Donate a Different Amount' at the bottom of this page, or click on 'Donate Now' and enter your amount. Or you can just let me know when I get in touch with you that you don't wish to receive a reward. Maybe just a mention will do you.


You don't have to have stretchmarks to support this campaign. If you want to support me, then please do.


If you're unable to make a donation, you can still support by sending me good vibes, and spreading the word about this campaign. Thanks. ♥

Ebele. x