Stopping my Primary Progressive MS
Hey peeps!
I am looking to raise money
to do Human Stem Cell Therapy - HSCT in Russia or possibly Germany and stop the progression of my Primary Progressive MS

Only 10% of MS sufferers have the Untreatable PPMS and the only option is to stop the slow progression to a life on wheels is a revolutionary Stem Cell Treatment.
I have been accepted and have an appointment for a Moscow clinic in Jan 2018 but I will be seeking other possibilities in reputable experienced clinics elsewhere they are all price comparable and hope you can help me get this treatment!
The procedure is pretty amazing and most easily framed in
this great 25 min Australian Documentary
I will have the
exact same Doctor Federenko
and be in the same hospital. I have 3 Irish friends who will precede me in 2016/17 but unfortunately (for me!)
there is such a waiting list that my appointment is not until january 2018
unless cancellations move me up the list. (fingers crossed!!) 
My current status: lately I have acquired a mobility scooter (ironically to get to the gym and physio, a scooter cape for the Irish weather, get around my kitchen on an office chair and can go nowhere without my stick with ever decreasing range... and
I want to stop this 'progress'!
I hope this online campaign can help chip away at my goal.  As I am an event manager I will be seeking to supplement this with some memorable happenings through the rest of 2016 and '17.
So I only expect whatever people can afford or if we are in the same place join me at some of
my predictably named 'Stop my PPMS' events
when I will be seeking to cajole some of the finest entertainers to the cause and create some memorable nights if you can make it!!
Some back story for the bored :) …
Many of you will know of the recent
'halt to my gallop'
that was my long protracted search for an explanation
across 2 continents and 3 countries
for the issues I was having with a 'weakness in my legs'… I thought!
Issues that manifested  themselves at different times usually
post comedy shows, in Spain as collapses/leg paralysis
at the end of great but probably too long parties and work bringing the happy times to the people!
The collapses were events in themselves and led to much hilarity involving Piero and the Ryanair cabin crew dragging me around Girona, Piero declaring to reluctant taxi drivers "hes alright, he just lost the legs", the Logan Murray  workshop class of 2012 where about 5 AM outside Rincon de l'Artista the wheels just came off! much to the amusement of the budding comics! (pictured below!)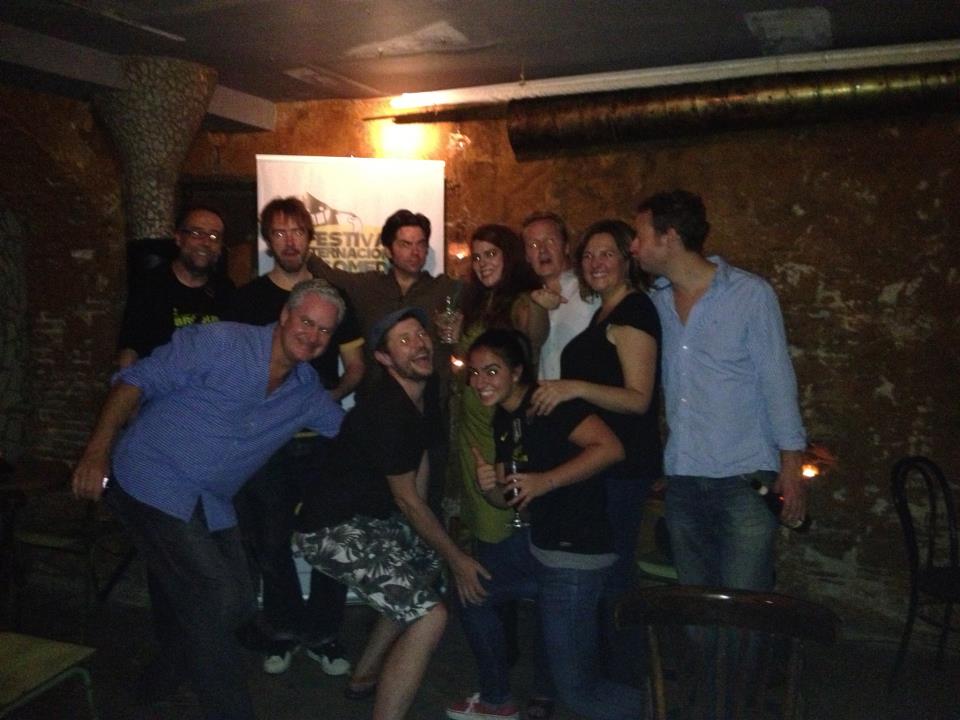 2013 signalled the end of an illustrious GAA career :)
as I donned a
Barcelona Gaels jersey
for the last time in an illfated appearance in a Masters (pictured below!) V Newbies challenge match when it became clearly evident that I could not kick the ball more than a few metres, I had taken frees all my life and this was further glaringly obvious evidence of my demise, I lasted 10 minutes in the game playing in goal but doing enough to damage my fellow Masters chances irreparably :)
So it has been there for quite some time but so was the party, keeping it disguised but mainly confounded by the problem that...  as
I'm Irish and we tend to think 'that's grand' first, and maybe a  doctor later!

Alas the problem continued... my range (the distances I was comfortable walking) decreased slowly but constantly…went through a few (harsh to call them misdiagnosis), it is a very tough illness to pin down, I was set on a few wrong paths reducing cholesterol (I needed to), looking for trapped nerves, etc...
Until
2015 when I returned to Europe from Brasil to deliver another Barcelona Comedy festival
and discovered that my stress threshold and physical ability to manage the work as I used to do was over and something more profound was definitely afoot!
I returned to Ireland for Xmas, did
an MRI that showed things were indeed afoot or abrain in me Corpus Collosum!!... 
I sought to get an appointment asap with a neurologist 1st in Ireland but not much in the space of neurologist appointments happens asap, so back to BCN where I was very lucky to get an appointment with
Dr. Xavi Montalban, the prof in charge of CEMCAT
a fantastic Barcelona based institution specialising in MS... and finally he indeed diagnosed MS.
It would require a
further series of tests to determine what type
which I would do over the next weeks and months and finally on June 17 I was confirmed as having won the lottery again!!!
as I was diagnosed with the much less common and
less treatable version... Primary Progressive MS... hurrah!!
(just 10% of MS sufferers have this form)
So I get busy educating myself as to what the possibilities are, if any…
as at
a very dynamic 44 years young,  with half a life to live
I wasn't going to roll over and take it and wait for cognitive decline (everyones fear)...
Thankfully... I live in an age of
massive medical progress, particularly with this group of auto-immune diseases
and while the 10% of PPMS sufferers have not seen much treatment development, I was made aware of a very inspiring group of young Irish people similarly afflicted, who were going to Russia to get Human Stem Cell Therapy,
So I dug a little deeper and seen a chance to maybe stop this 'progress' and the most compelling argument was in Russia and a certain Dr Frederenko! (in the video above) with also reputable possibilities in Germany.
I'm getting to the age thresholds for such treatment so my 'want to'... has changed to a 'have to'

For this reason in the short term I need the help...

In my own hugely over simplification of a revolutionary medical treatment - they will take my own stem cells out, freeze them, then blast my Immune system with chemo killing the nasties,  then insert my lovely new cells and reboot...

for a new better, stronger, faster Stephen... Garland!!



As a kid I really dreamt of being Steve Austin... Have to make it happen, with Russian Technology LOL :)


The €70k  is for
the pre-treatment and actual treatment in Russia, the travel...
and post treatment hematologist expenses back in Ireland in the rehabilitation phase.
From the view behind the handlebars of my  4km/ph scooter, it is my only goal in life right now! :)
Organizer