Steve and Connie Fire Relief Fund
On the night of August 24th, 2018 in Freeport, FL my parents' (Steve and Connie Ployer) house caught fire due to a malfunction in the exhaust fan above the stove. It sent flames up the pipe and into the rafters and traveled on from there. The entire house was consumed and everything was lost. Luckily, both my parents and their rescue dog, Gator, were absolutely fine. My dad, Steve, was at work when it happened and was called by his neighbor explaining that his house was gone but Connie, my mom, and their dog were fine.
The Red Cross came to their assistance later that evening and gave them a $500 prepaid visa gift card for hotel expenses and food vouchers. It's been a couple days now and that gift card for the hotel is running out.
They have an older camper on the property that was untouched by the flames. It hasn't been moved for awhile and the tires on it are dry rotted. I had hoped to move them to a campground, but it's not an option right now. My dad is hoping someone can come out and drop a power line in the ground so they can get it up and running. Their neighbor has offered to let them hook up to their water.
Their insurance company is coming out Tuesday, so we'll have more information then. I'm hoping something can be done quickly. He's had to take time off work these last few days but has to return to the hospital he works at as a security officer this coming Thursday.
My dad is an retired Army veteran. I am considering contacting any local VFW's in their area for assistance, but I'm not sure if I'm going in the right direction. If anyone has any advice they could offer, that would be great. His DD214 was in the fire safe, thank goodness.
My family and I appreciate any and all prayers, advice, kind words, and assistance during this time. We're in good spirits but it's easy to fall back into a hole knowing everything is gone and a new life has to rebuilt.
Thank you for helping make this transition a little easier.
Jennifer Pizzoferrato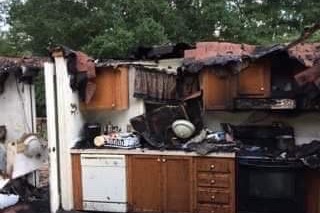 Organizer and beneficiary
Justin Pizzoferrato 
Organizer
Johnson City, TN