Stephanie Tallungan's Stroke Recovery
On March 4, 2019 37-year-old mother of 2, Stephanie Tallungan, suffered a significant stroke affecting most of her left hemisphere.  Once the medical team identified that Stephanie had a stroke, she was air lifted to Central DuPage Hospital on the evening of March 5, where she spent 3 weeks in the Neuro ICU.  These were the toughest weeks of her, her husband, and her children's lives as Stephanie fought to stay alive.
After a few days in the ICU, Stephanie's husband, Mike, was told by a neurosurgeon that Stephanie's brain was continuing to swell and there was a high likelihood that he may need to make a life-saving decision as to whether or not a surgical intervention would be appropriate. At this point the doctors were not sure that Stephanie was going to make it through the weekend. As the swelling continued to increase and her clinical presentation declined, she was surrounded by her entire family who gathered and prayed that this young, otherwise healthy mom would be able to pull through. 
As Sunday morning came around, everyone's prayers were answered when the swelling stopped increasing and the question of life or death went away – Stephanie had just won the first of many battles to come; she survived the stroke!  In the short days after the swelling was controlled, we began to understand the deficits caused by the stroke: no mobility of her right arm, inability to speak or express herself, swallowing issues, trouble recognizing objects, etc.  The magnitude of what occurred began to set in and questions of whether Stephanie would be able to communicate, be home by herself, work, or even care for her children began to arise.  
These are questions that we are still grappling with, but Stephanie is a fighter and is coming back strong!  She has worked hard to regain aspects of herself and functions that many of us take for granted. After only 5 weeks, Stephanie has regained her personality, ability to walk, movements of her right arm at the shoulder and elbow, and she can express herself (non-verbally).  She has started to say a few words and even wrote her name this past week! 
On March 30, Stephanie was able to come home and was greeted with a "Welcome Home" party planned completely by her children (Elizabeth 11, Nick 5). When Elizabeth, Stephanie's daughter, was told that her mommy would be coming home she cried.  She said that this was the first time she has ever cried happy tears.  With Stephanie's fortitude and everyone's continued support, we know it won't be the last.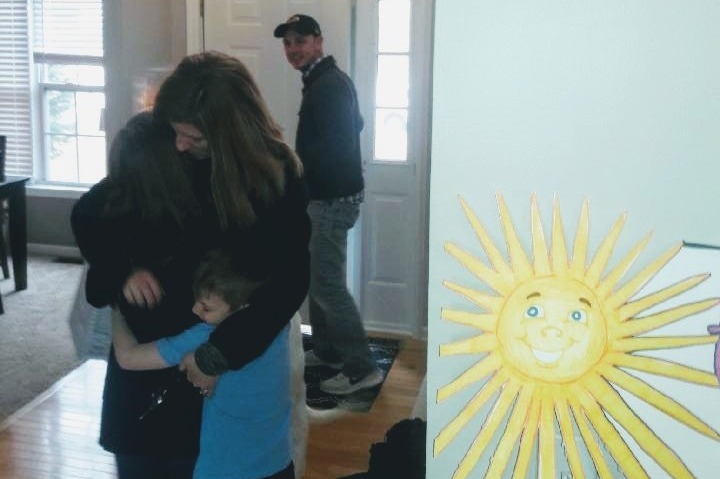 Stephanie is now attending outpatient rehab 3 times a week where she is working to regain elements of her speech and fine motor skills on her right side.  Although the road is long, we remain strong and optimistic in support of Stephanie.
At this time, Stephanie is fighting hard to reteach herself how to speak and communicate non-verbally in the interim. We are not sure when or if Stephanie will be able to return to work, so the purpose of this go fund me is to allow Stephanie, Mike, Elizabeth, and Nick the ability to put all their energy into focusing on Stephanie's recovery and not on the financial stress of losing a dual income.
These days many families depend on the income of both parents, and medical emergencies such as this are not only emotionally and physically devastating, but financially straining as well.  The journey will be long and the days will be tough, but together we can help this family put their efforts and attention on this young 37 year old mother of two and her journey to learn to speak again in this new chapter in her life. 
Every dollar truly makes a difference to help support Stephanie and her family to get through this tough year of recovery ahead. 
Become the first supporter
Your donation matters
See all
Organizer and beneficiary
Jonathan Winarski
Organizer
Algonquin, IL
Mike Tallungan
Beneficiary