#StandWithGavin: College Edition!
** A BIG THANK YOU FROM GAVIN!**
**A Message from Gavin**
Dear Friends and Allies,
Millions of us watched in awe as Gavin Grimm took on a fight for a simple human right
- to live authentically and be part of society (and school) like every child. He did so not only for himself, but for thousands of transgender children in nearly every corner of this nation – including ours.
He did so while all of us watched, cheered, cried and marched! Millions took #StandWithGavin to heart
(
hundreds took part in his video!
)and activated to support transgender youth.
From
Laverne Cox
 and  
Katie Couric
, to Blake Lively celebrities shared his story. 
(Blake if you see this, I will NOT tell you how excited he was for this picture
).
He quickly became a (well-deserving) icon for human rights and the hashtag #StandWithGavin took over social media.

But, to us, Gavin has become family.

He is a big-brother, mentor, friend and loved one. We can't all run and hug Gavin like our son Ronnie, but millions of us feel that same kind of love. What we can do is our show our support for his future in a very tangible way.
Today, we ask you to join our family in supporting #StandWithGavin --- Gavin's college fund.
This is a way for thousands of people, in every part of the country and world, to show their support in a tangible way. Every single amount matters and will go towards helping him make a smooth transition to the next phase of his life.
Below are some anticipated questions about this campaign. Should you have additional questions, please contact us and we will be sure to get back to you.
Finally, on behalf of Gavin, his family and ours, thank you.
Vanessa and JR Ford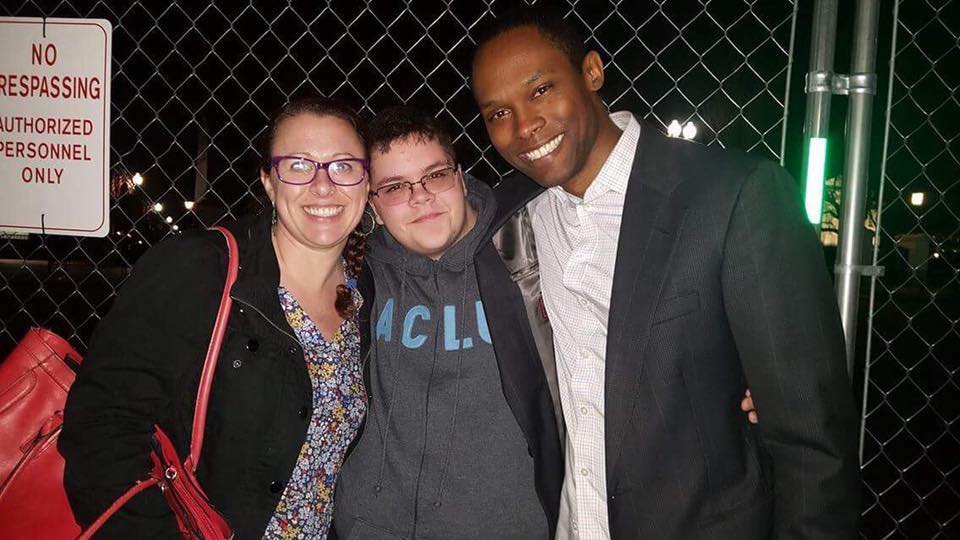 FAQs:

Is Gavin aware of this?

Yes! This has been in the works for a few months while details and logistics were worked out. Gavin and our family are in regular communication so this is as "official" a fundraiser as we can get!
Where do the funds go? Who has access? 
Gavin has set up an account that is being used for these funds. He is the only one (with support from financial advisors) who has access to the funds.
What will the funds be used for? Is this enough?
These funds will be used to help him with travel, books, initial tuition costs and to bide time to ensure he has a good footing with a financial aid officer. If we are able to exceed the current goal, we will raise it. The more we can take financial worries off of Gavin's plate, the more he will be able to thrive. And he deserves this.
Doesn't Gavin have money from this case and subsequent publicity?

No. Many think that history-making civil rights litigation brings financial gain, that fame and magazine covers bring in money that could support his dreams. They do not. Gavin and his family do not have the resources to fund a college education, travel, or housing.
What about FAFSA and Scholarships?
Gavin and his family are working on a FAFSA and will be utilizing this moving forward. Of course some schools will want to offer scholarships to Gavin! However, as we all know, student loans paired with additional costs of college (books, housing, travel, food etc) can be overwhelming. He's been through so much for so many, it's the least we can do to make 
this
 path smooth for him!

What if I want to give a large sum (a semester of tuition, housing for a year...) but not through this platform?
Please message me. I will provide information on how this type of donation can be made. In this message I can provide you an email to ensure a more confidential conversation.
Lets do this!
Organizer and beneficiary