Tattoos in Support of Standing Rock

The largest Native American gathering in modern history is happening now on the banks of the Missouri River in Cannon Ball, North Dakota. Hosted by the Standing Rock Sioux Reservation, over 300 tribal and non-tribal nations have come together to stand in solidarity with the booming "No Dakota Access Pipeline" Movement, also known as NoDAPL. Inspired by ancient prophesy and fed up with a history of continuous cultural and physical genocide against their people, tribes have set aside their differences and are now standing together as one nation to welcome people from all races and walks of life for a common purpose: the protection of mni wiconi ("life-giving water" in Lakota) and Mother Earth, and the defense of treaty rights and sacred sites; all of which are threatened by the construction of the DAPL.
What began as a peaceful pipeline protest has clearly become a spiritual movement that many believe is the fulfillment of Black Elk's prophesy (an Oglala Lakota Sioux medicine man c. 1863 – 1950), which foretold that after many generations of suffering, tribes of all bands would heal and unite as one. A more ominous prophesy foretold of a giant black snake that would threaten Mother Earth. That snake is the oil pipelines; is the Dakota Access Pipeline. The spread of these pipelines across Mother Earth is now assisted with militarized force, brutality, and corporate greed. Yet, despite this opposition, the people at Standing Rock stand strong, ready to give up their freedom, and even their lives, so that future generations can inherit a healthy and more preserved Earth.
Respected members of the international tattoo community are joining forces to show our support for the NoDAPL movement. We will be applying a tattoo designed by Stephanie Big Eagle, who is a descendant of the Oceti Sakowin - the Great Sioux Nation - and who is a NoDAPL movement participant. The tattoo embodies the spirit of the NoDAPL movement and can be applied to anyone. 
We are asking tattooists/studios to tattoo this traditional design for a suggested donation of $30/£20
and donate proceeds to this gofundme account. We appreciate each and every one of you who support us and the water protectors at Standing Rock!
Please visit our FB page @StandingRockTattoo to see participating artists posted on our timeline and in our notes.
The first $10k in proceeds gained from the application of the Standing Rock Tattoo (which are donated to this gofundme site) will be presented to the various NoDAPL camps that are established at Standing Rock, particularly main frontlines camps before December 5, 2016 to help them prepare for the attempted evictions by the U.S. Army Corps of Engineers. The water protectors need funds for legal teams, winterization of camps, arctic gear, travel needs, medical injuries, and camp supplies so that the NoDAPL movement can continue. The remaining donations will be alloted in $5k donations at a time. Please be aware that gofundme takes 7.9% of all donations generated.
We thank all of you for your interest in this campaign, and for receiving and applying the Standing Rock Tattoo. Let's make this happen! #NoDAPL! ~Stephanie Big Eagle, Elle Mana-Festin, Nate Albarquez, and Clare Deen (creators of this campaign).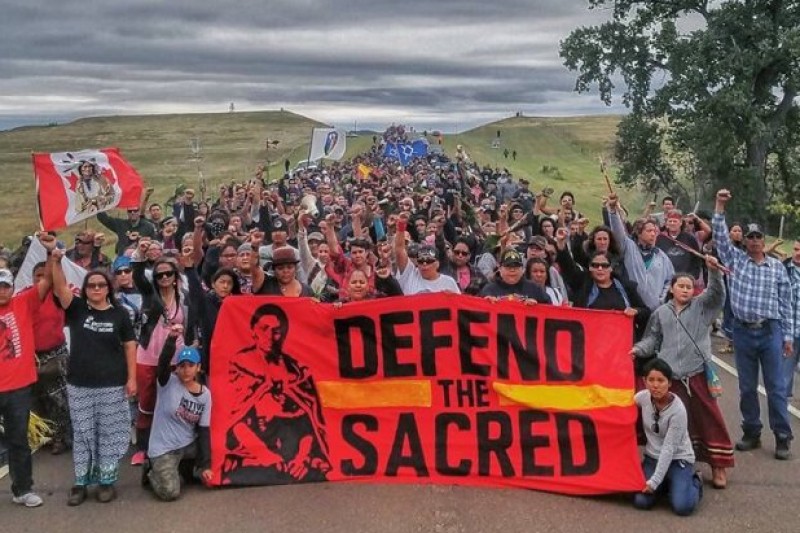 The water protectors at Standing Rock
About the Standing Rock Tattoo Design:
The Standing Rock Tattoo design was created by Stephanie Big Eagle, a descendant of the Oceti Sakowin (Great Sioux Nation) and a No DAPL movement participant.
"Thunderbird represents Great Spirit, who watches over and guides all of the protectors at Standing Rock. The thunderbird, or wankiyan, is very sacred to our people because its arrival in spring brings with it the gift of life: Mni Wiconi, or the life-giving waters which rain down from the sky. Thunderbird is highly respected not only for its life-giving powers, but also because it is known to attack the impure of heart with bolts of lightning from its eyes. In the heart of the thunderbird is a circle which represents all the nations who have come together as one to stand with Standing Rock. The tail of the thunderbird is a tipi, which represents the woman (life-giver), the gathering place of tribal leaders, and the birthing place of future generations. Beneath the tail flows the river of life, carrying within it the seven bands of the Oceti Sakowin (Great Sioux Nation), whose ancestors foretold of a time when all nations would heal and unite as one after many generations of suffering. Together, the thunderbird, the tipi, and the river of life embody the new path of the No DAPL Movement: one of unity, peace, transformation, and especially the power of the spiritual path over one of greed, abuse, and brutality." ~Stephanie Big Eagle
Stephanie Big Eagle of the Ihanktowan Dakota Oyate and Kul Wicasa Oyate (Yankton Sioux and Lower Brule Sioux, 2 bands of the Oceti Sakowin/Great Sioux Nation)
Organizer
Stephanie Big-Eagle
Organizer
West Sacramento, CA