Cookie has been fighting cancer since 2004. Six years ago, she was diagnosed with Primary Peritoneal Cancer (Ovarian). She had a major operation removing all the tumors in her abdomen. She fought with chemotherapy and  she changed her diet completely eating mainly just whole foods and began visiting Mexico and trying stem cells and chelation. The medical doctors told her she would not live longer than 2.5 years.
Little did they know what a fighter Cookie is! She has been in remission off and on throughout those six years. 
Two years ago, she was diagnosed with PPC again but this time it was in her brain. She underwent brain surgery to have the tumors removed and chemotherapy only to have it reoccur again this past spring. She recently had another brain surgery where more tumors were removed but they couldn't get it all.
Mainstream medical treatments have been exhausted. Her choices are becoming more limited as the chemotherapy that worked in the past will not work now (it usually only works for a year or two and then it stops working for that person). 
Cookie is such a LOVING, positive, inspiring, courageous and brave person. She continues to keep a smile on her face through all these battles and is always wanting to look on the bright side of things. She truly is amazing and as a dear friend just said recently, " there ain't nobody stronger than her". She is truly the cookie that won't crumble.
We want to thank everyone for their thoughts and prayers throughout all these years. They provided much needed emotional support. Cookie recently started alternative treatment with a high dose of vitamin C infusions in hopes that this may be the answer to so many prayers.  Unfortunately, they are $8,000 a month and she will doing these treatments for a minimum of 8 months. Friends and family have been asking what they can do to help and one way you can is by helping ease the financial burden. 
The picture below helps capture what her current fight has looked like. It's not often we show pictures where she isn't smiling because we try to show her wonderful spirit but each time this seems to get harder and harder.
This moment she had severe head pain and a spiked fever. Her daughter, Tracy (who is a nurse), kept putting cold washcloths over her.
This next picture shows how skinny she has become. We are thankful she has actually put on a couple pounds recently.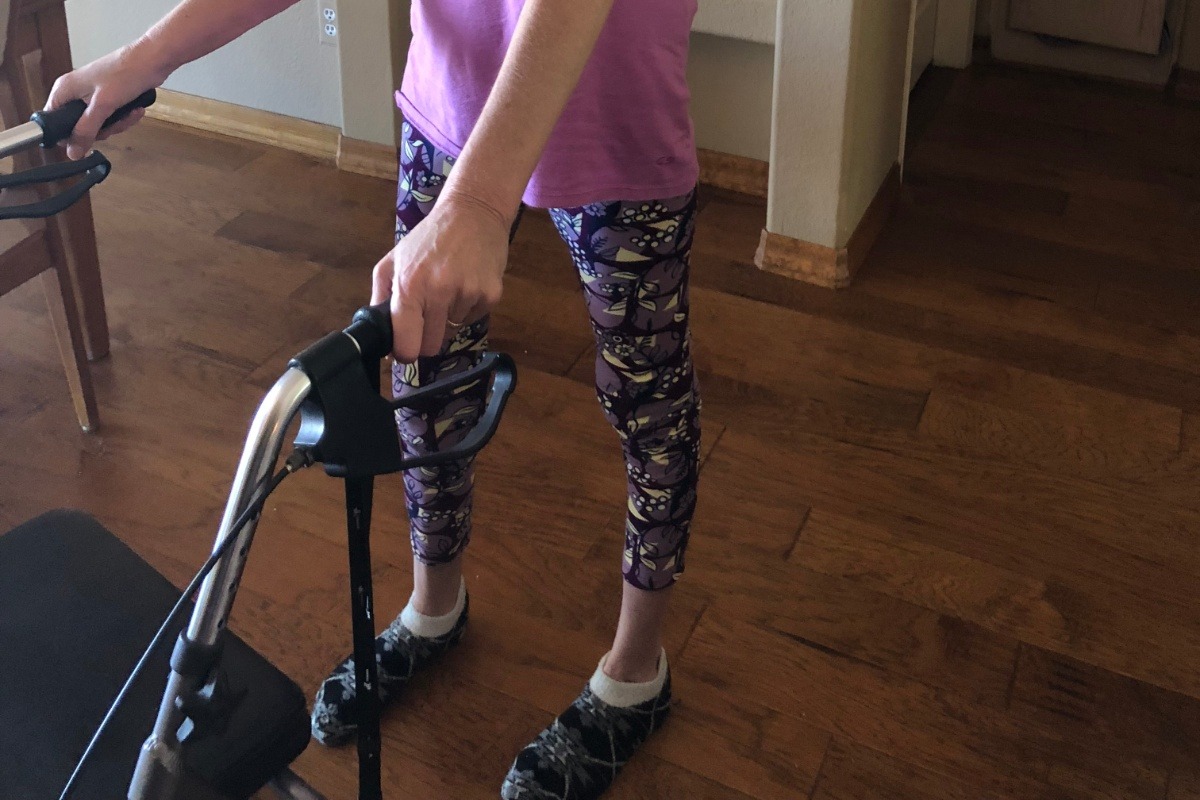 Thanks in advance for your support and for standing by Super Cookie! 
* If you would like to learn more about Cookie's treatments, visit 
https://natureworksbest.com
 .
*We have the beneficiary listed as Michael Busquaert, Cookie's husband, who handles all the financial affairs.

Fundraising team: Cookie's Family (4)
Lisa Abel
Organizer
Raised 5.122 $ from 27 donations
Queen Creek, AZ
Michael Busquaert
Beneficiary
Jennifer Pinegar
Team member
Raised 742 $ from 14 donations
Tracy Nielsen
Team member
Raised 405 $ from 7 donations