Sri Neem Karoli Baba Mandir - New Ashram Germany
€95,000 raised for Sri Neem Karoli Baba Mandir!
With your support, we have reached incredible €95,000 since the GoFundMe campaign began in November 2019!
Big renovation projects inside the ashram have been completed, including the ventilation system, the floors, and the great kirtan hall. Thank you so much!
For the next really big project, the renovation and insulation of the roof and installation of a Photovoltaic system - which will safe much energy and CO2 -
we increased the goal of the GoFundMe campaign to €200,000 and we remain deeply grateful for every donation.
Jai Hanuman !
Jai Sri Baba Neem Karoli Maharajji Ki !
Jai Sri Durgamayi Mata Ki !
95.000€ für Sri Neem Karoli Baba Mandir gespendet!
Mit eurer Unterstützung haben wir seit Beginn der GoFundMe-Kampagne im November 2019 unglaubliche 95.000 Euro erreicht!
Große Renovierungsprojekte im Inneren des Ashrams konnten abgeschlossen werden: Die Lüftungsanlage, die neuen Böden und die große Kirtan-Halle. Vielen Dank!
Für das nächste große Projekt, die Renovierung und Isolierung des Daches und die Installation einer Photovoltaikanlage - die viel Energie und CO2 einsparen wird - haben wir das Ziel der GoFundMe-Kampagne auf 200.000 Euro erhöht und sind weiterhin für jede Spende sehr dankbar.
Jai Hanuman !
Jai Sri Baba Neem Karoli Maharajji Ki !
Jai Sri Durgamayi Mata Ki !
Read the story:
While living in Munich as a young woman, Sri Durgamayi Ma came across the book "Be Here Now" by Ram Dass in 1971, which was circulating among hippie communities at that time.
Reading it, she saw a picture of Sri Neem Karoli Baba and was instantly drawn to Him. Mataji felt a strong longing to meet Maharajji in person and began her journey to India - through Turkey, Iran, Afghanistan and Pakistan, still possible then.
During spring 1973 Mataji finally met Sri Neem Karoli Baba at His Ashram in the city of Brindavon. She became His devotee and stayed with Maharajji until He left his Body in September 1973. These months at Maharajji's feet completely changed the course of her life.
In 1981 Sri Durgamayi Ma's journey in search for inner peace ended when she attained enlightenment and from the mid 80's on more and more people came to receive darshan - many of them became her spiritual students. After several years of teaching in different locations, Mataji established
Ashram Brindavon
 in 1999, named after the holy place, where she met her beloved Guru Sri Neem Karoli Baba for the first time.
Ashram Brindavon is located close to the center of Ulm, a city in southern Germany. To this day there is a community of Mataji's disciples living there, but the ashram has become too small for the many visitors.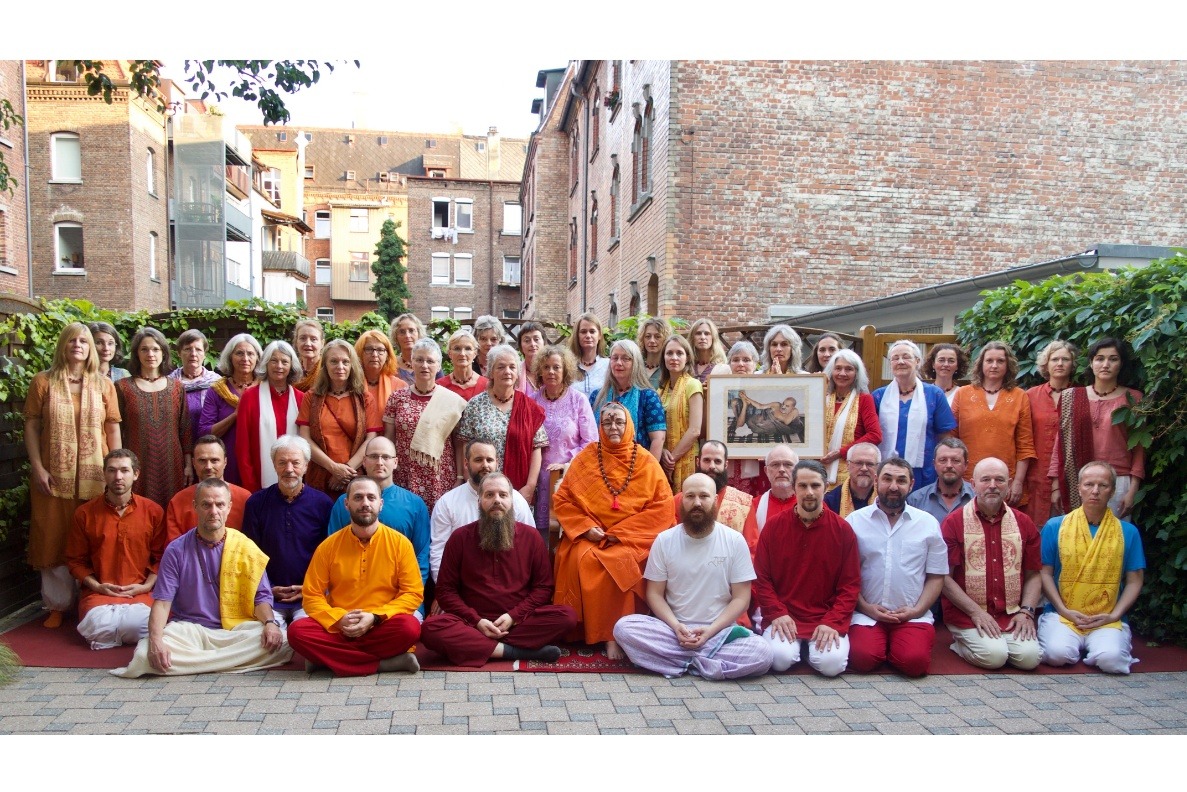 20 years later - in spring 2019 - thanks to numerous and generous donations, the ashram association was able to purchase a beautiful building which will complement Brindavon.
Located just across the Danube - in the city of Neu-Ulm - only a few kilometres from Brindavon, the new building offers a lot of space, even a garden and a 240 sqm darshan hall, all on the ground floor. When we visited for the first time, everyone was overwhelmed!
In honour of her spiritual Master, Mataji has named this place
"Sri Neem Karoli Baba Mandir". To our knowledge it is the first ashram in Europe dedicated to Maharajji.
With your support we have now completed many necessary renovations, broken down walls and built new ones, upgraded sanitary facilities and the electrics and overhauled the large heating system. A grand ventilation system has been installed, as requested by the building authorities. A spacious lounge area was beautifully furnished and a new carpet was laid in the kirtan hall. And of course new interior decorations and furniture were bought and installed.
We continue to be grateful for every donation for the upkeep and maintenance of this large building and for further projects!
Über 75.000 Euro sind für das Sri Neem Karoli Baba Mandir eingegangen!
Seit dem Beginn der GoFundMe-Kampagne im November 2019 haben wir mit eurer Unterstützung das unglaubliche Spendenziel von 75.000 Euro erreicht!
Danke, danke, danke!
Aus den Fotos und Videos, die in dieser Zeit entstanden sind, haben wir für euch einen Rückblick zusammengestellt, der auch wundervolle Eindrücke zeigt von der Eröffnung des Sri Neem Karoli Baba Mandir im Oktober 2021 in Mataji's Gegenwart.
Es gibt aber immer noch viel zu tun und die nächsten Projekte, die wir jetzt angehen möchten, sind:
• eine hölzerne Überdachung für das Dhuni im Garten und eine Terrasse aus Holz am Ausgang der Kirtanhalle, um den schönen Garten zugänglich zu machen 
• den Bhandara-Raum renovieren - er braucht grundlegende Ausbesserungen, einen neuen Anstrich und der Boden muss abgeschliffen und neu eingelassen werden
• um Bhandara-Speisen vorbereiten zu können, ist noch eine einfache Küche geplant. Dort werden wir das im Ashram Brindavon zubereitete Prasad so vorbereiten, dass wir es im Baba Mandir austeilen können.
Um diese Projekte jetzt verwirklichen zu können, haben wir das Ziel der GoFundMe-Kampagne auf 125.000 Euro angehoben und wir sind weiter dankbar für jede Spende!
Jai Hanuman !
Jai Sri Baba Neem Karoli Maharajji Ki !
Jai Sri Durgamayi Mata Ki !
Die Geschichte des Ashram:
1971 tauchte das Buch "Be Here Now" von Ram Dass in München auf, wo
Sri Durgamayi Ma
 als junge Frau lebte. 
Es enthält ein Foto von Sri Neem Karoli Baba und Mataji fühlte sich von Baba's Anblick wie magisch angezogen. Mit dem großen Wunsch, Maharajji begegnen zu dürfen, machte Mataji sich Ende 1972 auf den Weg nach Indien - damals noch über Land durch die Türkei, den Iran, Afghanistan und Pakistan.
Im Frühjahr 1973 begegnete Mataji Sri Neem Karoli Baba zum ersten Mal. Sie wurde seine Schülerin und blieb bei Maharajji bis Er im September 1973 seinen Körper verließ. Durch diese Begegnung änderte sich der Lauf ihres Lebens vollkommen.
1981 endete Sri Durgamayi Ma's Weg als spirituelle Schülerin mit ihrer Erleuchtung, und ab Mitte der 80er Jahre kamen immer mehr Menschen um ihren Darshan zu empfangen, viele wurden ihre Schüler. Nachdem Mataji einige Jahre an verschiedenen Orten als spirituelle Meisterin gelehrt hatte, rief sie 1999 den Ashram Brindavon ins Leben, benannt nach dem Ort, an dem sie ihrem Meister Sri Neem Karoli Baba das erste Mal begegnet ist. Der Ashram Brindavon liegt mitten in Ulm, einer Stadt im Süden Deutschlands und bis heute lebt dort eine Gemeinschaft von Schülern, jedoch ist das Haus für die vielen Besucher inzwischen zu klein geworden.
20 Jahre später - Im Frühjahr 2019 - konnte der Ashram-Verein dank zahlreicher und großzügiger Spenden ein sehr schönes Gebäude erwerben, um Brindavon zu ergänzen. 
Auf der anderen Seite der Donau – in Neu-Ulm – gelegen, nur wenige Kilometer von Brindavon entfernt, bietet das neue Gebäude viel Platz, einen Garten und einen 240 qm großen Darshanraum Alle Schüler, die den Ashram im Juli zum ersten Mal betreten haben, waren hellauf begeistert.
Ihrem Meister zu Ehren gab Mataji diesem neuen Ashram den Namen 'Sri Neem Karoli Baba Mandir'.
Für die Renovierung des einzigen Ashram in Europa, der Sri Neem Karoli Baba gewidmet ist, benötigen wir 75 Tausend Euro, denn es müssen einige Wände entfernt und neue Wände eingezogen werden, die sanitären Anlagen ausgebaut und die Elektrik wie auch die große Heizungsanlage überholt werden. Ein geräumiger Aufenthaltsbereich soll einfach aber schön eingerichtet werden, wozu auch Teppiche und teilweise neue Böden erforderlich sind. 
Aus ganzem Herzen bitten wir euch um eine Spende, damit wir das Sri Neem Karoli Baba Mandir, so bald wie möglich zum Leben erwecken können. RAM RAM RAM

Fundraising team: Sri Neem Karoli Baba Mandir GoFundMe-Team (5)
Hanuman Markus Broichhagen
Organizer
Raised €4,010 from 44 donations
Ulm
Hari Om Wolfer
Team member
Raised €2,249 from 16 donations
Vasu Deva
Team member
Raised €1,492 from 21 donations
Ramrani Marion Mans
Team member
Raised €860 from 9 donations
Karin Maassen
Team member
Raised €654 from 2 donations