A Dream Come True for Special Kids
This May/June I'll celebrate my 60th birthday by walking the Camino de Santiago. The Camino is an ancient pilgrimage route stretching 490 miles from southwest France to the northwestern tip of Spain, once thought to be the end of the world.
My training for this 5-week trek has already yielded innumerable gifts. One of these is profound gratitude for the simple act of being able to walk when I want, as far as I want…
because not everybody can
.
That gratitude spilled over into a desire to make my adventure significant to the world in some way. I wanted to dedicate my trek to a cause that made my heart sing…but I had no idea what that cause was.
I can't recall how I came to view the video on YouTube. I just know that when I did, I knew it was the cause I'd been looking for.
For many years, the New York City Ballet has staged free performances and workshops for children. As a child, I would have been thrilled to participate. I was the 7-year-old who couldn't wait for her weekly ballet lesson, who took out every ballet book in the library to pore over the pictures of dancers in gossamer costumes, wanting to be under the bright lights with them.
But there are children for whom such an experience may have unexpectedly bitter consequences.
Physically challenged children may enjoy seeing a ballet, but sharply feel the gap between what they can do and the possibility of ever participating in a dance class, much less a performance.
One mother of a 6 year old with cerebral palsy approached the New York City Ballet to see if a dance experience could be created for children like hers. The NYC Ballet bravely took up the challenge. Working with a pediatrician specializing in CP, they created a 4-part program that took these children out of their braces and into the freedom of dance, complete with a special recital at the end.
My words can't do justice to the result – you can see it in the video on this page.
With the children's radiant faces still in mind, I picked up the phone to the NYC Ballet with a simple question:
What would it take to make more workshops like this available to differently-abled children?
Turns out the NYC Ballet has drawn up a dream plan to do just that. They even want to develop a parallel program for autistic children. But they have only a third of the funds they need.
-->Will you help me change the lives of these improbable little dancers?
Just think if it was your child, thinking he or she could never do it...then one day letting their inner dancer soar free, hand in hand with principal dancers of one of the world's great ballet companies.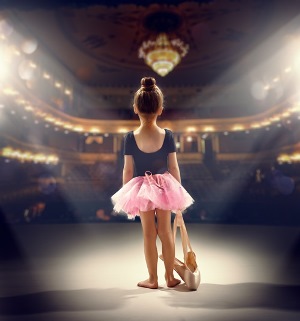 Many hands make light work, so let's break this down and make it easy. $36 for each mile I walk on the Camino will make these kids' dream come true.
Your donation in any amount is meaningful, and 100% of your contribution goes to the cause. I will personally acknowledge every donation. Hell, I thank you
right now
for opening your heart to give these special children this life-changing experience.
Want to stretch and grow with me by becoming a major dream builder for these kids? I'll thank you in these additional ways:
Sponsor 2 miles/$72 or more:You'll experience a Camino moment
when you receive a personal postcard from me, from somewhere on the Camino.
Sponsor 5 miles/$180 or more:
You'll come with me
with weekly real-time  updates on my "journey to the end of the world," through private access to my Camino blog (not just any blog...I'm a regular contributor to the Huffington Post)
Sponsor 100 miles/$3,600 or more:You'll relive my most treasured Camino moments with me
through a live presentation of "Why Did the Nice Jewish Girl Walk the Camino de Santiago?" for your favorite organization. (I'm an award-winning Toastmaster, so you won't want to miss this!) **
********************************************************
UPDATE:  while my 60th birthday campaign is now complete, this page remains open.  The New York City Ballet special kids' programs are blossoming with our support.  Should you happen to see this and wish to donate, I thank you. Know that your gift will change the lives of some very special kids!

********************************************************
One more thing...you can multiply your impact
by sharing this page with your social media community, or especially with loved ones who have a soft spot for special kids or for dance.  The share icons/links at the bottom of this page make it easy.
If you've experienced the joy of moving freely to music, or seen a child hold her head higher because she was becoming a dancer, you know the joy our gift will bring. Watch the video, and give generously.
Together, I KNOW we can do this. I've started us off by donating $500.  Please make your generous contribution today.
Love,
Shani
PS –
Decisiveness
separates those who make dreams come true from those who don't.
Don't put these children's dreams on hold
: donate
today.
  My heartfelt thanks in advance for your generosity!
** In-person presentations in Portland OR or Los Angeles; by videoconference in other locations. For in-person presentations in other locations please contact me via the contact link on this page.
Organizer and beneficiary