Hurricane Rebuild of #SpayBay
Panama City pet community lost their only low-cost clinic.


Cats are my life. This is the story of why I created this campaign to help Operation Spay Day who were devastated by Hurricane Michael.
Imagine the comfort of your cats snoozing at home. Then, imagine their world turned upside down by a hurricane. That's what happened to Lunz, a black cat and contributor to my book 
Black Cats Tell All: True Tales And Inspired Images,
  a nonprofit book and cause. As a cat expert and adoption advocate for less adoptable cats, I wanted to help because a disaster can happen to anyone, anywhere.
Lunz lives in Florida with Layla and Ella, two Bengals, and theirTabby/Siamese fursib Lily. Lily is famous for her viral snacking on fruit and veggie videos  online
@lilyandlunz.
  The happy fur family enjoyed leash walks on the beach and plenty of playtime on a breezy screened-in porch. On social media their good life brought smiles of joy to their many followers.
What could go wrong?
In a prescient photo, the last one posted before Hurricane Michael hit, Lily is looking out at the bay. Did she sniff ill winds coming? We'll never know, but mom, Kim, heeded evacuation warnings and thankfully her family was welcomed into the home of Tiffany, Paul, and their Insta-famous Bengal    
@justmangobrown.
 Lucky but it's not exactly a picnic being  evacuated. We all know cats hate change.
Kim's car was totaled outside the hospital she works at, and her house suffered extensive exterior damage.
As bad as it was to be displaced, it did not compare to the hundreds of cats housed in shelters in the hurricane zone. Some were airlifted to other shelters or evacuated from one stressful environment to another. Their fate is unknown.
In honor of 
Black Cat Awareness Month
 , Lily and Lunz, and all those who actively want to make a difference in the lives of cats, this GoFundMe is a Black Cats Tell All initiative to raise shelter adoption rates for less adoptable cats. 
With humans struggling to piece back together their lives, feral and other homeless cats who survived the storm are not priority.
All of the area shelters were damaged
. People are focused on cleanup, clearing roads, restoring power, and creating distribution areas for basics like food, water, clothing, and resources for shelter.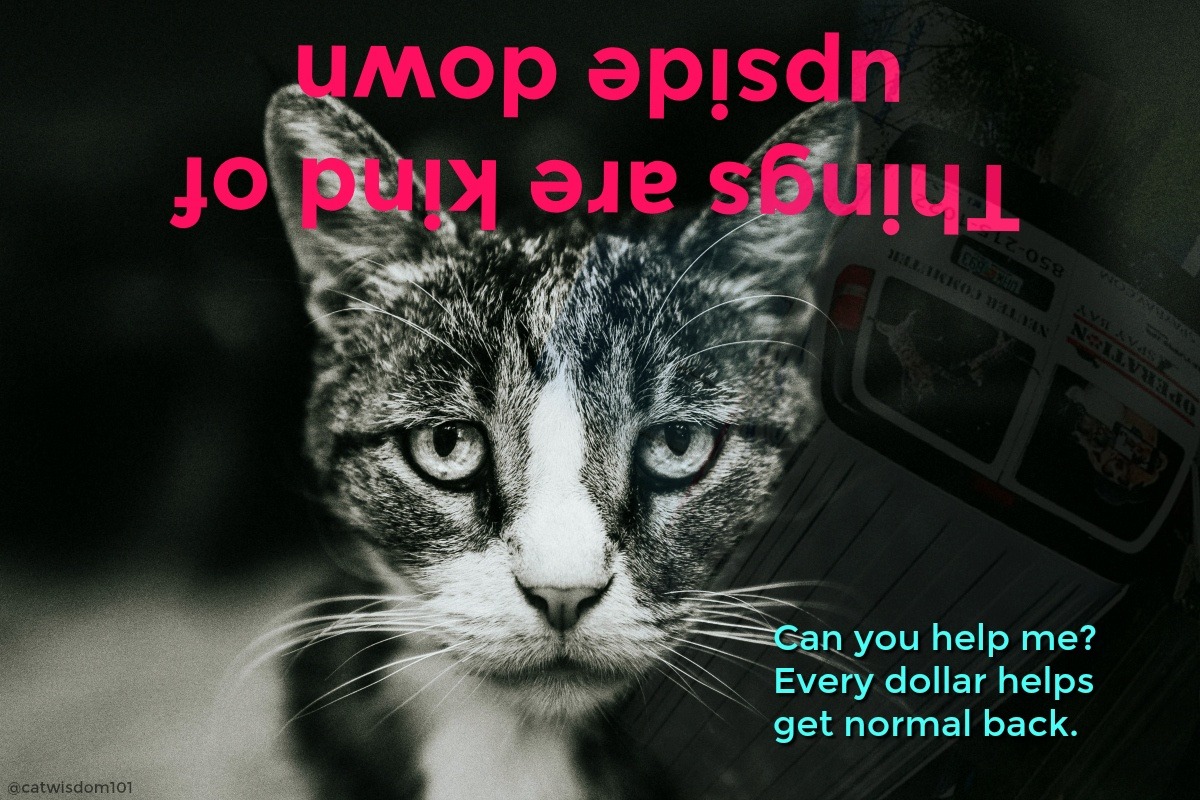 There will be pet adoption events, but remember many people have lost their jobs temporarily or permanently. Pet adoption or vet visits are not a priority.
When life is upside down, animals get pushed to the bottom of the list.When I reached out to Kim to find out how I could help her and the cats, she said she'll be okay but asked for help for a local, low-cost clinic,Operation Spay Bay .
That's how she rolls and that's why I love our #blackcatstellall black cat community so much. Not only the 100+ black cats in our book but the 
@blackcatsofIG
 community on Instagram. Not all are black, but all are awesome.
Kim says the feral cats she and Tiffany trapped brought them to the outstanding Operation Spay Bay. The bay county's first and only low-cost spay/neuter clinic sustained extreme damage. The building, newly enlarged last January, is standing but the photos speak volumes.
Their mobile neuter van was flipped upside down, and the neighborhood looks like a war zone.
They are much loved in the community for offering quality vet care at affordable rates.
The clinic is closed, and the 18 member staff laid off until there are enough funds to get the clinic operational.
Their last spay/neuters were on October 9. Scheduled appointments are cancelled. That means the likelihood of more litters of feral and orphaned kittens in a few months.
I spoke with Amy Wetzel, the Operation Spay Bay director
who said, "We are indescribably sad about the condition of our beloved clinic. Our staff is FAMILY. Our extended family is the beautiful COMMUNITY we serve. We appreciate all the messages of love and support. Please be patient and know every day we are working hard to rebuild. We're going to get through this with your support."
The sooner Operation Spay Bay has the ability to provide vet care, the better it will be for pets and the entire community.
Our funding goal is open ended since there is no contractor's estimate for repairs yet.
The #1 goal
is to get the roof repaired to prevent more damage. Next is getting the mobile van repaired or replaced, replace broken equipment, and purchase medical, office and cleaning supplies.
How you can help. Pick one!

1) If you can make a donation, however small, Yay!
2) If you can't spare a few dollars, you can contribute by sharing this campaign on Facebook, Twitter, regram on Instagram using the hashtag #spaybay #blackcatstellall.
3) Text or tell a cat or dog lover friend. 
4) 
STAY IN TOUCH. We will keep you updated here with new shareable graphics and photos, important and exciting developments but also at the
Facebook Page of Operation Spay Bay
5)
Shop for needed supplies from the
Spay Bay Amazon Wishlist
6) Follow us for updates and fundraising giveaways
at
Cat Wisdom 101
  and our Instagram community
@blackcatsofIG
 including free autographed copies* of our book for anyone who donates $100 or more. 
7) COSTS ZERO
 The aftermath of survival takes its toll on every level. Yes, donations of money and supplies go a long way, but so does kindness and small acts of compassion. 
You can also do a small kindness in a million ways from a caring smile, holding a door open or giving a hug. Fear and desperation can turn into impatience or anger. The person who irritated you may have lost everything. We live in stressful and trying times. This is not a time of judgement, but an opportunity to be humane.
With love and purrs of gratitude,
Layla Morgan Wilde,
Founder of Cat Wisdom 101 and Black Cat Awareness Month.
Thanks for spreading the word! Feel free to post your comments and pet photos. 
Fundraising team: #spayday (2)
Operation Spay Bay Inc (Operation Spay Bay)
Registered nonprofit
Donations are typically 100% tax deductible in the US.