Defend Sons of Haiti Lodge
The Sons of Haiti Lodge is one of the last black-owned buildings on Historic Mississippi Avenue in Portland. The historic organization has been a member of the Mississippi Avenue community since 1954, and serves as the home for two social service organizations—a Masonic Lodge and a Sisterhood of Eastern Stars. Together, their mission is to take good men and women and make them better.
Every year, the Sons of Haiti Lodge sponsors several events, including a scholarship fund, a banquet, a holiday food drive, and a Christmas party for children. In a part of town that has become increasingly more expensive over the years, the Lodge provides an affordable for community gatherings, frequently hosting events such as birthday parties, Tae Kwon Do classes, and racial education courses.
North Portland is known as the historic heart of Portland's black community, as African Americans once occupied most of the property in the area. But due to factors of racism, poverty, and gentrification, the area has become wealthier while resulting in a significant loss of its previous cultural richness. The Lodge has preserved in spite of these changes, but it's also been plagued with problems.
In 2012, vandals targeted the building with swastikas, depictions of lynchings, and racist epithets. In 2015, City leaders threatened to close the Lodge by fining the organization more than $40,000 in code violation fees  over food carts even though the Lodged worked with officials to be in compliance. Those fines were eventually dismissed, and the organization has continued its important mission.
But the Lodge still needs your support.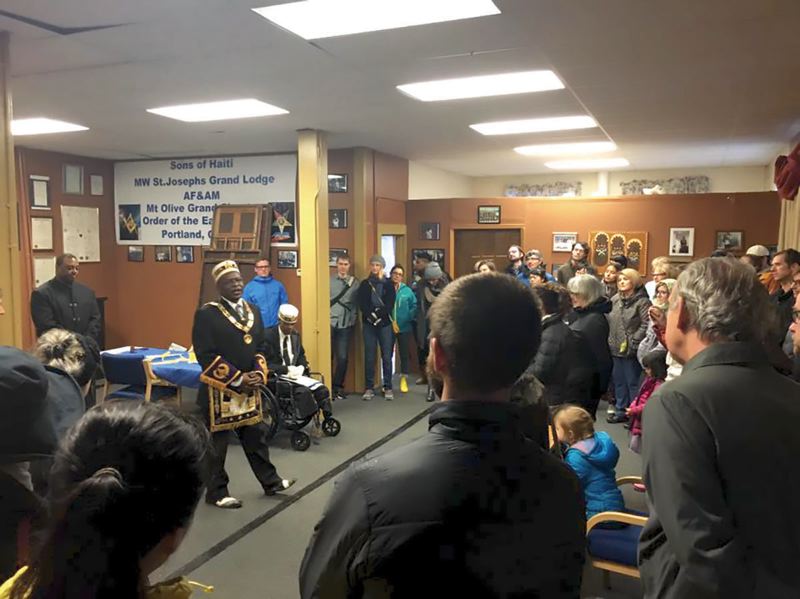 My story with the Lodge began in 2016, when I served as Executive Director of arts and social justice nonprofit, Know Your City. At a time when the organization's future was still uncertain, I began leading tours to bring community members to the space, to meet the group's members, and see the value that the Lodge brings to the community. By mid-2017, I began hosting trainings dedicated to raising racial awareness and have brought hundreds of Portlanders to the space. I stored my professional equipment in the Lodge's basement, where they stored property as well.
On Tuesday, February 6th, I discovered that a significant amount of my property had gone missing, and that the Lodge was broken into. I called the Grandmaster John Bryant, who came immediately to the Lodge and discovered that they had valuable property missing as well. This burglary was unfortunate, but it also highlights the continuation of struggle the Lodge has had while trying to provide a critical and culturally specific asset to this community.
I launched this gofundme campaign to help the Lodge replace its lost property, but also for the community to do what we can to prevent these kinds of incidents from happening again.
Your support will be pivotal in helping to replace a number of stolen property, including: a guitar, several bikes, a sound system, a projector, and nonperishable food and drink supplies. Remaining funds will be used to increase the level of safety within the Lodge, by purchasing new locks, new doors, and a security system for the building.
Donate today, and share the crowdfunding link with your friends and colleagues. Thank you.

Organizer