a solution for every problem: enolve
Help others - Improve the world - Help yourself!
Enolve is a collaborative problem solving app that let's anyone post problems and connect them to solutions in public or private problem solving spheres.
Commonly used Q&A forums, social networks, or comment sections on the internet approach problem solving in a much less effective way, and merely perpetuate the common barriers associated with problem solving.
[click here to view image in full resolution ]
Our PATENT PENDING system lowers the cognitive load required to solve problems, and facilitates easy collaboration on shared goals, values, and dreams.
People using the app can work together in a way that's streamlined and focuses on:
identifying problems
breaking problems down into issues, sub-problems, and obstacles
analysing root causes of problems and negative consequences / symptoms
finding solutions to overcome every obstacle
identifying further problems and obstacles with proposed solutions
That means instead of trying to keep a complex problem organized in your brain, you can easily offload, edit, and view the problem in the app - helping you to see things from a new perspective and find solutions - and have others join you on the task.
How does enolve work and what will the app look like?
Connect problems to solutions from any device:
[click here to view image in full resolution ]
To see the app in action, watch our 15 minute video presentation here :
What exact functionality will the app provide?
Post problems or solutions and attach violated or fulfilled "dreams" (needs, wants, desires, goals, values, requirements) to them. Then you can browse a feed of all problems and solutions of a specific "dream".
[click here to view image in full resolution ]
When viewing a problem you can…
[click here to view image in full resolution ]
When viewing a solution you can…
[click here to view image in full resolution ]
Imagine all the difficult problems we could solve... Imagine all the the solutions to yet unknown problems we might discover!
Sorting problems and solutions in "Spheres"
Finally, problems, solutions, and "dreams" can be organized and categorized into problem solving spheres.
Think of these like sub-forums or think-tanks: Each sphere focuses around a problem topic and has a specific set of goals, towards that the problem/solution tree in the sphere is growing.
That makes each sphere like a "special industry domain" or an "area of expterise".
Examples of Spheres could be:
Personal Development
Business & Entrepreneurship
Government & Politics
Academia & Education
Psychology & Mental Health
Philosophy & Spirituality
Health & Exercise
Diet & Nutrition
DIY Home Improvement
Science & Technology
etc...
Problem solving spheres can be public, where anyone can view the problems & solutions in the sphere and contibute to them, or they can remain private to the owner and only select collaborators.
Private spheres may be helpful for businesses and organizations who only want their team to collaborate on solving problems and being more productive or innovative.
Individuals can also use private spheres and allow partners, friends, family or therapists and coaches to collaborate with them, on personal or intimate topics.
Donate now - help us improve the world!
We are raising funds to cover the expenses associated with creating and marketing the app.
Your contribution goes directly toward the hard working software engineers and developers who will help us make enolve a reality by building a reliable quality product, that looks and feels just right and works without interruptions.
Donate by making any financial contritbution to our campaign and you will receive:
early adopter access to the app before the general public
access to our group chat where you can submit feedback for our developer team
credits on the app that can be used for the in-app economy (learn more here )
You can also pre-order a license for the premium versions of the app.
There are 3 types of licenses (invidividual, business, enterprise) and each have different features and benefits.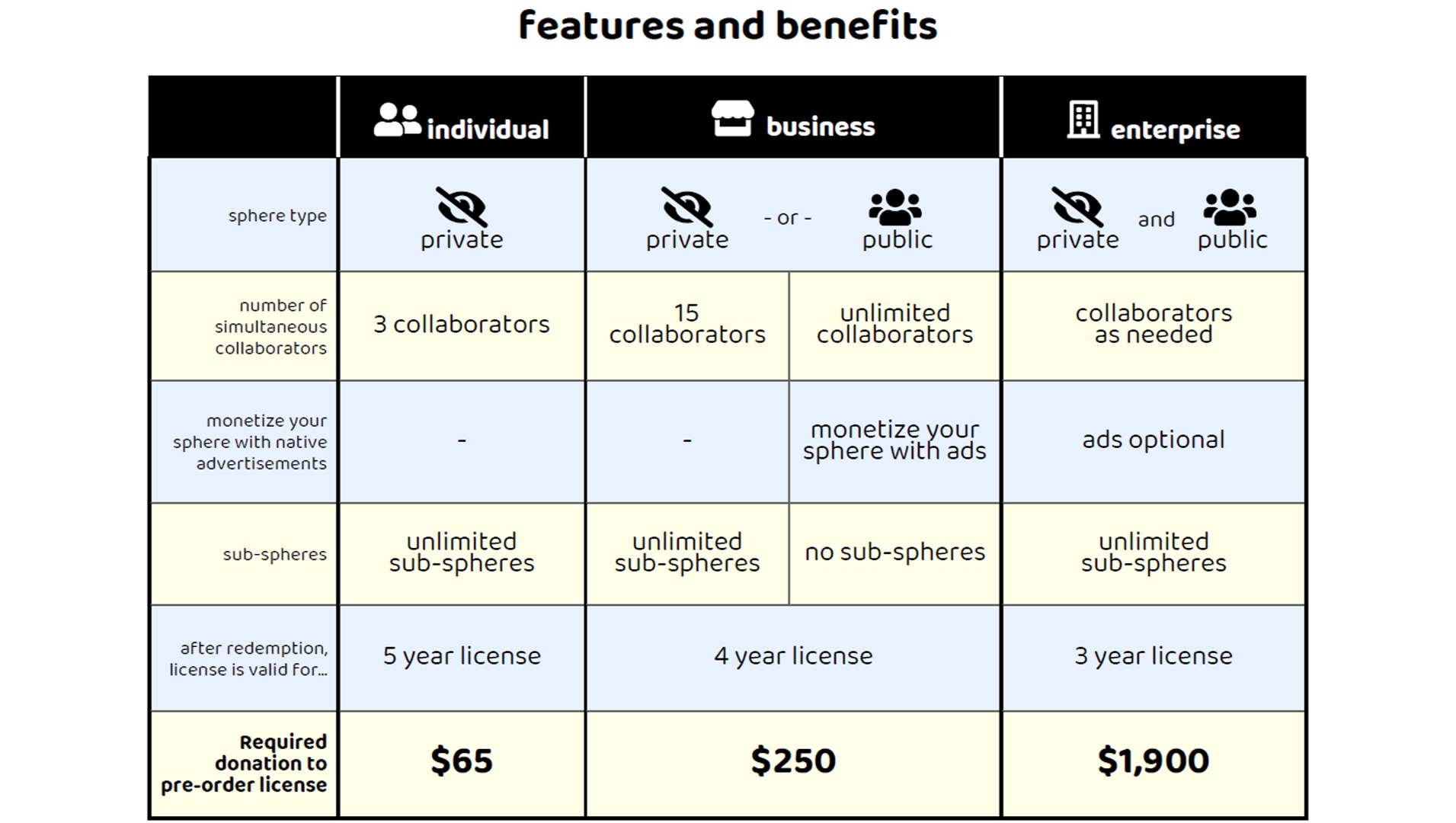 [click here to view table as PDF ]
Licenses can be redeemed as soon as the app launched and are valid for a certain numbers of years after redemtion.
Licenses can also be transfered, gifted, or re-sold.
Contributors to our campaign will save a lot of money with their license, compared to the membership fees. That's because after our crowdfunding campaign closes, we will no longer sell licenses, instead switch to a monthly membership fee model.
[click here to view table as PDF (2 pages) ]
If you want to get your license today and all the benefits associated with it, simply make a donation of the required amount!
IMPORTANT:
After donating, please send an email to [donations AT enolve DOT io] and attach a screenshot of your donation receipt.
We will then get in touch with you to arrange delivery.
Questions? Comments?
Please reach out to us on social media!
Facebook @enolve.io
Instagram @enolve.io
Twitter @_enolve_
Thank you for helping us make the world a better place!
Organizer
Oliver Siegel 
Organizer
Laguna Beach, CA