Update 7/19: With additional cash gifts given outside of GoFundMe, we have raised the full amount for all of our stretch goals! God reward our generous benefactors!
Update 7/17: INITIAL GOAL REACHED!  First "stretch goal" unlocked: green & purple vestments (see below)
Many feel that the Latin Mass celebrated in full splendor is the closest one can get to Heaven while still on earth.  By the grace of God, the Diocese of Rochester has enough clergy proficient in the ancient ceremonies to render homage to God in this fashion.  But we priests lack the materials necessary to celebrate Solemn High Latin Masses, and need to borrow the required vestments. 
By acquiring a full set of vestments in each color (Chasuble, Dalmatic, Tunicle, Stoles, Maniples, Chalice Veil, Burse, Cope, & Humeral Veil in each of white, red, purple, and green) we will be able to celebrate these solemn liturgies more frequently owing to the greater ease in gathering the necessary materials.  We celebrated two Solemn High Masses in June and are planning two more for August and September. 
~Details~
White (most commonly used): $1,599.99
Metallic White Gold Brocade fabric with small cross designs. The embroidery designs are hand embroidered with 8 shades of metallic gold yarn directly on the fabric.
Red, Green, and Purple: $549.99/each
Damask fabric with cross designs. The orphreys are made of polyester fabric with Gold cross designs. The motif on the back of the chasuble & the cope are hand embroidered with metallic Gold yarn directly on the fabric.
~Gift Levels~
Full High Mass Donor
Early donors at the
$549.99
level can inscribe a short message on a tag inside each vestment of one set (example: "In loving memory of [name]"). 
Chasuble Donor
$250
Dalmatic Donor
$100
Tunicle Donor
$50
Maniple Donor
$25
Veil Donor
$20
All
our benefactors will be specially remembered as the intention for the Mass on the Feast of the Transfiguration, Tuesday August 6th, at St. John the Evangelist Church in Spencerport.
~Stretch Goals~
Purple & Green sets at $549.99/each [unlocked!]
Eucharistic Procession Canopy $199.99
Catafalque Candle Stands (set of six) $499.99
"Upgrade" red vestments to silk material (additional $1,050)
Both the red and black sets of vestments pictured above were loaned to us.  The black set is a "long-term loan" and so is not a priority, but the candlesticks pictured here are not proper to what ought to be used for a Requiem Mass, as they should be black.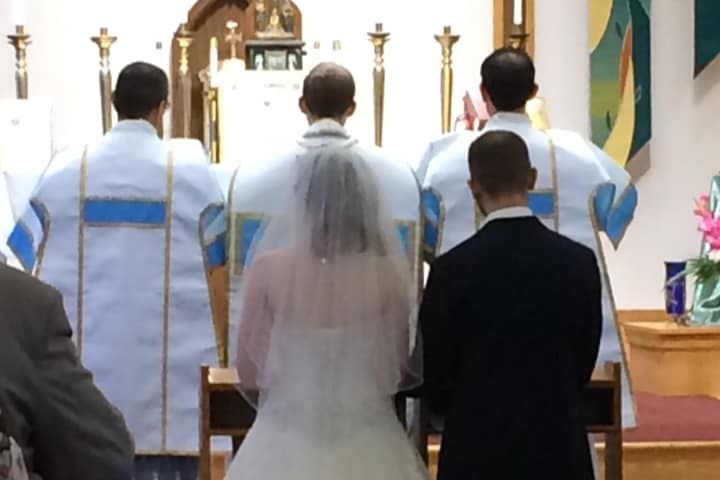 It is a great joy to be able to celebrate a Solemn High Nuptial Mass for those entering into Holy Matrimony.  But this set of vestments with Marian blue accents is not ideal for all occasions.
THANK YOU for your support of the Latin Mass through your gifts and your prayers.  You have our gratitude for allowing us to return to God the homage that is His due.
—Fr. Peter Mottola, Fr. Peter Van Lieshout, Fr. Anthony Amato, & other assisting clergy