Skylar's Fight for sight
The money donated well go to Skylars medical bills which is well over 100k alone . Also to her family's bills, housing, food, care for Skylar and anything that the family needs to support her as bills have tripled.
Hi my name is Jessicah Sullivan I am married to an amazing veteran Lucas Sullivan and we have a beautiful four year old Daughter named Skylar. Skylar was a healthy and happy baby up until just about two years old when my husband and I noticed that our daughter was not the same happy and healthy little girl anymore. We started to notice her Left eye was red, puffy, lazy and her pupil was not round but star shaped. Trying not to panic as new parents we thought allergies of course. But after days even weeks of her health progressively getting worse we realized this was not just allergies it was time to see an eye doctor. That day would be filled with more questions than answers and the start to a very long journey for our family.
All the doctor could tell us was that Skylar had developed a cataract in her left eye, her vision was nearly gone, and the next steps would be crucial if we wanted to save her sight. Being in a small town in Steamboat, Denver was the only option for pediatric care. Soon after we called our jobs packed our bags and headed to Denver so that Skylar could undergo her first of many surgeries to come. After the first few surgeries, doctors still had no clue what was going on, test after test, her eye was still not functioning she was coming in and out of remission when her optic nerve would become inflamed. We made the roughly 4 hour trip to Denver, nearly 6 times a month for days at a time the first year. Finally we had some idea to what was going on, Uveitis. Uveitis is inflammation of the part of the eye called the uveal tract: the iris, ciliary body and choroid, for Skylar this was caused by an Autoimmune and inflammatory diseases. Our immune system normally makes small proteins (antibodies) to attack bacteria, viruses, and other 'germs'. In people with autoimmune diseases, their immune system makes antibodies against the tissues of their body, causing damage and inflammation. In Skylar's case, something triggers her immune system to attack the body's own tissues. The 'trigger' is not known. Any parents worst fear is being told you have a very sick child.
Soon our tiny 2 year old was on steroid drops, dilation drops, methotrexate, remicade infusions, pain medication, and countless other drops and gels just to keep her condition stable. She now wears a contact in just that one eye, while her right eye is patched every day and her sight is 20/400. We are heartbroken to see our little girl struggling to see her toys, struggling to see us. Two years now and the weight of all the bills and traveling expenses have put an incredible hardship on our family, living paycheck to paycheck not even getting by, trying to make the best out of birthdays and holidays with not much to give, and on top of money my now four year old has missed out on going to preschool because of surgeries, appointments and just being sick, she's missed out on playing with other kids, she has missed out on 2 years of her young life, years that she should have been learning, exploring, and making her first real memories.
We travel to Denver still to meet with her two specialist and to get her infusion at the children's hospital. We patch her eye everyday hoping and praying her sight will be renewed, and that she can experience being a "normal Child". It has not been easy explaining to her on those tough days why she can't jump and play as the other kids do, or why she must patch her good eye in order to make her weak eye stronger, or explaining to her why she can't go to school yet. Skylar is living with uveitis and every day is a new challenge that she makes the best out of. With a very long road ahead of her she will still need more surgeries in the future, her infusions won't stop for years, and the fight to get her sight back will be costly and will not happen overnight. She will struggle, she will have to deal with more children pointing, not understanding her patch, and will have to explain to her one day why she is "different". But one thing we are sure of, she will always remember all of the amazing people that are helping her and our family along the way. Thank you for taking the time to hear about Skylar's fight for sight.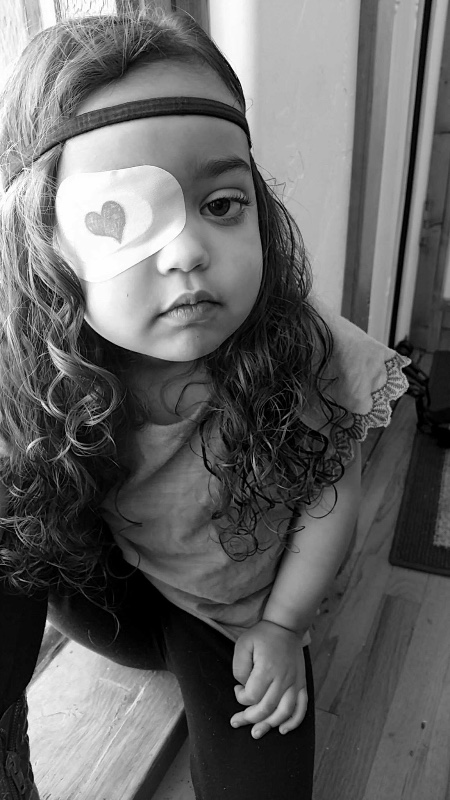 https://m.facebook.com/Skylars-Fight-For-Sight-1665496923667298/?ref=bookmarks
Organizer
Bree'Aunna Turman 
Organizer
Steamboat Springs, CO