SISTER JAZZ ORCHESTRA - Empowering Women and Girls

Showcasing and empowering today's top jazzwomen in order to inspire tomorrow's.
Hi! I'm
Christian Morrison
, the founder and Music Director of the
Sister Jazz Orchestra
 .
I am seeking $6,000 to support the November 17, 2019 launch of the SJO, a professional 18-woman jazz ensemble showcasing Vancouver's most accomplished female musicians and the treasure trove of big band repertoire written by women over the past 9 decades.
Not just a jazz orchestra – a movement.
Decision-makers in the professional jazz world still hire and showcase mainly male jazz artists.
"It's a matter of covert discrimination… It's the phone calls you don't get. It's the things that are never spoken in front of you, but you wonder why you never got the opportunities… That's why you have to talk about it and why you have to keep reminding people: 'Why not?'"
       -      Jane Ira Bloom,multi-award-winning soprano saxophonist
Gender diversity in jazz (as in every area of life) benefits all of us as human beings - but change only happens when we shine a light on it and take purposeful action.
SJO is a unique, purpose-led ensemble that:
  -
Showcases
and strengthens top female talent
  - Builds an
advocacy network
for professional female jazz musicians
  - Presents
visible role models
for girls who are interested in jazz
  - 
Enriches 
Vancouver's jazz culture and best-in-class live entertainment offerings
The Sister Jazz Orchestra is the only all-female professional jazz orchestra in Canada. Why does this matter?
Canadian jazz audiences are not discovering the rich artistic contributions of the female jazz community as performers, composers and arrangers. It's like reading only the literature that's been written by men - half of humanity's story is missing!
SJO is a celebration of mainstream big band jazz from the female perspective - the other half of the story. These dynamic musicians will entertain and move you and enrich your jazz experience.
Your voice drives change
Your donation to SJO says that you want to have a voice in changing the world of jazz to a more
inclusive community that nurtures female as well as male talent 
and provides visible role models for the girls and young women in your life.
"More than at any time in the past, we have the knowledge and energy and moral insight to crack the patterns of history. We need the help of every advocate now. Women and men… Everyone should be brought in. Our call is to lift women up – and when we come together in this cause, we are the lift."
          - Melinda Gates, The Moment of Lift
Each and every donation, large or small, advances us towards our purpose - and
we are so grateful for your generous partnership.Doesn't an all-female group just perpetuate a culture of exclusion?
SJO is not about blame or exclusion; it's about empowerment and celebration of diversity in a way that enriches us all. 
In today's world, gender imbalance in jazz is more a matter of firmly-entrenched unconscious bias than overt discrimination. A startlingly-different picture needs to be painted to make people notice – so they think and behave differently. 
Over time, we hope that professional jazz ensembles all reflect a representative mix of genders. However, in order to achieve this for the next generation of artists,
girls today need to see deliberate and obvious examples of female role models
on our professional stages.
Who am I and why am I doing this?
Musician, business executive, coach, arts patron and volunteer, jazz fan and ardent supporter of women in leadership – that's how I describe myself.
I've been a big band leader for various ensembles in BC's Lower Mainland for the past 10 years and co-founded the WestCoast Big Band Festival, now in its 5th year as the premier showcasing, networking and education forum for community big bands in the Vancouver region.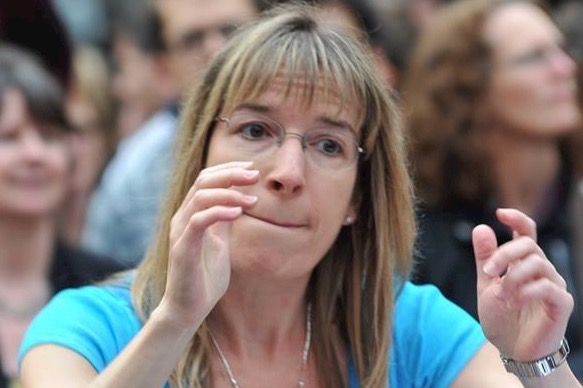 I'm also an enthusiastic supporter of Vancouver's fine professional jazz orchestras but find myself continually asking
"Where are the women?"
My business experience has shown me that diversity in the workplace doesn't just "work itself out over time". I've led and championed the development of intentional policies and programs that create meaningful advancement opportunities for women.
My unique blend of musical and business experience gives me a deep understanding of the 360° landscape of a professional jazz musician and the challenges women face in this career.
In creating the Sister Jazz Orchestra, I'm combining my diverse experience and passion for making great music to enable more visibility, professional opportunities and respect for Vancouver's female jazz artists while inspiring the next generation to see what they can be.
I'm supported by
Jessica Heaven
in the roles of business development and communications. Jessica is a recognized advocate for women in the jazz world, as the founder of the Women in Jazz Association of BC, a director of Seattle Women in Jazz and a professional vocalist.
Both Jessica and I are volunteers
who believe passionately that there is a need to lift up and empower women in the jazz world and that we can – and must - take purposeful and tangible steps to do so.
Please join us in changing the face of jazz in Vancouver.What's happening on November 17?
SJO's Premiere performance will be the Festival Finale concert for the 2019 WestCoast Big Band Festival, taking place at the Croatian Cultural Centre, 3250 Commercial Drive, Vancouver at 6:30PM. Our all-star roster of musicians will offer up a program of exhilarating and intricate straight-ahead big band music written by women from the 1920s through today.
We are thrilled to feature, as guest artist, New York drummer Sherrie Maricle. Sherrie is the co-founder and bandleader of the internationally-acclaimed all-female DIVA Jazz Orchestra, which has been showcasing some of the world's most accomplished jazzwomen since 1992.
Sherrie is an inspiring role model as a drummer, bandleader and advocate for women in jazz and has been a mentor in the development of SJO.
Jazz fans of all genders and ages will be inspired by this unique and trail-blazing show!
We need you to help us get SJO off the ground
In order to build a sustainable professional career, musicians need to be appropriately paid for their time and skill – and female musicians must be paid equitably with their male counterparts.
The funds we raise in this campaign enable SJO's setup and launch. This  includes developing a professional press kit of audio-visual demo and promotional material to enable SJO to seek paid performance opportunities and arts grants going forward, in addition to - most importantly - paying our professional musicians for their preparation and November 17 premiere performance.
We have already gratefully received in-kind support from sponsors and volunteers valued at over $5,000.
We need an additional $6,000 from generous, empowering people like you who believe that Vancouver's female jazz community is worthy of support - now and for the next generation.


Launch Budget:
Performance Fees (17 Musicians)
            2 Rehearsals                                                               $3,400
            Performance/Guest Artist Run-Through  $1,700
            Music Director                     Volunteer
Facilities
            Rehearsal Space                 Donated by VSO School of Music
            Performance Venue         Provided by WestCoast Big Band Festival
Repertoire
            Purchased charts                                                    $500
            Guest Artist charts            Provided by DIVA Jazz Orchestra
            Scanning/printing                                                   $60
Guest Artist
            Performance Fee/Air        Donated by WestCoast Big Band Festival
            Hotel (2 nights)                                                        $350
            Ground Transportation   Provided by volunteers
Event Recording
            Audio with Mix                     Donated by WestCoast Big Band Festival
            Videography                                                             $525
            Photography                                                             $525
Promotion
            Logo Design                            Donated by Ash Kestrel
            Website Design                                                       $525
            Website Hosting (1 year)                                   $130
            Business Cards                                                         $30
            Facebook Ads                                                           $100
            Promotional Incentives                                       $150
Total Expenses                                                                      $8,000
Less: Projected Revenue
            Tickets (50% share with WBBF)                     $2,000
Net Funds Required for Launch                                 $6,000What happens after the launch?
Our future vision for SJO is to develop a regular concert series featuring visiting female guest artists in addition to the core SJO ensemble, as well as performing in jazz festivals and other special-purpose events. Sources of funds to sustain this vision will include ticket revenue, performance fees, sponsors and arts grants.
We hope you'll
join our SJO community
  so we can stay engaged with you through our journey.
What do you get in return for your generosity?


First and foremost, you will have the undying gratitude of the SJO team and musicians and the knowledge that you have made a lasting difference for the female jazz community in Vancouver.
Secondly, all donors of any amount will be recognized on the SJO website (unless you ask to be anonymous).
If you're able to give $100 or more, we have some extra thank you gifts for you:
$100-249      1 free ticket to the Premiere concert
$250-499      2 free tickets
$500-999      4 free tickets plus an exclusive behind-the-scenes view via edited video footage from a rehearsal
If you're able to support SJO with $1,000 or more, please
contact me personally
 and I will tailor a package of goodies to your interests, including more free tickets, additional opportunities for recognition and live interaction with SJO's leadership team and musicians.

Other ways you can help
You can meaningfully support SJO even if you have no budget for a cash donation.
1.    
Buy Tickets
 – Please come to our November 17 premiere, featuring guest artist, New York drummer Sherrie Maricle. Encourage musical young women and girls to attend this uniquely-inspiring event. 
2.    
Spread the word
– Tell your friends, family and colleagues what's important to you. Please share our campaign on your social media to make our female jazz community stronger!
Learn more
Want to know more about our musicians and how SJO supports the female jazz community? Check out our
website
.
Women and girls have a right to be empowered as jazz artists. Be a part of their story.


You can make a meaningful contribution to advancing women's representation and empowerment in the Vancouver jazz world and inspiring the next generation of jazzwomen.
Please donate today.