SIStematic FLL Robotics Trip
February 22, 2017
Hello:
I am writing to you today to hopefully spark an interest in donating to our Shelton Intermediate School robotic's team called
SIStematics
. They are a part of our award winning Shelton Middle School Robotics program. We are currently in our 13th season of participating in the FIRST Lego League (FLL) Robotics Competition. We are looking forward to representing the
State of CT
and our school
Shelton Intermediate
/ SIS, at the
FIRST World Championships in St Louis, MO in late April 2017.
We are
grateful
for any support you may be able to provide.
The FLL competition is designed for students in Perry Hill and Shelton Intermediate Schools to give them an after-school opportunity to explore their interests in
STEM (Science, Technology, Engineering and Math)
education. We participate annually in the international FLL competition and service about 40 students per year associated with 4 teams. Our main objective is to partner interested students with volunteer Mentors, Teachers and Parents to work collaboratively on projects involving robotics and research project presentations.
This year's theme is "Animal Allies" and students have been researching ways to solve real-world problems associated with animals and human interaction. More information on this challenge can be found on the FLL website at http:/www.usfirst.org/roboticsprogram/fll
Our Shelton Intermediate School 7th grade team #3530, SIStematic recently
won the Connecticut State FLL Championship and Global Innovation Nomination
for their project which helps solve the problem of
Dolphin Bycatch
.
They have been invited to attend the FIRST World Championship in St. Louis, MO in April. They are very excited and are continuing to prepare on a regular basis for this prestigious competition.
Of course, a trip like this will be very costly for our program and any financial support that you can provide would go a long way toward making this once-in-a-lifetime experience a positive one for this team.
Below are team photos, team rosters, and information on their project called
Aluminecho Net
for your review below!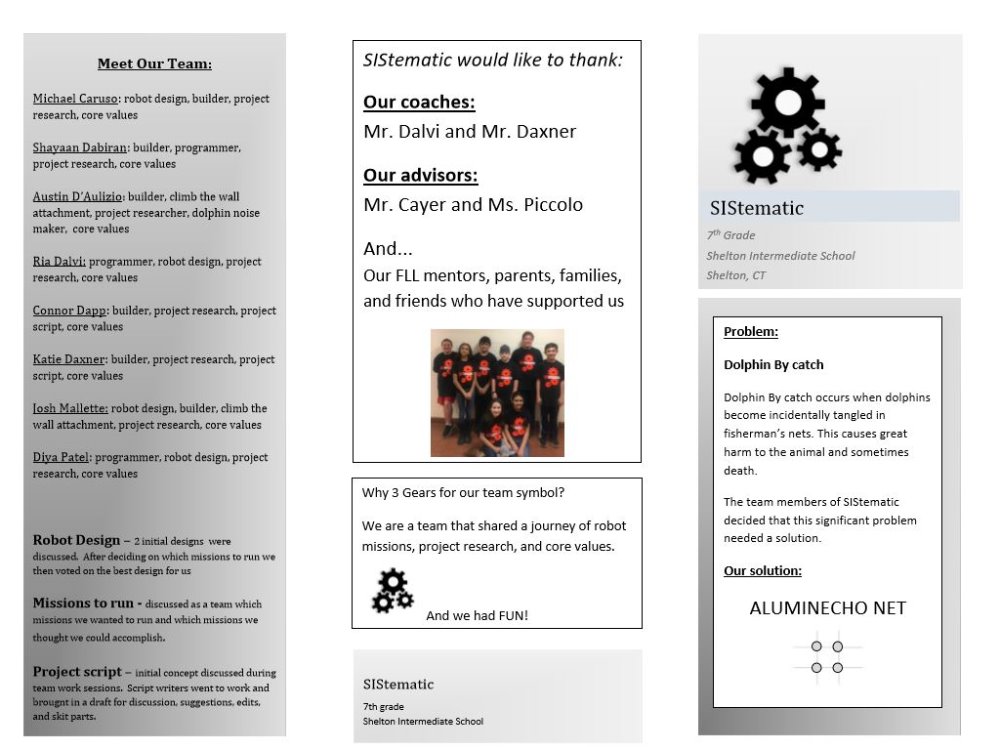 We have set up a Go Fund Me page to make it easier for anyone wishing to help out.  Please consider sharing the Kids story with your family/friends/coworkers as the use of social media is a great way to extend the reach to more people interested in helping out the kids robotics team SIStematic.
Thank you for your support of our program.
Sincerely,
Jim Daxner
Robotics Coach

Organizer