Singing the World to Peace! Sound Healing CD&Tour
Recording a new Sound Healing CD and then going on a Sound Healing Trip to Palestine, Israel & Gaza.



WHO AM I?

"Clare Hedin is a vocal, tonal, resonance and energy master. She reads the underlying dynamics and aspiration in a group field and brings those hidden dimensions into the most fulfilling and harmonious expression. Clare knows that the evolving edge of healing lies in exploring our collective emergence…and she knows how to bring us to that edge. Maybe you have never heard the sound of our collective longing, our collective sorrow or our collective joy but you will in the presence of her work!"
James O'Dea, Shift Network Peace Ambassador, Former Director Amnesty International, Faculty & Former President Institute of Noetic Sciences, CO.As a long-time professional, heart-based, sound healer I have sung for/with families, children and adults from Turkey, India, Africa, Middle East, Europe, Japan, Australia, China, USA, Indigenous Native American, and more. I have even had my brainwaves recorded to see how my EEG alpha waves escalate with healing energy! It works!
"I heard you for 3 minutes. I have never been exposed to healing music before.. I am a person that interprets vibrations. Your music is something I want to hear. You are a rare creator, who brings a strong connected energy to the world. It is special. I feel myself more and more intent on exposing myself to it." 
Ginger McLaren, Dowser.
WHAT DO I SOUND LIKE?
YOU CAN HEAR AN EXCERPT OF WHAT IT WILL SOUND LIKE
https://soundcloud.com/clarehedin/revere-clip
 right here
 !!
WHAT AM I DOING?



In this fundraising campaign I am spreading healing music into the world in two ways - please join me on a mission to give! Co-create the success of this campaign.
1. Creating a
sound healing CD
'Singing the World to Peace'
that I can donate to people around the world, in need.
2. Making a trip to
Israel, Palestine
, and 
Gaza
 so I can sing live in places of turmoil and lift the energy of each place through love and healing.
When I leave each place I sing in, I can
donate the healing CD
to the communities, so the music can carry on its work after I am gone. If there are places where it is too dangerous to travel, I can make sure they receive the CD in my place.
Pics and unique videos from the studio recording session will be added into gofundme updates for Phase 1 and Phase 2.
THE TIMING & THE NUMBERS

: 



Phase 1:  We need to complete Phase 1 funds in LESS THAN 6 WEEKS! (DEADLINE August 5th, 2019)


Recording the CD $1,762 (studio costs linked - CLICK ON 'INVESTMENT' to see). $700 left.

I go into the recording studio Jan 4th, to record the CD with producer Ed Clare @ Nova Noir Studios, Richmond, CA.
Phase 2: I need Phase 2 funds by 31 August! (DEADLINE Aug 31st, 2019)
Traveling and Singing in Israel and Palestine. $3,051.86
I plan to go to Israel and Palestine in September/Oct 2019, and want to raise the money for the trip now, so I can plan ahead with flights and accommodations. I have contacts that are from there, and who live there, who are helping me connect with peace groups that will help me reach the right organisations. locations, and communities, to get really inside the heart of where I need to go. All progress and events will be added into gofundme updates for Phase 2 during the trip.
EDUCATING IN WORKSHOPS

:
I will also
offer sound healing instruction
for people who want to
carry on this work after I leave
. I will carry on my tradition of
teaching people
how to use sound for self-healing and community enrichment and integration.
"Clare's group sessions were nothing short of inspired; through her deep intuition and nurturing nature, she read the group and delivered exactly what we needed. She provided a group sound healing session, group sings, and a session of fun and laughter as well. Playing with sound was a new experience for most and it invigorated our group like nothing else could. Clare also provided individual healing sessions and I know first-hand that several of the women experienced major personal breakthroughs. Hiring Clare as an addition to the retreat was a real blessing to those of us who were leading the retreat, and it was life-changing for our retreaters." Rebecca Shafi, Co-Founder & Lead Organizer, Women's Annual Spirit Renewal Retreat.


See the work I did for The Sacred Science of Healing video series on Sound Healing.MEET ME , I am CLARE, I have sung all my adult life. I love the planet, and I love humanity. I sing for our collective peace and healing:

I have been a sound healer for many years, working as a volunteer with sick children and those that seek healing for physical and emotional ailments. I have created a page on my website where you can see what I have done and who I am. 


"At the heart of her work, she gave children the opportunity to listen and connect to beautiful music. Many times I saw her enter a room, sense what musical choice would be most appropriate and then immediately and deeply connect with the patient and family through her music."
Rebecca Rice, Child life Specialist, Oakland Children's Hospital.

My heart belongs to the people of the world and I want to honor that calling to be of even more help in places where people are ready to come together and become one family.


"I, for the first time, happened to listen to Clare sing through her song 'Revere' and instantly I knew some peace of the mystical nature of God was to fall on me. I, as if instructed by my inner self, closed my eyes and I was transported back to my childhood school days at a hilly town in incredible India. I virtually experienced sitting in a temple with my eyes closed and music flowing through each sediment of my body and mind. Her music is like deep meditation." Jagat Jaiswal
I would be so grateful and feel the calling to be validated if you give to this campaign. I love that gofundme is focused on works that are aimed towards giving outwards so that I can honour the need to give, that lives in me, on behalf of our future, to heal the pain, to bring unity.Please GIVE WHAT YOU CAN, and join the life of this campaign, and our shared journey, on my website blog  and here, on gofundme, where I will post updates from the studio and from the road! You can also subscribe to my newsletter, where I will post updates via newsletter, with pictures and videos of the gatherings I sing healing music for, and extraordinary everyday people I will have the privilege to meet on the journey! Join me now, participate, and give!Thank you! And MANY BLESSINGS to you,Clare

P.S. If you donate and would like a copy of the CD, please subscribe or send me a message telling me you have donated and I'll be able to email you a download link when the CD is ready.
COSTS:Recording: 

Nova Noir Studios (studio costs linked - CLICK ON 'INVESTMENT' to see) you will
https://betterproposals.io/proposal/?ProposalID=ZgEWpvJKT89t7sPPJv9U2jlJyox6BGHzEEbuCMIjGpI&ContactID=r-JNvj1qmOASy6mZBquoHJLB4hWFxQ2241xcAfYhSbc
 that Ed the producer is himself donating for the cause):
$1,762TOTAL RECORDING INVESTMENT: $1,762

Israel/Palestine/Gaza Sound Healing Trip: 
Return flight to Israel (via STA Travel with teacher discount):
$307.86
Average accommodation in Tel Aviv
 : $131/night x 14 nights =
$1834.00
Daily stipend (meals, buses, taxis): $65/day x 14 =
$910.00TOTAL ISRAEL/PALESTINE TRIP:  $3,051.86
TOTAL FUNDRAISING CAMPAIGN GOAL: $ 4,813.86 


* N.B. ANY EXCESS FUNDS WILL GO TOWARDS ADDITIONAL HEALING MUSIC OUTREACH.


IMAGES:
1. STUDIO PROPOSAL

2. STA TRAVEL LONDON TO ISRAEL RETURN: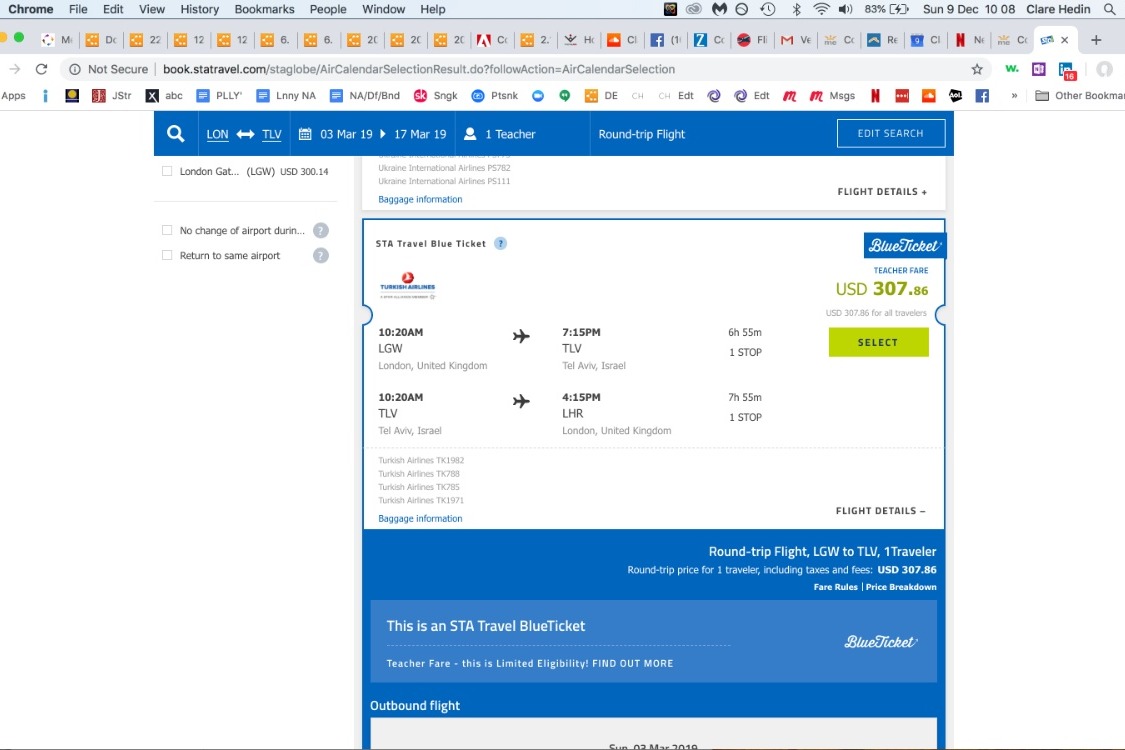 3. STA TRAVEL HOTEL TEL AVIV.

Organizer