¿Te acuerdas de la única niña integrante de la Orquesta infantil Salserín?, bueno soy yo, Carolina Rey
, ya tengo 33 años de edad y en abril de 2014 fui diagnosticada con un extraño cáncer de partes blandas llamado Sarcoma Sinovial, alojado en el musculo de mi pierna izquierda (sobre la tibia). En ese mismo año recibí una cirugía y sesiones de quimioterapia.
Do you remember the only girl who performed in the children salsa band Salserin? Well, it is me! Carolina Rey
Now I am 33 years old but unfortunately, in April 2014 I was diagnosed with a rare cancer, a synovial sarcoma, a type of soft-tissue cancer. I got it on my left leg, above the tibia. On that same year of 2014, I underwent a surgery and was also treated with chemotherapy.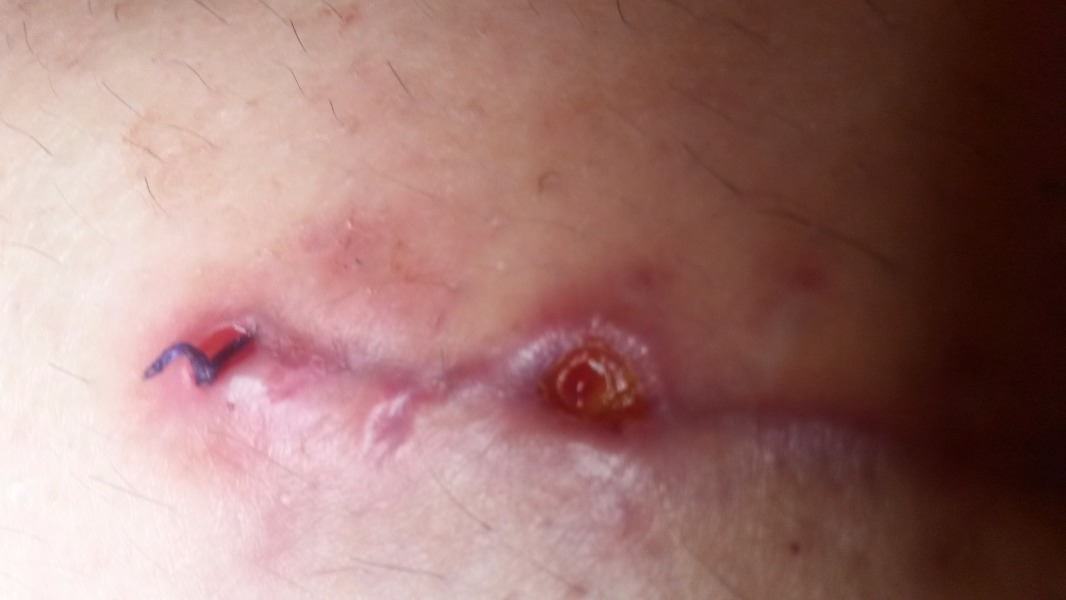 Foto: Abril 2014 - Primera operaciónPhoto: April 2014- First surgery
Después de dos meses de haberme realizado la cirugía y el tratamiento en los exámenes médicos se demostró que el cáncer había regresado por segunda vez y más agresivo. Desde ese entonces decidí buscar alternativas, viajé a Colombia y Cuba en donde fue confirmado el mismo diagnostico que aquí.
En 2015 encontré a un doctor especialista en ese tipo de sarcoma quien me recomendó hacer varias sesiones de radioterapia pre y post operatoria, ésta cirugía sería la recesión total del tumor para luego injertar el musculo dorsal de la espalda en la pierna.  
Two months later after the surgery and the treatment, medical tests revealed that the cancer reappeared and this time it was more aggressive. I then decided to look for other opinions. So, I travelled to Colombia and Cuba where doctors confirmed the same diagnosis as in Caracas, Venezuela.
In 2015 I met a doctor specialized in this type of sarcoma, and he prescribed several sessions of radiotherapy pre and post-surgical. This time the surgery consisted on removing the tumour with clear margins to then proceed to a graft taken from the latissimus dorsi to the leg.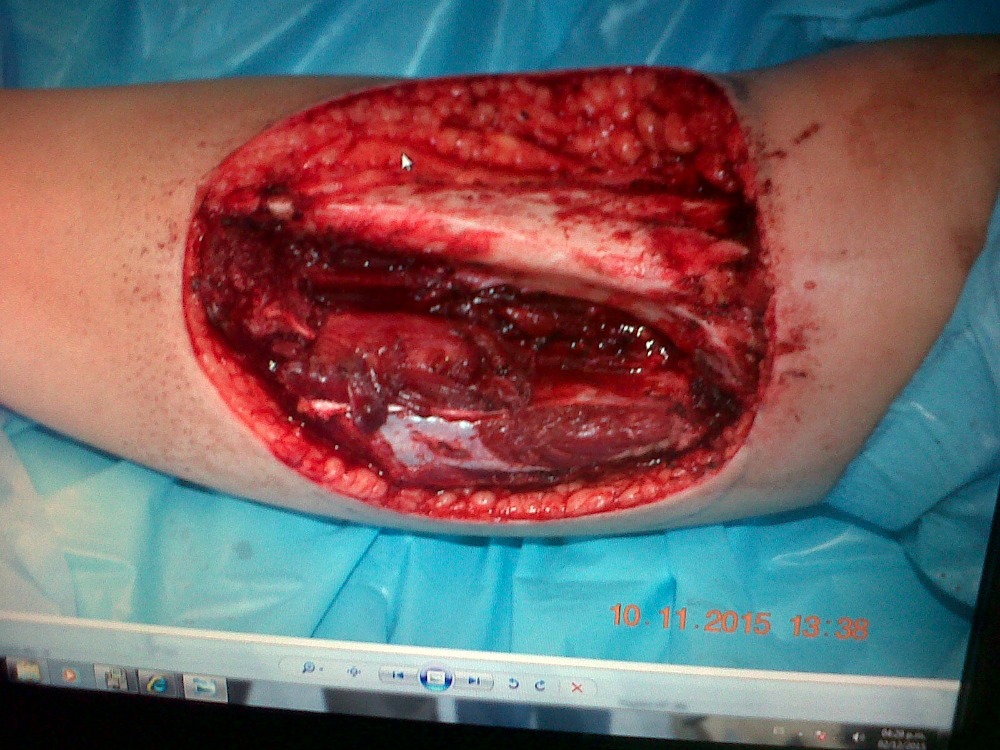 Foto: recesión total del tumor donde se desechó el musculo comprometido, venas, arterias, tendón y piel.

Photo: complete removal of the tumour where the affected muscle, veins, arteries and tendon were removed.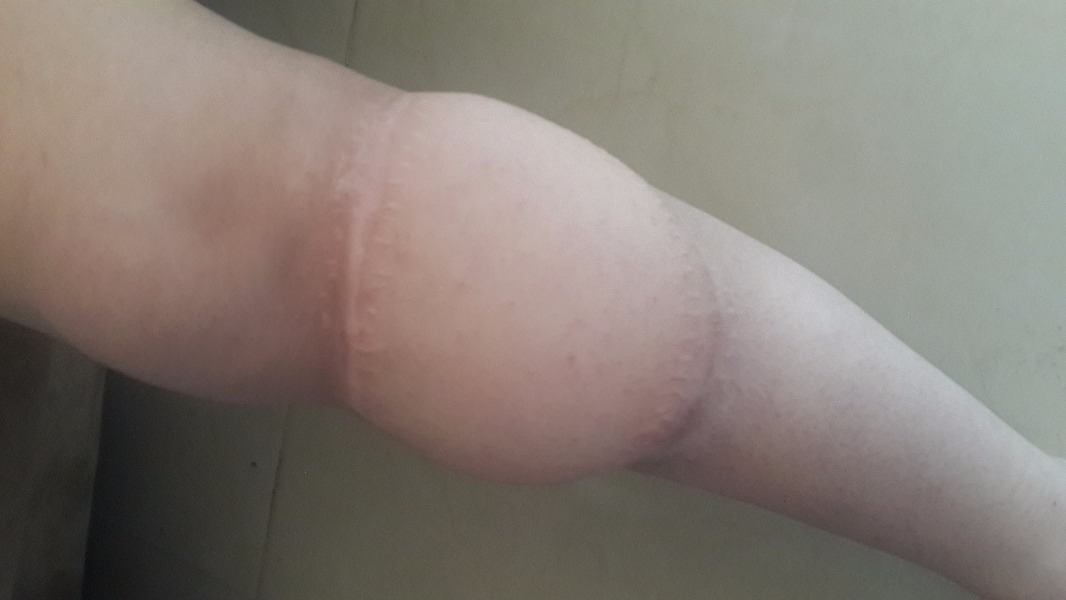 Foto: Colgajo o Injerto micro quirúrgico que incluye el musculo dorsal de la espalda, piel, venas y arterias.
Photo: Microsurgery graft that contains the latissimus dorsi of the back, skin, veins and arteries.
Hasta la fecha ésta debió ser la última cirugía para eliminar la enfermedad; sin embargo, en los exámenes de rutina de agosto de 2016 aparece sobre la cicatriz un quiste complejo que por mis antecedentes lo están vinculando al cáncer. Me acaban de realizar un biopsia que esperamos los resultados para ver si sólo es un quiste, o en caso de ser el sarcoma ya sería la tercera vez que aparece la enfermedad, la única opción que queda sería amputar la extremidad.
That should have been the last surgery to eradicate the cancer. However, in August 2016 during a routine check-up, a complex cyst was detected. Because of my medical background, it may very well be related to cancer. I am in the process of waiting for the results of the biopsy.  In case of a sarcoma, this will be the third time that the cancer reappears, but this time the only option left would be to amputate my leg.
Debido a ésto requiero de su ayuda para cumplir con todos los exámenes y tratamientos y cirugías posteriores.
I therefore seek your kind help in order to be able to afford all the exams needed, as well as treatments, further surgery and recovery.
Nuevos resultados
Aquí les dejo los últimos resultados. Gracias por visitar la página y darle me gusta. Compartan desde aquí y ayuden a conseguir mas personas interesadas en donar. Pronto deberé enfrentar otra gran cirugía, una que cambiará mi vida por completo, pero tengo fe de que será lo mejor para mi y mi familia. Y las cosas no serán las mismas pero tengo la plena convicción de que Dios me depara buenas cosas. Con el apoyo de todos ustedes y sus oraciones saldré adelante y esta historia tendrá un final feliz que compartiré con todos ustedes. Me despido diciéndoles que nunca se detengan que por más difícil que se haga el camino siempre esta la luz que ilumina nuestro sendero. Dios los bendiga.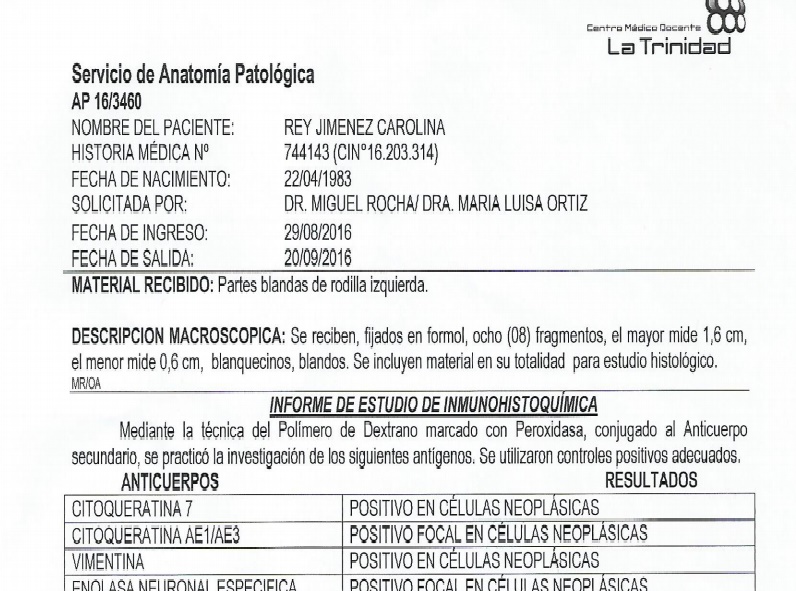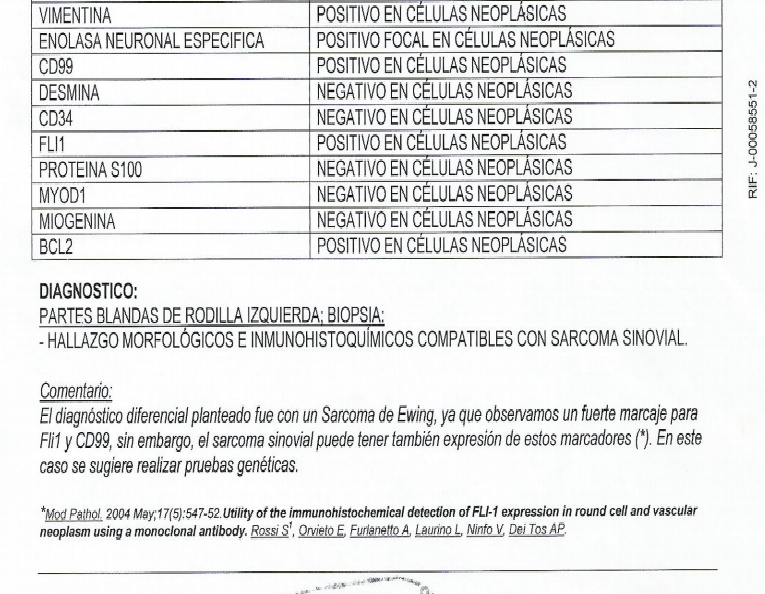 Inicio de ciclo de quimioterapia en segunda etapa.


El pasado 13 de diciembre de 2016 inicié el tratamiento de quimioterapia, la cual estoy realizando en el estado Nueva Esparta donde actualmente estoy residenciada. Los ciclos constan de cuatro días de aplicación y 16 días de descanso, el último fue realizado del 9 de enero al 13 de 2017.
Se tomó la decisión de hacer la quimioterapia debido a que en los últimos exámenes de chequeo determinaron que la enfermedad se había extendido a otras partes del cuerpo como los pulmones y abdomen.
A todos sigo agradeciendo el apoyo que me han brindado hasta ahora en este difícil proceso de recuperación, pero con la plena convicción de que todo va a salir bien. A continuación dejo algunos de los estudios realizados.
Organizer and beneficiary
Carolina Rey 
Organizer
Washington D.C., DC