Angie's Story

...
As I write this I am filled with lots of emotions, disbelief, sadness and of course anger.
My beautiful and very proud friend, who has been very hesitant about sharing her story, reached out to me 3 weeks ago. A message from her that quite frankly knocked the wind out of me!
Over time we have been sharing stories about being females and some of the medical issues we have been going through, encouraging each other that everything is fine, and I couldn't have been more wrong.
This message was not one I was prepared for...
Love Tracy xox
Angie's Journey

;
Angie has been diagnosed with Stage 4 Renal Cell Carcinoma.
Which has metastasised to her liver and is now affecting her lymph system. Angie has opted for alternative healing options and treatment for as long as she can.
This involves a major lifestyle change starting with high doses of Vitamin C via intravenous infusion twice a week.
Breakdown of the initial costs

;
$120 Initial Consultation
$112.50 25mg IVC +MG (drug dosage)
$141.00 40mg IVC + MG
$166.50 50mg IVV + Ca
$1.80 Extra Vitamin C mg
Current dose is 40mg twice a week $282 each week.
Once her blood tests come back and depending on her results, and if her kidney can take a higher dose she will go up to 50mg and eventually 65mg so that will be $282 +$1.80 per extra mg.
Additional costs are for minimal supplements or other vitamins as required.
The medical team have taken a biopsy this will be tested against modern medicine and her current treatment to discover which one is the most effective. The outcome of the treatment is to shrink a tumour to be able to then remove her right kidney.
Big Change of Lifestyle

;
Ange's diet needs to be organic and alkaline foods, as they are free from chemicals, and can cost more than our household basics.
Water needs to be chlorine and fluoride free water, as this is absolute poison for her body.
A $4,500 Kangen water filter system needed to be purchased, as the local water in her hometown is filled with chemicals that harm Ange's health and wellbeing.
A symptom when passing urine is an excessive amount of blood which is very frightening for Ange, she is therefore reluctant to go to the bathroom and drink a lot so when she runs the risk of being dehydrated and worsening her symptoms.
Other symptoms of the right side groin to back pain is very debilitating. Ange is unable to take too many pain medications as this affects her liver and irritates her condition more.
She is anaemic and is constantly tired as well, people may think that having the doses of the Vitamin C make you feel awesome, but at times has the opposite effect. It makes her more tired so she needs to sleep more often than she did before.
Experience the Heal Thy Self Retreat

;
Tyler's expertise is out of this world. He's all about bringing your lifestyle back to basics.
Tyler Tolman is a world-renowned speaker, entrepreneur, media personality, event facilitator, truth-seeker and one of the world's leading authorities on natural healing and longevity. He is known for his expert advice in natural health, wholefoods and the fundamentals required for a balanced and abundant life. 
Tyler's fierce desire to help others is the secret behind his compelling teaching presence. He cuts through the noise with simple yet profound advice and has made headlines by helping people to heal themselves from conditions deemed incurable by western medicine. Always guided by the principles of "fresh is best" and "first do no harm", Tyler's knowledge is truly eye-opening. 
The Heal Thy Self Fast is a full 7-day fasting program to purge physical, mental, emotional and energetic toxicity.
For more information check out his website here
https://www.tylertolman.com/heal-thy-self-fast/
Her Whānua

;
Of course, she has the most loving partner Scott, and her children Kelly, Christian and Zayn. Alongside her is supportive beautiful family and friends.
Ange's children stay with her Mum, Lee in town and Ange lives on the farm, where the water is better for her constitution. We are looking for a carer, so Ange can see her boys on a regular basis and care for Ange where required.
No there is a way we can all pitch in and donate and help raise funds for her ongoing treatments, supplements, daily bills and basic household needs.
The funds are needed now, so there is not a financial strain on the family, most importantly Ange can just concentrate on her wellbeing knowing that her family and she is taken care of.
Please follow Angie's journey on Facebook as she will keep you updated.
The GoFund Page will be able to see where we are at and how close to the goal we are.
Funds raised will go towards

;
*Treatment ongoing treatment and travel
*Specialist appointments in Taupo and Tauranga
*Medication
*Supplements
*Essential Oils - Frankincense and Myrrh
*Fulltime Carer (please contact the family directly if you can help)
*Mortgage repayments
*Household basics; Gas, Electricity
*
School fees
*Organic Food
*Vehicle maintenance and Fuel
*Attend $6,990 USD Tyler Tolman Heal Thy Self Retreat
*Flights & Accommodation to Bali for the Retreat
A Message from Angie

;
"It took almost 3 days for me to accept the reality of my diagnosis (after all of the doctor's appointments thinking I am just being overly paranoid).
A million things raced through my mind,
Am I going to die?
What will become of my children?
Who can love them like their mother?
What girlfriends will they choose?
Will they marry and eventually have their own kids?
What's going to happen to our home?
Who's going to be here to protect my family?
My mum is going to lose her only daughter, my brothers their only sister, my nan who is already crushed, and the thoughts just kept flowing as do the tears.
Leaving the hospital very sick and weak, upon taking advice from a very dear cousin of mine who is a cancer survivor herself, I knew my life was going to change from that moment on.
Instead of going back home I had to stay out on a farm where the water is clean, and I could rest in calmness and tranquillity, while still trying to get my head around things.
I miss my children so much who have to stay out of their own home with my mother Lee (65) and my Nan Evelyn (85). For now, I have tried to shield them from a lot of the information, but they know their mum is not well.
My poor 5 year is a little confused as to why mummy has to stay away and why she can't do what she used to. This breaks my heart!!
My energy levels and pain stop me from doing the motherly duties I used to do. When I have good days I try my hardest to drive into town to pick them up for the night. Driving hurts with the pains I get in my abdominal and hip areas.
Every time I have to explain myself and the situation I cry.
I cry in frustration, sadness and sometimes anger. This whole life changing situation has made me view the world very differently. I don't take anything for granted anymore, and I realise that the little things in life, make my life.
I have known my beautiful friend Tracy since we started Taupo Primary school together aged 5 that's 39 years ago!
WOW despite growing up, moving countries, having babies and life, in general, we have always had a connection that never left us.
I don't want to leave my children - I can't leave them...
I want to live ❤️
Love Ange xoxoxoxo
A note from Tracy

;
Ange is an amazing mum to 3 amazing boys who are 14, 11 and 5
Her beautiful mum, and Ange's 2 amazing brothers Jay and Nick who are reeling from the news about their big sister.
Her Grandmother who I know, was so sweet growing up can't look at her beautiful granddaughter without crying and Ange can see the devastation all over her face.
I could go on and on more about the bills, the stress, the treatment, but I think you all get my drift. I love this chick and Ange's family, as everyone that knows her, does as well.
Our mission is to raise as much money as we can to lessen the burden of my beautiful friend. This money needs to help her now and in the future for what may crop up.
And so with the permission of Ange and her family, let's band together and help any way you can with Angie and her healing journey.
Our goal is to ask the community is to help a SISTA out and give what and where we can.
One Love Whānua <3
Angie's little helpers

;
Tracy Dalby & Patty-Ann Waho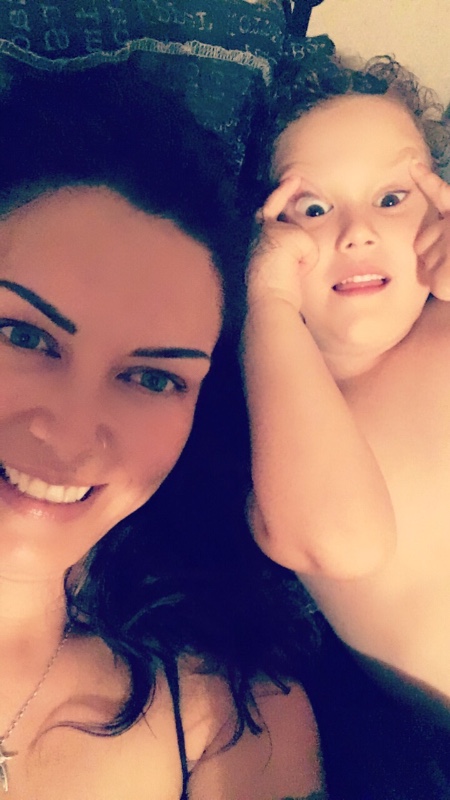 Organizer