Garden Route Shorebird Conservation!
Join us in making sure it's always "a day at the beach" for shorebirds! Support important coastal conservation research to save birds & beaches in South Africa!

We'll turn our results into effective solutions  protecting shorebirds and coastal habitats, to reduce impacts of major threats and keep our beaches healthy. 

We need your help to make it happen.



This project will help learn how to solve problems where humans & nature meet. By ensuring human activity is balanced with natural areas, these gorgeous places can hope to stay that way.

CONSERVATION ACTION is key

!
Please consider contributing to our cause, and share far & wide! Any donation will be great help and immensely appreciated. A little goes long way here in South Africa, and we won't make it without YOU!


Stay updated  with the latest news & photos  by "liking" the Nature's Valley Trust on Facebook! Want to learn more about the project & perks? ...Just scroll down!
You can also donate directly via bank transfer:
Account holder: Nature's Valley Trust
Bank name: Standard Bank (South Africa)
Branch: Jan Smuts
Branch code: 004 205 (for electronic banking) 
Account no.: 001913859
International SWIFT Code: SBZA ZA JJ
Use "SHOREBIRDS" as the reference, so we can apply it to this project & thank you!
_____________________________________________
With magnificent wildlife, breathtaking scenery, and diverse cultures, South Africa has become a highly sought after destination. The popular Garden Route is known for forests dramatically set against the shore. Many shorebirds live along Garden Route beaches, like White-fronted Plover & African Black Oystercatcher — which were recently endangered. Shorebirds and coastal habitats are threatened by human use, rapid development, and effects of climate change. Since shorebirds are decreasing around the world at an alarming rate, these issues seriously affect the health of our coast! 
BIRDS & BEACHES
The global coastal population is currently 3 billion people...and set to double in just the next 10 years. Adding to the incredible pressure of more humans and development, shorebirds breed during summer, when people also like to visit the coast.
Shorebird nests are of particular concern
 — their eggs and chicks are camouflage experts, blending in with sand, driftwood, shells, and plants. This is so predators can't see them…but neither can we! It creates a significant problem, since we can disturb a nest or baby birds while enjoying the beach and not even know it. Shorebirds also think humans and our pets are threats. When you get close to a nest, the parents run away — leaving eggs and chicks vulnerable to being stepped on, abandoned, or exposed to heat, cold, and predators.
Beaches are under-protected, despite being crucial habitats for animals and plants.
This leads to dire need for careful conservation. We are seeing shorebirds disappear fast, mostly from habitat destruction and other human-caused issues. Recent studies show White-fronted Plovers decreased 40-60% in busy areas over the last 30 years. This only reinforces that human disturbance can have devastating consequences.

THE GARDEN ROUTE SHOREBIRD CONSERVATION RESEARCH PROJECT 
Our research examines how much of shorebird survival has to do with human activities on the coast.
We'll do this by monitoring Oystercatcher and Plover nests, to see which ones are successful, which are not, and why.These oystercatchers and plovers aren't currently endangered, but face risks that will cause them to be in the near future.
The shorebird research will develop a proactive approach to conservation, thinking ahead.
Our results will be used to make recommendations to those driving our community, ensuring beach protection is balanced with human activity to sustain our beautiful coast.
This project will also connect scientists to environmental agencies, and community outreach will engage locals & tourists with awareness programs, involving volunteers in checking nests, plus offering school activities.

WHY IS THIS IMPORTANT FOR PEOPLE? This isn't just about birds — it's about the entire coastal community! 
Beaches are much more than a pretty place for people to have fun. Protecting these vital areas helps us in many ways! The coasts support large residential and tourism industries. These habitats are also important natural protection against storms and erosion (break down of land), by keeping the coasts we live and play on stable. Human activities, however, can have severe impacts on beaches if left unchecked.
Shorebirds are also 
indicator species
  -- animals that tell us how our coasts are doing. Wildlife, habitats, and ecosystems are intertwined, in ways we don't fully understand yet. 
If we can see birds thriving on beaches, we know shoreline ecosystems are probably healthy, too — as a whole!
 If we lose shorebirds, we also lose a great source of useful information about nature. 

WHAT CAN YOU DO?
We have been hard at work implementing this research project, and networking to drum up support far and wide.
Now we need your help to really make it happen.
We still need funds toward:
▪
Fuel & vehicle costs 
(to get us to and from the beaches) — for travel between our many field research sites along the Garden Route. 
▪
Research staff
(so we have the right people on the job) — for compensation of key players who have the necessary experience in effective coastal bird conservation programs for this project.
▪
Field equipment & educational materials
(to get good information & communicate our research) — for small but important items, such as binoculars, awareness signage, and costs to organize a citizen science & school programme .
You can make a difference by donating to our remaining needs! 
Please contribute and share this important research!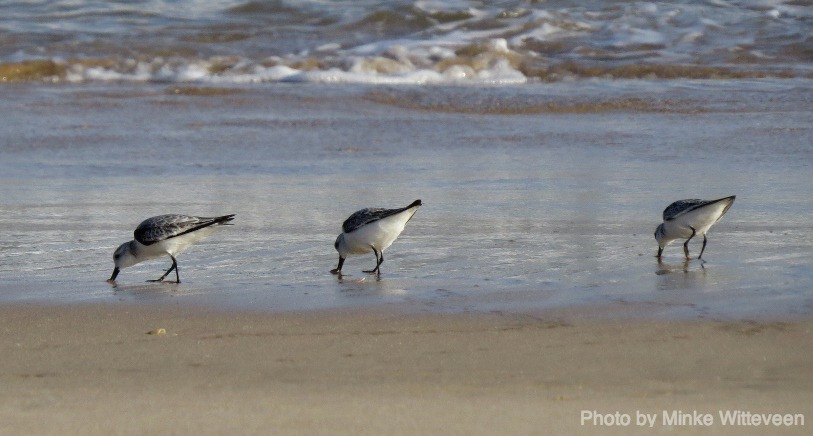 Be sure to
"Like" the Nature's Valley Trust on Facebook
, & 
follow us on Twitter
 or
Instagram
 to get all project updates.
WHO ARE WE?
Selena Flores is an American wildlife biologist conducting the shorebird conservation project. She has great passion for the beach and ocean, and has dedicated her career to conservation of coastal birds for the last 7 years. Selena gained extensive experience with successful programs protecting birds on busy beaches in her home state of California. She has also worked with birds in Hawai'i, New York, & Cape Town.
Dr. Mark Brown supervises the research project. He's conducted much research on birds and conservation, and is a respected scientist in South Africa (he is even on the Reuters list of Highly Cited Researchers!). He has 50+ scientific publications, and contributed to a field guide for Birds of Southern Africa. Since joining the Nature's Valley Trust in 2012, Mark has brought many conservation research and awareness projects to the area.

THE NATURE'S VALLEY TRUST
The mission of the Nature's Valley Trust (NVT) is "To maintain the long term environmental integrity of Nature's Valley and surrounds by becoming proactively involved in issues that impact on the future of the area." NVT programmes aspire promote conservation through research and awareness education. This work puts the importance of learning about the natural world in order to protect it at the forefront of this Garden Route community.
This and other projects of NVT are supported by BirdLife South Africa, Cape Nature, BirdLife Plettenberg Bay, the Table Mountain Fund, the Department of Science & Technology, & the National Research Foundation, as important to our coastal habitats and wildlife. NVT participates in WWF South Africa's internships & SANBI's Groen Sebenza programme, to enable graduates get solid footing in conservation careers. NVT also supplies local community programmes to foster a thorough, long-lasting sense of understanding and active involvement in conservation.
More information at: naturesvalleytrust.co.za.
Organizer