SGT. Dennis McCoy ALS Bucket List
If you would like more information about the reality of Lou Gherigs Disease (ALS)
http://www.alsa.org/about-als/what-is-als.html
I am sorry for all those who know already and those who have only learned, that my Dad Sgt. Dennis McCoy has been stricken with a burden, the burden is not his diagnoses of Lou Gehrig's Disease (ALS), nor all that comes from transitioning your life to prepare for eventualities, its all of the emotion that he has to hold back, because he does not want to cause commotion while he is kicking ALS ass.
They say that ALS can hit any man, there is no time or season, most times not part of any plan, but theory's about environmental reasons, the wheel was spun and here it lands, but it will find a man well-seasoned, ready to make his epic stand and knock it to the ceiling.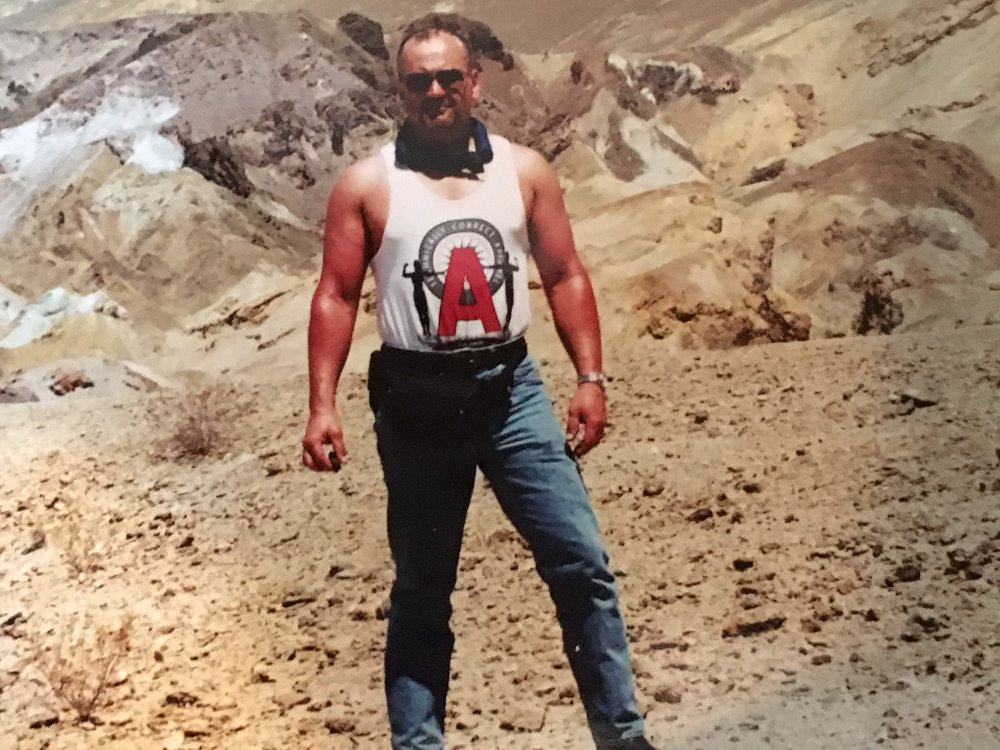 You see my Dad is Dennis McCoy, but you can call him 'Stoagie', my dad does not fuck around, when needed he's hard and stony, and if you ever cross his path, and you are starving and maybe lonely, yeah you can bet your ass he will go buy you a beer and a hoagie. You see the thing about my Dad is he is as tough as they come, well balanced by a moral code that makes tough second to love, and yes he is the kind of man that could beat you with his gloves, but his nature is far more likely to feed you, and offer hope and love…um, well maybe a little too far but I am sure he would at least feed and counsel you, so ugh…don't mess with him?
There are a few things about my dad you should know as he slowly marches, down ALS road which has been beaten down by the arches, of the people who walked before him following ALS torches, you should know that my dad will be somewhat indifferently remorseless, as he spins up a storm that quenches all the torches, you see my dad's fight is as big as a brontosaurs, who sees the trees as weeds as he stomps down the forest, and ALS may have a path that marches through the doors, but my dad will romp, rock and roll through those doors from his own unique course, wearing white socks, tennis shoes, t-shirts with wolves, tucked into tight 70's basketball shorts, with a cigar in one hand, beer in the other, riding side saddled on a blue Harley singing a Johnny Horton chorus…hehe, seriously he dressed terrible, but he could certainly sing an old country song.
But we are so far away from that day and he has a rabid core, of supporters who will help delay called generations one, two, three and four, when my dad was very young came generation one, he had just joined the force as kid, 20 and carrying a gun, for his kids Mike, Glena and Robert he worked Seattle's slums, he grew into a man with a moustache as his proof, and made it to 140lbs which through Seattle's criminals for a loop, looking like leave it to beaver with a badge and a gun, yeah boys when you see him you know you better run, because they knew if he caught them he would have a ton of fun. 
As he matured and gained his years there was something that he knew, that there was still so much to give and learn, so he took on generation number two, Rudy, Jeff and Marie he added to his crew and for many year we held it down while he worked to provide for his growing brood, and through this time as responsibilities collide he went back to work, overtime was the plan and the hours made it work, and isn't it funny that for this man his work was not really work but merely a means to provide for what he loves, much more like art work.
But then time took its leave and eventually brought him Jennifer and generation 3, Matt & Jennifer provided all that he would ever need, so he doubled down his effort to provide for all their needs, she gave him the strength to power through, and he worked even harder so that she always knew, that together they would make it like acrobatic artists do, so they bent over backwards, and walked the tight ropes, traversing every obstacle, trapezed across life's moats, no need for any bridges, no easy rode and no boat, together they are buoyant so that they would always float, no matter the storm or long horizon…ugh, you get the idea, he loves her.
Dads capacity for love is like a deep reservoir, with enough reserve to take on generation 4, Danny and Katie became the children to us all, because they are the same age as the kids of generation one, and when the generations are coming together, when we hear the sound of the horns, we collect all our weapons and amour we adorn, and like using a flame thrower to mow your lawn, we will cut in like a fire storm,  an extension of our father who said fight, so we fight hard!!!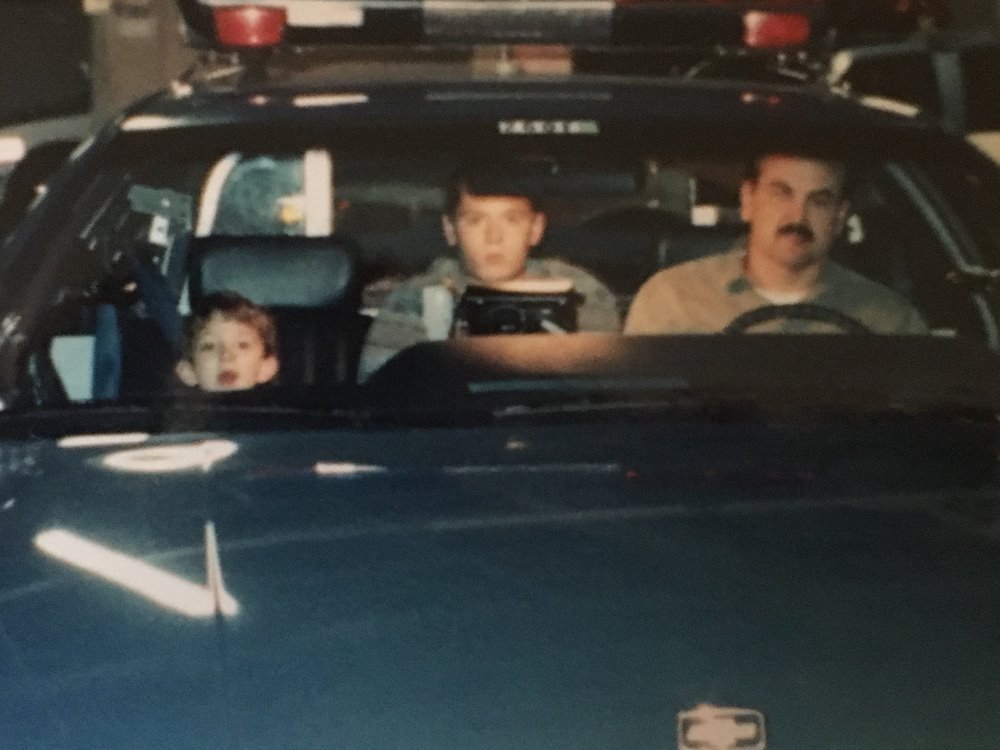 I think you get the point.  ALS will not control us. We will not get down. We will fight. These are tenants that my dad still lives by to this very day and this will always be the root of the McCoy family's strength.
Often when a family is dealing with a diagnosis the cost for medical care becomes so overwhelming that it changes the quality of life for the patient and sometimes the family for years to come. This is the reason most people start funding pages to alleviate that stress. But, like all things about my dad his medical coverage is as good as it gets so that part is not the issue and even if it were we would find a way to deal with it.
We are asking for support for my dad for other reasons. As the poem above clearly shows, he worked really hard to make it work for his big family. When he retired there was one thing that he always wanted to do which was complete a historical tour of the United States. I know he wants to drive to Alaska, as well as walk the battlefields of Gettysburg and other civil war sites. Dad and Jen have spent many months now preparing their house for sale in an effort to downside a bit thereby creating the financial space to travel. They expect to sell next month…and then the diagnosis.
The fact is you could live few or more years with ASL, but the progression can be very fast and it steels your ability to move, talk as the disease progresses and ultimately your ability to breath on your own. The bottom line is the time my dad has left to enjoy these activities could be measured in as little as months while praying he keeps his functions for years. If we can send him to Alaska next month ahead of winter he would be able to drive and walk, but if we wait until next year he may only be able to ride and go only where his chair can take him.
I am asking all who knew him, and all who respect the men and women who dedicate their lives to civil service and protecting the public, please consider helping him do as many bucket list trips as can be fit in this summer, starting with the drive to Alaska.
There are many ways to support this page –
1)      His friends & Family – The pictures attached to this page are from dads collection of 1000's of pictures. He loves his pictorial history and I would like to help it grow. Please go through your photos to find a memory or two. Share the memory and the photo here.
2)      Donate! 100% of the proceeds will go directly to Dennis and Jennifer McCoy.
3)      Services of any kind are appreciated. Everyday life maintenance gets a little harder. Support through donated services are quite apreciated.
4)      My dad loves meeting people. Any persons along the route from Seattle up to Alaska who would like to send a note of encouragement, or could offer a meal and friendly conversation on his trip let us know so timing can be mapped and scheduled.
5)      Tour guides! If some of the towns that he may drive through have some obscure but must stop locations, please share!
6)      Police officers on the route. I would like to collect a list of names & numbers that we can hold onto just in case he has road issues.
Lastly, I have been searching for silver linings. There is a small gift that ASL has brought. When you consider that most end of life events finish with a coming together of family and friends to fill a room with grief and regret for all the deeds undone and the words unsaid. Well this is no obituary. Dad/Dennis/Stoagie/Sgt. Sperm is still alive, and whether love to give or score to settle…come say it to his face!

Organizer and beneficiary
Jackie McCoy 
Organizer
Lake Stevens, WA