Service Dog to Get Back to Real Life
The History
In April 2018 I suffered a setback in my chronic illnesses which forced me to go on leave. Since then I have been unable to work, and even basic tasks such as laundry, food shopping, or getting to my doctor appointments have been like climbing Mt Everest each and every time.
The Service Dog
I have been working hard with my doctors to get better so I can return to work and life. In addition to medicine and treatments, they have recommended that I get a service dog. This dog would be trained in tasks to alleviate my symptoms, as well as greatly increase my mobility by giving me a way to go out in the world without constantly worrying about what might happen if something goes wrong and I'm without aid.
For those unfamiliar, service dogs are animals which are specifically trained in tasks to help those with disabilities. The training is a key requirement, and what separates service animals from pets or emotional support animals.
While it is possible for someone to train a service animal themselves, due to the high requirements for the trained tasks it is considered better to work with experienced service animal trainers.
The Process
I have been approved for a service dog with
Doggie Does Good
. This was a long process involving a 10 page application, phone interviews, and recommendation letters from a friend and my doctors vouching for my medical need, the benefit a service dog would give me, and my ability to give the dog a proper home.
In addition to medical needs, the application and interviews discuss what type of dog would be best suited in terms of personality and breed. As part of that I have stressed that the dog must get along with my two cats (pictured) and that I prefer it be a rescue.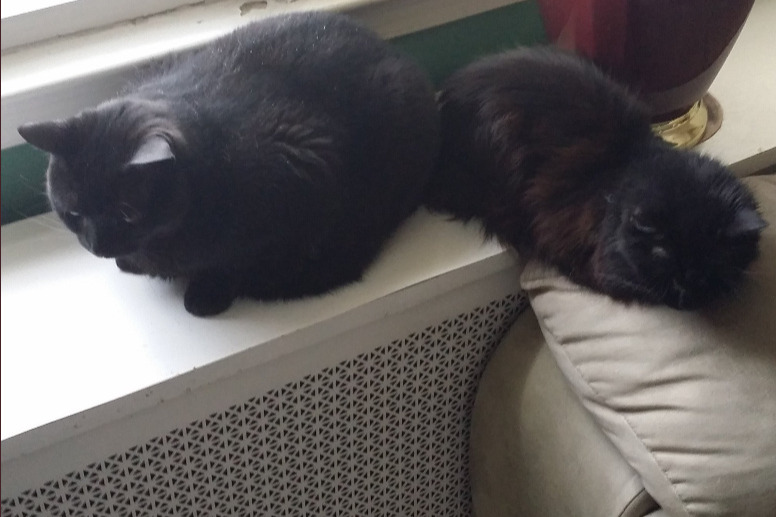 The Current Status
I have made a down payment on the dog, a suitable candidate has been picked and is being trained. Barring any difficulties, the hope is to get me the dog at the end of March 2019. At which point the rest of the payment will be due.
The Cost
There are many factors which go into the cost of the dog. Here is the breakdown based on the estimate that was sent to me.  Of note, this only reflects the set costs for the dog and not the ones which may vary depending on things such as time of year and length of training. As such, it does not include the cost of transporting the dog to me, all of the costs in the week of transition as the dog and I are trained together, or the cost of dog food during training, all of which I am also paying for.  I left them out because I am trying to be transparent about the numbers, and didn't want to add in costs which may turn out to be less.  
Also of note: I do have the financial ability to care for the dog. This isn't a matter of "if you don't have the money to get the dog you don't have the money to have a dog." The help here is purely for the high hurdle of training cost in getting a service dog.
Training Costs:
Service Dog Training: $10,000
Down Payment: $5,000 (paid prior to fundraiser)
Subtotal Remaining: $5,000
Other Set Costs:
Doggie Purchase: $3,000
Flea Control (6 x $30): $180
Heartworm Prevention (6 x $25): $150
Vet Fees: $150
Daily Trainer Fee (7 x $250): $1,750
Subtotal: $5,230The Fundraiser
I have currently set the cost at $5,000 because that is the amount of the training after the down payment. Any money above and beyond that will go directly to the additional costs of the dog, as seen in the Other Set Costs breakdown.  (
ETA 12/9/18 - clarification on cost breakdown and the fundraiser.)
The Gratitude
It is by no means necessary to donate. Love and support through this difficult time is invaluable. But for those that do, thank you thank you thank you. You're helping take huge pressure off of my medical costs, and I can't thank you enough for it.
Organizer
Laura Troise
Organizer
Stamford, CT