Send Women to March on Washington
Hello,
My name is Cathy Krizik and sitting next to me is Judit, my partner of twenty years, wife for three. We are
raising money to send young women to the Women's March on Washington on January 21st
, the day after President-elect Donald Trump is sworn into office.
Time is of the essence.Since election day,
I've been hanging my head in uncharacteristic despair. My mind has been jumping from issue to issue and seeing nothing but despair: reproductive rights, supreme court seats, the environment, Obamacare, immigration rights, sexism, racism, use of the military, poverty, education, death penalty, gun control laws….. The future looked so bleak.
Then I heard about the
Women's March on Washington
. THAT was something we could get behind. Feet in action. So, off we went to the internet to search for flights, hotels, rental car. Price tag: $2,500 for the two of us. Wait.
Wouldn't that money be better spent somewhere else? Yes! With young women activists ready to grab the baton.WHO ARE WE?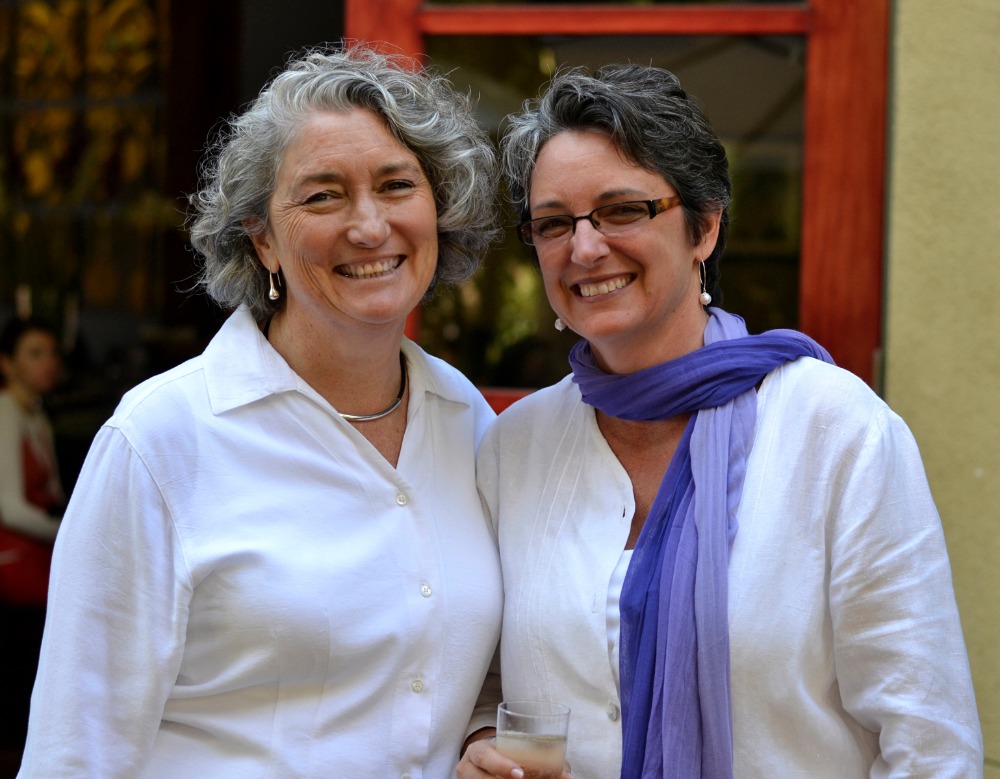 Judit (left) is a university professor in education (and native-Spanish speaking immigrant)
fighting for equity in schools
. I (right) work as a Career Advisor at a public agency that
serves the unemployed
. Both of us have a front row seat to the challenges faced by our country, our economy and the gift of our diversity.
As a professor, Judit sees hopes and dreams in her student's faces everyday. Online and in our college town we see young people who are committed to an equitable, inclusive, sustainable future.
We have been moved by their vision, energy and, sadly, their fear at the outcome of this election.
So, we've launched the Send Young Women to DC Fund with the intention of sending ten young women (or many more, if you give generously) to the March on Washington.
Recipients will receive $1,000 to pay for transportation, housing, food, Metro tickets, a winter coat—whatever is required to get them on the National Mall on January 21st to raise their voices with a million others.WHO WILL RECEIVE THE MONEY?
We will be soliciting names from across the country with a special eye towards
racial and regional diversity and inclusion
. We have contacts across the country who will pre-screen young women who represent the rainbow colors of this country. Native American, Latina, African American, White, Asian, immigrant, gay, straight…
The guidelines are simple. 
The fund recipients must:
·      self-identify as a woman
·      be between 18 – 30 years old.
·      financially need the funding in order to attend the march 
·      agree to report back to the Funders on their experience. (Details to come.) 
·      be committed to using the power of your voice (and feet) for the
empowerment of EVERYONE—men and women of ALL political persuasions.
Names will be gathered over the next month, thrown in a hat on December 15th, 2016 and chosen by lottery. Our intent to keep this process as equitable and inclusive as possible.
Marchers will be notified by December 20th, 2016. That gives them a month to make arrangements.
TO YOU, GENEROUS FUNDER:
The number of young women we fund will be entirely based on how much money we raise. Each recipient with receive $1,000. Any amount over an amount divisible by one thousand will be donated to an appropriate organization dedicated to women's empowerment, social justice, sustainability. Your suggestions are welcome.
Judit and I have started this fund with $1,000.
That guarantees one young woman will be funded. Will you join us? What are you willing to give to support a young woman's life as an activist?
Please be generous. Give to a future that will make you proud,AFTER THE MARCH FOLLOW UP:
Our goal is to connect the Funders with the Marchers so you can "meet" one another, share the Marcher's experiences—and ideas for taking more action. We'll pass along the details when they are ironed out. But for now we're just trying to get the ball rolling. So, stay tuned.
FINAL WORD:
Judit and I have done our share of marching—for women's rights, gay rights, civil rights, abortion, equality, the environment, peace… To be in the company of a million women marching for justice would have buoyed our sagging spirits but
we decided that giving that gift to young women who wouldn't otherwise be able to attend would be even more satisfying.
It's the next generation's turn. They are our future so let's support them—for all of us.
Please, give generously.
The world needs the young to step up.
Thank you for your support, your consciousness, your willing to see through the stuggle to the victory. As MLK said,
the arc of the moral universe is long but it bends towards justice.  
Let's help it along.
We're fired up, are you?

Organizer