Semester at Trinity College Dublin!
Bibliophile
: a person who loves or collects books, especially as examples of fine or unusual printing, binding, or the like.
Supplicant
: To supplicate; to pray humbly; make humble and earnest entreaty or petition.
Supplicating Bibliophile
: Shannon
Ever since I was a child I have been enthralled and entranced by pages and books. I love how they smell, the way the grains of the paper feel against my fingers, the sheen of the ink and the delicate illustrations. I love the worlds they take me to and the hidden moments of history they can reveal. I am completely romanced by the one piece of technology that has stuck around in one form or another for more than 1,000 years, and this fall I have the chance to spend a semester at a University whose collection of rare and historic manuscripts is known throughout the world.
Trinity College Dublin is home to the Long Room, the largest single hall library in the world. Beyond its size and impressive Instagram presence however, are the people and research that bring the library and the college to life. These people and their work is what draws me to both the field of Art History and to Trinity College itself. 
Recent projects at Trinity have digitized whole manuscripts to be shared by scholars around the world, pioneered conservation techniques, and spearheaded research aimed at connecting the printed works of our past with the digital global world of our future.
At 29 I find myself in my last year of my undergraduate studies and eager to make the most of my time before I dive into the world of graduate work. It has taken a long time and a lot of hard work to get to this point. After graduating high school financial situations kept me from going to school right away, and looking back, I am grateful for the time that gave me to explore interests on my own. I spent time working as an artist and as an art teacher, I discovered a love of wine and worked as a wine writer and sommelier. I worked on a small farm and wood working coop for a summer and found a passion for social justice working as a community organizer. Each adventure taught me more about myself and what I want to create and explore in this world.
My parents have done a lot to help me financially during my time at school, from allowing me to move home, to helping me take care of everyday expenses like car insurance and medical bills. Through merit based scholarships, government grants, and federal loans I have been able to pay for school while working part time to support myself. This semester abroad was a big decision, as it is in no way inexpensive, but after a lot of thought and discussion with my family and my academic mentors, I decided I didn't want to let money stop me from taking this leap. After returning to school full time three years ago, I have worked diligently to ensure my grades reflect my abilities as a student, and my desire to succeed in my field, and when I received the letter saying I was accepted into the fall semester at one of the top universities in the world, I could not have been more proud and more determined to take full advantage of all that the opportunity presented.
In preparation for my 5 months in Ireland this fall I have taken on more hours at both my jobs and picked up extra work on the side in order to save. Through government grants, federal and personal loans, and scholarships I have covered most of the cost of my tuition. However, I am still working towards saving enough for my air fare and for my day-to-day cost of living while in Ireland. That is why I have started this campaign.
I have said from the beginning of this process—through applications, scholarship essays, deadlines, and paperwork, that getting to Trinity College Dublin this fall will have been the hardest thing I've ever accomplished. But each step of the way I have had the support of family and friends and a deep sense of perseverance, pushing me forward. Asking for help, especially financial help, is not an easy thing to do. But I am determined to swallow my pride and my fear of exposure, and do everything I can to get my butt to that first day of classes in the lecture halls of Trinity.
Multiple blogs and study abroad sites have average cost of living calculators and the most common amount spent by a student in Dublin per week is around 120-150 Euros (this makes a bit more sense when you take into consideration there isn't a meal plan at Trinity). Plane tickets to Ireland range, between $840-$1200, depending on when they're purchased and if they're round trip. I will also need to purchase books and supplies while in Ireland, which are not a part of my tuition costs, as well as some cold/rain weather gear, as I hear Ireland has a tendency of getting quite damp and gloomy as soon as summer ends. Through this gofundme account, I'm hoping to raise $5000 before 8/29/17, an amount that would go a long way in covering these expenses and allowing me to take full advantage of my time in Ireland. Any donation is not only helpful, but also inspiring and motivating. Without the help and encouragement from my community of friends and family, I would never have been able to make this dream come true.
In 2018 I will graduate with a Bachelors of Art History and a minor in History and my plan is to pursue graduate programs in Medieval Art History, with a particular focus on manuscript art.  This semester at Trinity College Dublin will not only provide an immeasurable educational experience, but it will allow me to dip my toes into the world and career of my dreams.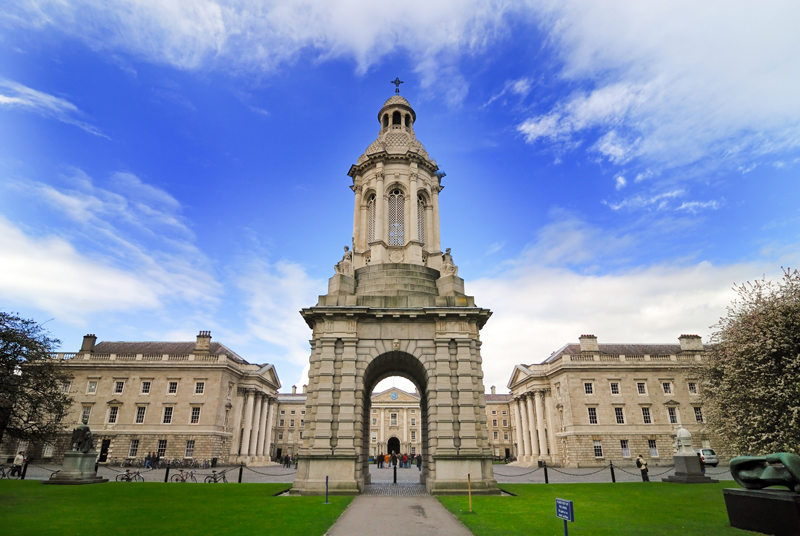 Here is a fellow Art History student talking about what makes Trinity particularly unique
Here is a look at the international experience at Trinity
And here is a photo shout out to some of the family I couldn't have done this without:
Thank you so much for reading this far. I appreciate everyone who has helped me on this journey (many of whom I don't have the perfect photo of, but Ian, Liza, Beckah, Eman, Frantzis, Uncle Mike, Aunt Serafin, Dr. Craig, Simone, Gerardo, Clare, and Rachel--you know who you are and I can't ever thank you all enough!) And thank you to anyone who takes the time to read about my dream of getting to Trinity College Dublin. I can't do this alone. Anything and everything is incredibly appreciated. Check out the donation rewards and help get my butt to my first day of classes!!
Next stop: Trinity College Dublin!
Follow me on instagram @_touchallthestuff_  for updates, check out my facebook page and share my campaign #sendshannontotrinity