Hi, I'm Alex and this my first 'gofundme' experience.  I'm extremely proud to introduce you to Isaac.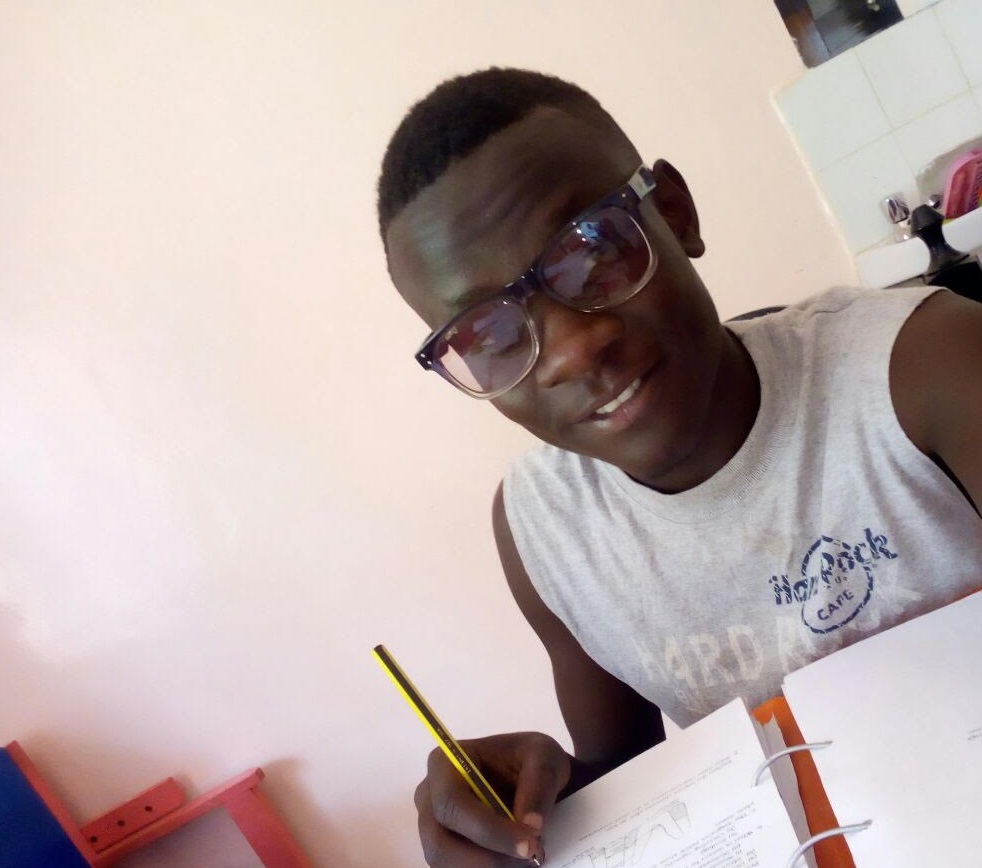 Photo: Isaac hard at work


How I know Isaac:
In 2011 I traveled to a village named Ndhiwa. It's a small village on the Western border of Kenya where life isn't always that easy. I went there to test my university dissertation on purifying water and left with mixed experimental results, and a vast appreciation of what my English upbringing afforded me. 
I cannot speak highly enough of the people from Ndhiwa. With their circumstances being limited, they expressed kindness, love and generosity that far surpassed any expectation. I could personify it with a story of the little girl who was so desperate to show generosity to a guest she tried to gift her only valuable possession. Or of the elderly woman that insisted on introducing us to her entire church each Sunday. But I'd rather epitomize this appreciation towards the Ndhiwa people through Isaac Oyoko.
While other kids rightly played games with the foreign backpackers hiding from the heat, or got help with their homework from their elders, Isaac sat with me and my experiment in the midday sun. He helped build the machine each day, recorded its results, asked intelligent questions, and learnt the fundamentals of science that so often don't reach these corners of the world. If this fails to sound as impressive as I found it then, I should add that he was 11 years old. 
Photo: Isaac (right) and friend modeling the equipment 
I was there for 3 weeks and he often asked me to mark his homework. After agreeing, I quickly realized that my Masters in Engineering left me knowledgeable of exactly  60% of his 'Introduction to Science' class ... after a fashion, I guessed and gave him full marks. It was during these times that I learnt his biological mother was no longer with us, and his adopted mother was struggling with the burdens of supporting him as well as her own children.
Isaac was the brightest 11 year old I have met. Knowing the unfortunate certainty that awaited him if he were to drop out of school, I began funding his education myself. I have paid the majority of his school and board for the past 8 years. Isaac is 18 years old now and is aiming for university, and so ... here ... with my resources stretched ... is where I need your help.
Our Goal:

Raise as much money as we can to help Isaac complete his education at the University of Nairobi studying Political Science.
He is a talented, bright, self-sufficient young man who would have walked his way into any number of schools given different circumstances.  I am proud to call him my friend, and ask that you donate whatever you can. 
Photo: Isaac with his family last year


Where your money goes (exactly):


Nine month certificate course
that, once passed, grants entry into the university. This is a necessary step when entering higher education from the rural educational system.
   ***  $688 per course x 1 course = $688 total
Two year diploma
in Political Science at the University of Nairobi. (Yes, I tried to convince him to do engineering like me but alas).
*** $693 / year x 2 years = $1,386 total


Two year degree
in Political Science at the University of Nairobi and the completion of the previous diploma course.
   *** $693 / year x 2 years = $1,386 total
Room and board
at university funded housing. This is necessary as Nairobi is a 9 hour bus ride from his family home and the road is not paved ... trust me. 
   *** $75 / month x 4.75 years = $4,275 total
This makes the grand total of $7,735.
It is not all needed right away (thank god!), as the bright colored excel chart below shows. We have a few years to get there.  

Thank you!!


If you've made it this far down the post, thank you so much for the 10 minutes that you've already gifted us. Any donation that you can add is unbelievably appreciated and your generosity is 
literally
  propelling the prospects of Isaac's life forward. I know he'll do amazing things wherever he ends up, he doesn't need our help for that, but what we can do, is help him start those things as far along as possible. Thank you so much, and please ask questions if you have them. We'd both be happy to hear from you!
Alex, & most importantly, Isaac 
Please share!
Donations

Organizer
#1 fundraising platform

People have raised more money on GoFundMe than anywhere else. Learn more

GoFundMe Guarantee

In the rare case that something isn't right, we will refund your donation. Learn more

Expert advice, 24/7

Contact us with your questions and we'll answer, day or night. Learn more