Help Senzeni & Brenda Enter Post-Graduation Life
2 YEARS LATER: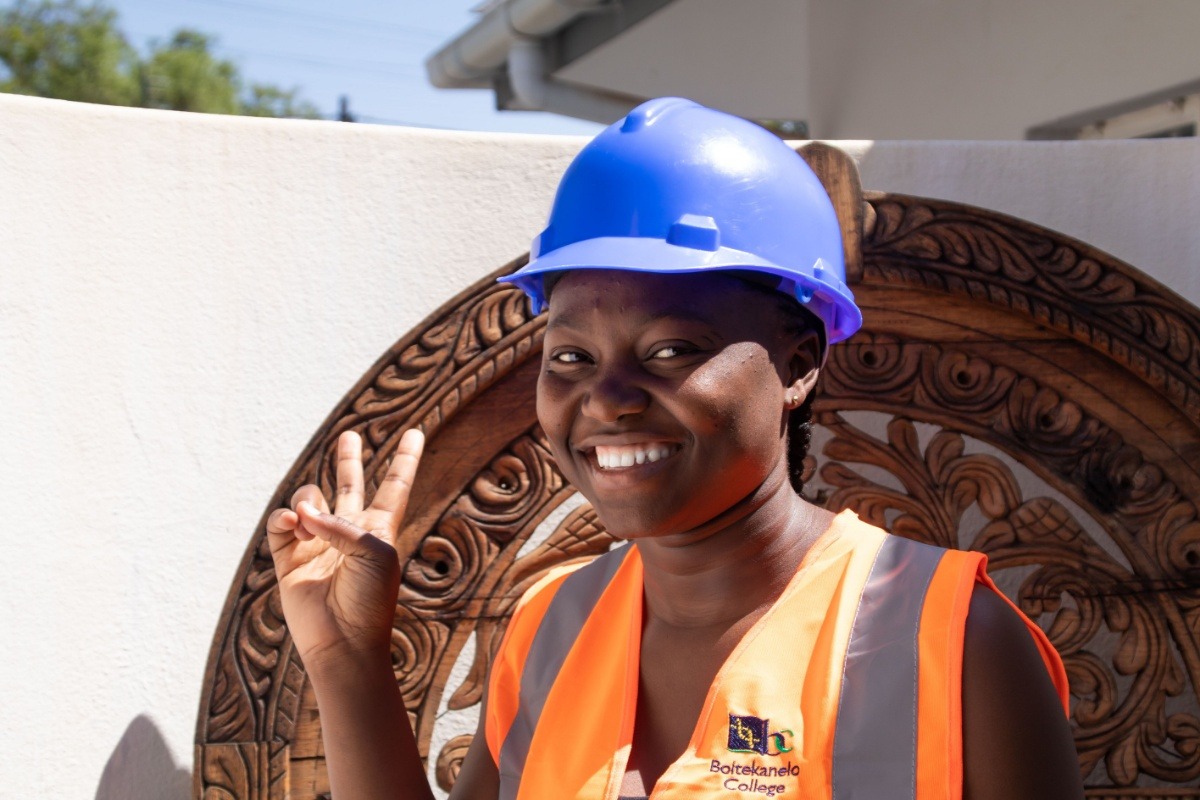 What an amazing, inspiring, hopeful 2 years it's been!
·      Brenda and Senzeni are no longer refugees; they are citizens of Namibia and Zimbabwe now – with passports.
·      They're doing really well in school. Senzeni is in eSwatini (previously Swaziland) completing an occupational health attachment. Brenda has been working and learning in a clinic in Gaborone.
·      They will graduate around the end of August!! We had planned to throw them a great party, but now that we are leaving earlier than expected on our own adventures, our friends have generously agreed to ensure the celebration continues.
So what has been happening with your donations and what is the financial situation now?
·      The citizenship / repatriation / student visas process was unexpected and added a bit of expense (about $1,000) over our original total budget.
·      The girls weren't making it on the monthly allowance we were giving them, so we increased it slightly (from $120 a month to $170 a month – the "normal" Botswana student living stipend is $190 a month). That's added another $1,200 to our original budget. 
·      Our original budget only went through then end of June; they actually won't graduate until the end of August, so we have 2 months of extra living expenses ($680 extra). 
·      We have willingly spent about $5,000 over our original pledge of $7,200.
How can you help now?
·      Getting them through it all (school, living expenses and repatriation) was about $2,880 over our original estimate.
·      Once they graduate their student visas expire and they will have to leave the country (unless they are given jobs here -- unlikely since any job opportunities will be given to Batswana first, not non-citizens). Plus their only work experience will be in the attachments they've had. So ... recent graduate, no 'real' work experience = hard to compete for a job. We want to give them the ability to relocate and apply for unpaid internships so they can get started in life in the form of a graduation present of 6 months of living expenses + travel to Namibia for Brenda and a still unknown location for Senzeni. That adds another $2,500 for us to raise.
·      We have $1,400 in the bank right now.
·      $3,980 would cover all the additional expenses incurred and anticipated and the 6 months of starter funds (living expenses and travel money assuming they have to leave Botswana). If we are able to recoup any of the extra $5,000 we have spent, we will use that to help another young person in our lives.
THANK YOU!! Two young women were once stuck in the Dukwi refugee camp with no citizenship and no future. Look what you have done and what more you can do!! Thanks a million.
THE ORIGINAL STORY
Brenda, Senzeni and Benjamin have arrived in Gabs from the Dukwi refugee camp to start their studies! They are staying in a house owned by the NGO, Skillshare, who we met them through at Dukwi. It's a great place with separate locked bedrooms for each of them, a central courtyard, nice kitchen and even a big living room and storage space. Comes with electricity, water, and an overnight guard. Skillshare had donated all the furniture to another organization because they weren't using the guest house. So right now they have mattresses and 2 chairs and we have lent them an outdoor table/benches. They also have bedding from Dukwi, basic kitchen supplies, and towels. Our friend Julianna got them a nice wooden table and chairs (and some kitchen supplies) and they are so appreciative of the space to study and eat. 
We have had the pleasure of hanging out with them a couple of times already. They are interesting and funny and fun. And they love to eat! Their first adventure was burgers – everything about it was new. They were totally game – buns, mustard, mayo, grilled onions, avo, the whole bit. These were big burgers – and they ate 2!! Last weekend we went with our friend NT for South Indian food. Once again, they were totally open and into it – Senzeni even dances in her seat when she is experiencing the big YUM!
They have explored Gabs some, but are mostly staying at home. They experience Gabs as a huge city and the roads and traffic are a bit overwhelming to them. The hardest part is that they are pretty bored. I found a volunteer opportunity for them at the HIV clinic for non-citizens that I work at once a month and they are so excited.
Many of our Gabs friends are generously arranging to spend time with Brenda, Senzeni and Benjamin. If anyone local has spare living room furniture or an iron (their first request when we asked what they need) and/or an ironing board, that would be great.
Most importantly right now, we need your help with funding. We and another family here in Gaborone had committed to a 4 year program for a total of  $7,200 + $4,000 = $11,200. When the information about tuition and living expenses came in, we all realized that even compressing the same contribution from 4 to 2 years would only allow us to sponsor one of the young people selected by their peers. There are many reasons we are now in this situation of having both young women and not enough money, but it boils down to the heart, to trying to make sure that Senzeni - an orphan - would not be alone, to envisioning a future for both her and Brenda. Our friend at Skillshare wants to raise the rest but she is out of options (and personally sponsoring another young person in a teaching course). So we are writing to also ask if you would be interested in making a financial contribution – one time or recurring. And to share this request everywhere you can think of so we can secure the funds to comfortably see them both start classes on Wednesday! Talk to you child's class, your synagogue or church, your sports club... 
Please find more information about them below. This is what they and their peers who nominated them put together for us. Despite their amazing grades (41 and 37), they didn't get nursing spots in either of the schools they applied to because there are so few for non-citizens. Brenda is doing a 2 year diploma in emergency medicine technology and Senzeni is doing a 2 year program in Occupational Health (not enough students were interested in Health Promotion which was her second choice after nursing). 
Brenda is on the left and Senzeni on the right
ABOUT MYSELF
My name is Brenda Mulife born on the 23rd of July 1997.Am a young lady aged 20 years. I come from Namibia .I came to Botswana with my mom and elder brother when I was 4 years old on the 3rd of March 2001.My father was already here when we arrived because he came in 1998.I stay with both my parents and have two siblings. My elder brother is 22 years old and my younger brother who was born here is 10 years old .Both my brothers are schooling, my elder brother is schooling at University of Botswana and my younger brother is schooling at Dukwi Primary School. My father is the head of the house. Both of my parents are having temporary jobs which they are doing but they are farmers .My father works as a security guard at Skillshare International Botswana for this first three months of 2017 and gets a maximum salary of P1000.00 per month. My mother works at Botswana Red Cross Society for this first three months of 2017 also and gets a maximum salary of P1000.00 per month. When I was still at school I valued my education, took it seriously. I was a class monitress for two years I spent at Nata Senior School. I trained in lawn Tennis at school but I did not play for the school team. I completed my form five in 2015 with 41 points at Nata Senior Secondary School. While waiting for sponsorship I volunteered to help at Skillshare International Botswana by monitoring young children and youth who visit the Youth Friendly Centre. I also have been tutoring young children who need help with their studies .It is nice working with them as we learn from each other and learn how to interact with other people of different characteristics. I am a well behaved youth both at home and in the community. At home I help in doing household chores. All my life I have always wanted to be a nurse. I believe in saving life as it is important and valuable to have. I have a passionate interest in being a nurse because it deals with saving lives and interacting with people. Upon getting scholarship I will do what I do best which is working hard to attain the skills and knowledge I need to start saving lives which are sacred and significant. Because this is my passion. After I complete my nursing studies I will go back to Namibia on voluntary repatriation to work because I am not allowed to work here in Botswana. I am a youth leader in the camp. I help the youth in bringing their ideas to the Youth Council we have in the camp. Am also a member of the No More Teenage Pregnancy Campaign in the camp which spreads awareness on teenage pregnancy to teenagers both in schools and in the camp to stop teenage pregnancy. Once given opportunity I use it wisely and not waste it. I like helping other people where I can. I like socialising with other youth to learn new ideas and what I do not know as long as it is positive. I like reading books and novels, watching discovery channels and motivational movies. I play sports in the camp during sport competitions and sometimes for fun. The sport I play in the camp is volleyball.
ABOUT SENZENI MAKWANYA
My name is Senzeni Makwanya a 19 year old young lady born on the 10th of September 1997, am from Zimbabwe. I currently leave in Botswana as a refugee. I am the vice chairperson of the youth council in Dukwi refugee camp and the chairperson is away most of the time therefore I mostly chair the meetings. I came to the camp on the 1st of June 2009 I started residing in the camp when I was 11years old. My mother passed away on the 3rd of June 2009, by then I was still 11years.My father also passed away on the year 2014, when I was doing my form 4 at Nata Senior Secondary School. I only have one elder sister who is 24years old. She does not work nor study anything. She is a mother of two boys, aged 5 years and 2 years old. My elder sister is the head of our household. She depends on her husband's salary to sustain the family. My sister's husband works at the garage in dukwi village earning P1800.00 per month .I completed my senior secondary school (form 5) on the 14th of November 2015.I then volunteered to be a youth leader in the community. We are running a No More Teenage Pregnancy campaign under Skillshare International Botswana. The aim of the campaign is to educate youth in the camp and outside the camp about ways that can help them to refrain from being victims of teenage pregnancy. I do the house chores (Cleaning the house, wash dishes, cooking etc) at home that is how I do help at home. After I get the skills and knowledge that I need I will voluntary repatriate and go back and work at Zimbabwe since they do not employ refugee in Botswana .I was a volleyball player from primary school until junior, then stopped playing when I was at senior school due to pressure that I had from my school work. Nata senior is divided into 5 houses which are buffalo, elephant, cheetah, lion and leopard. And I was the deputy captain of house Elephant. My duties as a the deputy captain of house Elephant was to monitor and supervise the cleaning of the environment(education area and the hostels), as well as the hygiene of the dining hall, give advice to the rebels of the school as well as those students who had given up on their education. I was also responsible to help on the planning's of the school. I represent my community in the launches that we undertake outside the camp to outreach the no more teenage pregnancy message in other areas of the country (Botswana).I was as well concerned like any other responsible teenager about the rapid increase in number of teenage pregnancy in my community and the youth dropping out of school due to teenage pregnancy. Whenever we come back from a launch I and my council always make sure that we share the message and every important staff that we should be sharing with the youths in my community .I really enjoy reading and playing Volleyball. I am a hardworking lady, very committed to whatever I do, have a voluntary spirit to help and make sure that everything is in good order. I have a passionate interest in doing best on everything I do.
A final note:
We were triple blessed when they arrived less than 3 weeks ago to meet Benjamin, a refuge from Congo who also received a school sponsorship from another source and is living with together them at the guest house. This is his blog:
https://www.africanmigrantshub.org/blog/
He studied medicine for 2 years in Congo but isn't able to complete his medical studies in Botswana due to lack of spaces for non-citizens, so he is doing a communications degree.
Please let us know if you would like to meet them, if you have any stuff they might be able to use and/or if you can help close the funding gap. These folks are precious, and will be friends for life. The money issue makes us really nervous, but we are guided by our hearts and ever so hopeful that we can make this work. 
Warmly,
Michelle and Richard
PS A million thanks to my first mentor in college who sent a super generous $500 check.
PPS Since this campaign is being shared widely, I wanted to add a bit of info for people who don't know us. I am a public health physician working in Botswana, here with my husband. We are from California; our home base is in Oakland. We met Senzeni and Brenda when their youth teenage pregnancy prevention program did a presentation for us during a work trip where I was visiting some of their medical services (Richard came to do photography). I was there with other folks I work with including the father/husband of the other family who committed to the 4 years of donations. Our 2 families started communicating with Tiny Healy from Skillshare after we met back in Gaborone and decided what each of our families could contribute. Tiny has coordinated peer selection of the youth, their school applications, transport to Gabs, housing here, and keeping an eye on their day-to-day well being. Tiny, Richard, the other family and I share the tracking of expenses and donations (Richard and I take primary responsibility and share updates when money goes out or - now - comes in). Brenda and Senzeni have opened local bank accounts. We provide them with 1400 Pula (about $140) per month each for living expenses (transport, food, etc) and they deposit it in their accounts. They will be tracking their budgets. We give them cash that Tiny holds for safety until they bring it to the school for tuition so they don't keep it in their home. So far, we have provided $800 in deposits toward their first semester of tuition and we will provide the rest of the first semester tuition on Monday. Your donations will go to our US bank account (Bank of America) and we will withdraw the cash from that account here in Gaborone. Their course is 2 years. Richard and I have enough cash flexibility to advance the costs as long as we feel we can raise the difference over this time.  Accelerating the 4 year nursing school donations to 2 years for these other courses is all we and the other family can do financially,  along with providing lots of support, meals, and experiences to the young women and Benjamin. My contract is another 3 years, so we will be here to see this through to the end of the school courses and beyond.
The bottom line is our 2 families had enough (by compressing our donations over 2 years) for one young person but we and Tiny just couldn't bear to finance only one. Your generosity will enable the 2 of them to support each other on this unimaginable adventure towards futures outside the refugee camp that they could only dream of before now. Their peers also asked us sincerely to assist it them both.

Organizer