Hi Everyone!
I am excited to be heading to India for the month of July to collaborate with, coach, and learn from teachers in Bangaluru through an amazing organization called Limited Resource Teacher Training (LRTT)! 
LRTT
  is an international organization working for quality education development around the world. They work closely and collaborate with local education NGOs to support teachers in limited resource settings to develop their craft and impact student learning. Our team of 20+ educators from around the world will partner with local teachers to deliver professional development sessions and develop collaborative relationships. Together, we will observe, coach, co-teach, and reflect on best-practices in teaching to impact the instruction and learning experiences of students in Bangaluru and its surrounding areas. More information about our specific fellowship can be found
here
 .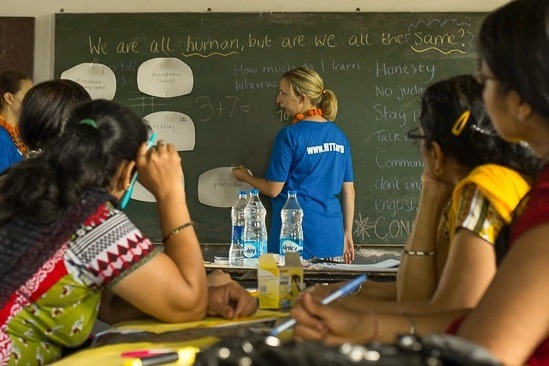 The learning doesn't stop there. As a fellow, I am earning 100 hours of quality professional development. The training we have been doing before our trip is high-caliber. Our team is preparing for our experience through self-reflection, learning modules, and online webinars focused on best practices in teaching, coaching strategies, cultural responsiveness, privilege, and sustainable practices in education. This organization is quality. Upon returning, I will have the opportunity to share my learning and experience with my own staff, in anticipation of the ways it will impact how we better serve all our students. 
Icing on the cake: I specifically chose this fellowship because so many of my own kindergarten and first grade students over the years are first and second-generation immigrants from India! Many have attended school (both private and government) there too. I have loved learning about their culture from their stories, pictures, and families and am excited to now immerse myself and experience it firsthand. I know this opportunity will impact my relationships with my students and their families for years to come. My students are already SO excited for my trip! Watching their faces (and their parents) light up as they tell me where to go, what to do, and what to expect, energizes me beyond words.
As you can imagine, this rich experience is not cheap. Living on a teacher's income in Seattle, a trip of this magnitude is a financial decision I did not make lightly. My commitment to make an impact on global education, passion for learning, and the opportunity to experience the culture of my students outweighed any reservations about budget, but you can help alleviate the impact.
Your support will help me offset part of the cost of this trip by paying for:
$1800 in program fees
$1800 in flights
Any additional funds raised will help pay for travel insurance, vaccinations, travel-visa fees, and other in-country needs.
Thank you for considering partnering with me to affect global education and support this life-changing experience! I look forward to learning with my Indian colleagues, their students, and my fellow teammates!
Love,
Libby 
(Ms. Bruner)