Geoffrey's Inner Circle Historical Site Fundraiser
   ***UPDATE 12/21/21***

As we move into the holiday season, we wanted to send a special thanks for past donations and also give an update on where we are in the process.  Although we are not out of the woods completely, your kind donations have been instrumental in assisting us in beginning our renovations project for the 3rd floor banquet hall.  Our plans to transition this space into a live, stand-up comedy club are underway.  We appreciate your donations that are keeping this project afloat.  We are sending you special holiday wishes and thanking you all in advance for your continued support!


****This Fundraiser Benefits Geoffrey's Inner Circle****

Geoffrey's Inner Circle
is located at 410 14th Street in the heart of downtown Oakland.  For over 30 years GIC has been the axis and the epicenter of live musical performances, professional comedy, live jazz and a plethora of additional community functions that are too numerous to mention.  
Many of your favorite stars were born and bred into greatness as a result of  performing within these walls.  Household entertainment names such as Kat Williams, DC Curry, Paul Mooney,  Luenell, Raphael Sadiq & D' Wayne Wiggins, Destiny's Child, Oakland Legend Too $hort, E40 and Jay Z to name a few. 
Sports powerhouses such as Michael Jordon,  Barry Bonds, Muhammad Ali and Joe Frazier (not on the same night, of course), Shaq and many more have all graced this location.
Geoffrey's had the most esteemed pleasure of presenting Mother Maya Angelou to our community on numerous occasions.  Also, Oakland's own home grown Vice President Kamala Harris.
Additionally, GIC has  served as a community feeding hub, providing hot meals to the most vulnerable members of the community on a regular basis.  This level of community service is a much needed and invaluable asset to the overall health of Oakland. 
For all his years of kindness and multi-neighborhood assistance,
owner
Geoffrey Pete received the prestigious Jefferson Award for Community Service
and was named a Pillar of the Community by the Oakland Indie Awards.
https://youtu.be/iSfMooDCG14
Geoffrey's Inner Circle does not just present the culture of Oakland.  GIC  lives, heals  and defines the culture.
Covid 19 has presented itself as a huge hurdle for this historical landmark to overcome.  A year of closed doors has taken a harsh toll. 
We are asking for your support to keep this jewel of the Oakland community alive.  The friends of Geoffrey's Inner Circle would like to thank you in advance for another 30 years to serve the beautiful and diverse Oakland Community. 
Your generous support is greatly appreciated and is the catalyst for Geoffrey's Inner Circle's beloved continuation.

#smallbusinessrelief #blackbusiness #livejazz #hellaoakland #townbiz


Geoffrey Pete and Vice President Kamala Harris

Dick Gregory and Geoffrey Pete

Geoffrey Pete and Steph Curry

Terry McMillan and Geoffrey Pete

Geoffrey Pete and Robert Redford

Rosie Gaines Tribute - Vocalist Brenda Vaughn and Comedian Luenell

Geoffrey Pete and Muhammed Ali

Attorney Johnnie Cochran, Attorney John Burris, KTVU's Faith Fancher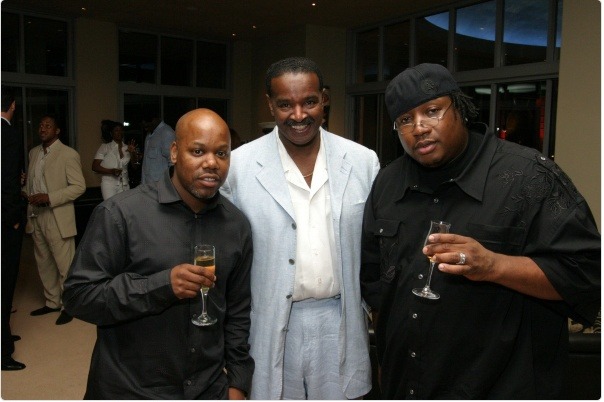 Too $hort, Geoffrey Pete and E40

Geoffrey Pete and Danny Glover

Richard Gant, Adrienne-Joi Johnson, Geoffrey Pete, Terry Vaughn and Derrick Johnson

Geoffrey Pete and Allen Iverson

Live Music at GIC - Terry Lewis and Jimmy Jam

Congresswoman Barbara Lee and Geoffrey Pete

Geoffrey Pete and Michael Jordan

Delroy Lindo and Geoffrey Pete