Sea Turtle Research & Conservation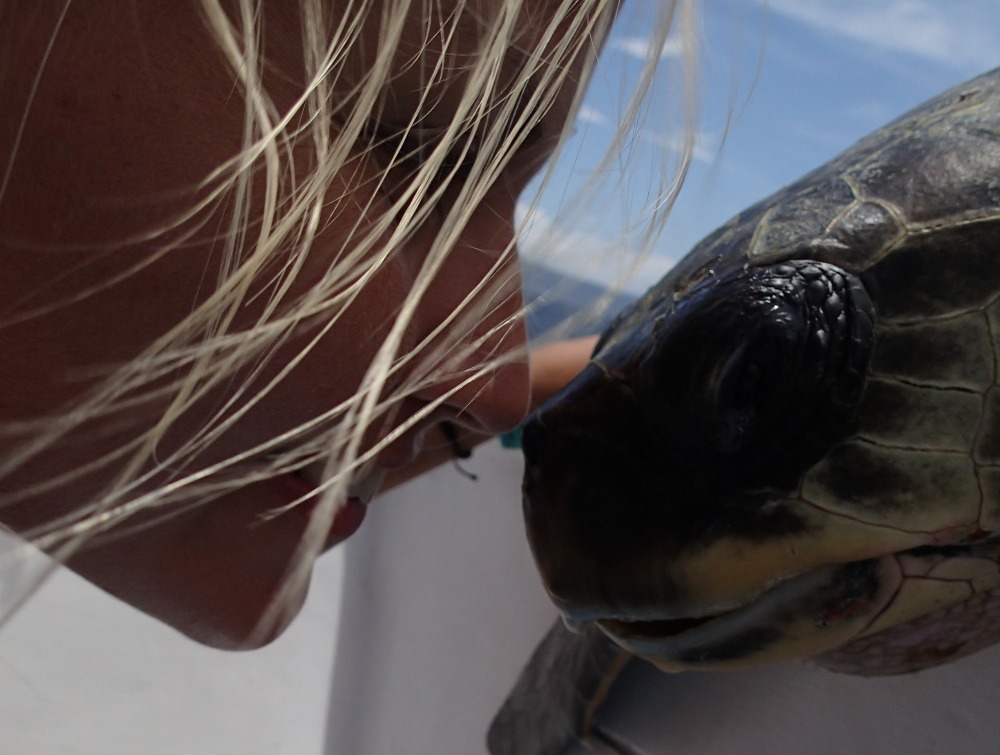 I am marine conservation biologist and Marine Biology PhD student with Texas A&M University researching and conserving sea turtles in Costa Rica.
http://plotkinlabtamu.wixsite.com/plotkinlab/christine-figgener
http://time.com/5339037/turtle-video-plastic-straw-ban/
http://time.com/collection-post/5414033/christine-figgener-next-generation-leaders/
https://www.dallasnews.com/opinion/commentary/2018/07/19/video-sea-turtle-soured-americans-drinking-straws
In 2015, a video I posted showing a straw being removed from a sea turtle's nostril received worldwide attention. This sea turtle is just one example of many.
No biologist, regardless of his or her location, is actively seeking out injured wildlife as seen in my video. But
we are on the front-lines of reality
looking at thousands of animals and we are consistently witnessing the by-products of human consumerism and its consequences.
There are many more things we want to do and can do, but funding is difficult to come by, and there are consequences to this fact.
People forget that in order to protect any species effectively, this
protection must be based on observations of the species' biology, ecology, and behaviour.
Many people asked me how they could support my work after seeing the video or where they could donate and it inspired me to launch this campaign to ask for funding to continue my research to reveal the secrets of sea turtles and protect them and their habitat. 
I study sea turtle males and females at different sites to discover important breeding and foraging habitats of sea turtles and investigate their general migratory behaviour.
My findings will help inform conservation management plans and help to ensure that sea turtles continue to swim freely in our oceans for generations to come. 
Your funds will help to pay for my research and conservation efforts by financing permit fees, outreach efforts, and essential equipment for my research, as well as for my public outreach.
PLEASE DONATE AND SHARE THIS PAGE! Any donation amount is greatly appreciated and will bring us one step closer helping to conserve these charismatic animals!!
-------------------------------------------------------------------
FIELD SEASON 2019: SATELLITE TRACKING & SCHOOL OUTREACH PROJECT 

We are spending several months each year in the field and the next season is always coming up fast. 
We would like to attach 8-10 satellite transmitters onto females in Costa Rica in 2019 and
we will need another US$16,000 - 20,000
to make it happen.
Each satellite transmitter costs about US$2,250, and each boat trip is about US$200. 
We would like to ask for your help to purchase the necessary equipment and to support an incredible outreach effort!

Businesses or people that are interested in sponsoring an entire satellite transmitter should contact me via email ([email redacted])!

Satellite Tracking

We are equipping turtles with
satellite transmitters
 to follow them on their migration through the ocean after they are done breeding and nesting in Costa Rica. This will help us reveal their migratory routes and will also tell us
which threats they are likely facing on their travels. 
Are they travelling through one of the 
plastic gyres
(
info
), or are they travelling through areas with a lot of fishing activity and could fall victim to 
fisheries 
and die
as by-catch
(
info
)? Our results will help to inform governments of countries adjacent to the Pacific Ocean and provide valuable information that can be integrated into future conservation plans and geographic outlines of protected areas.
All of our tracks can be followed live on
OCEARCH.ORG
   while the tags are active (choose olive ridley turtles for species). 
Outreach K-12
We have launched an outreach program that is connected to our satellite tracking research to foster
ocean literacy
. We aim to connect school children to our oceans by using our sea turtles as
ocean ambassadors
. Schools can adopt a tracked turtle and in classroom visits, we are educating the next generation about the threats turtles are facing on their long journeys through the oceans and how we humans also depend on healthy oceans. The kids learn what they can do at home in their everyday life to help save turtles and our planet. We are planning the next outreach campaign for the fall of 2019.
Interested teachers can contact me under [email redacted]
----------------------------------------------------------------------------------
With your help, we have already been able to do so much during the past years.
  Your donations will continue to contribute to the research of sea turtles and the effects of human actions on their populations and ecology, as well as spreading awareness of the plastic pollution in our oceans.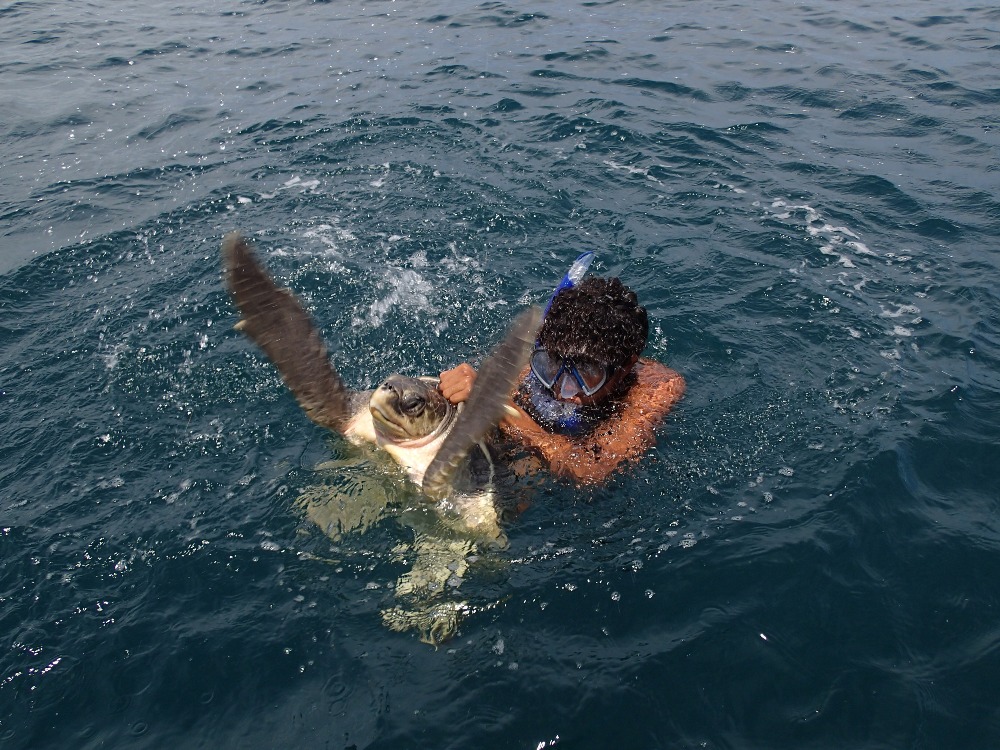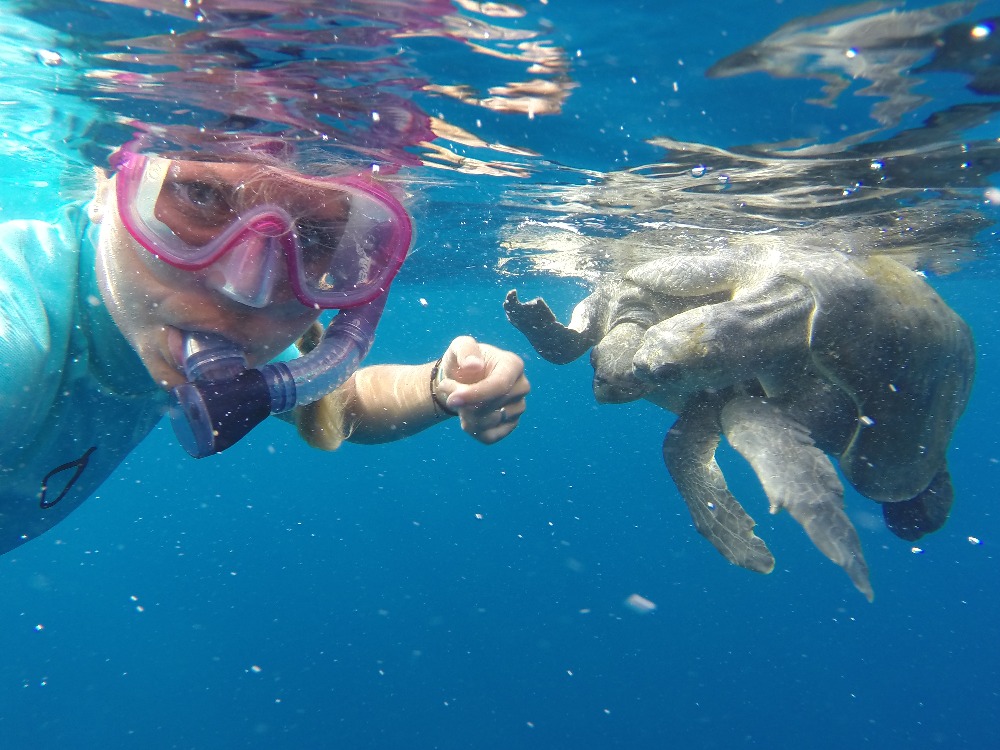 RESCUES FROM THE 2016 SEASON


THE ANTI-STRAW MOVEMENT!
#SkipTheStraw #StopSucking #1LessStraw

Since I have published the viral video, our turtle has become the poster-child of an ANTI-STRAW MOVEMENT. Straws are considered a gateway plastic for all the other single-use plastic products used by our society. 
http://abc7news.com/science/viral-sea-turtle-video-fuels-campaign-against-plastic-straws/1942663/
Several people and organisations are trying to raise awareness and combat the issue of single-use plastics, and especially plastic straws, which I would like to acknowledge here.
The Last Plastic Straw -
http://thelastplasticstraw.org/
Surf Rider Foundation -
Plastic Straws Suck
Lonely Whale Foundation -
Strawless Ocean
One Less Straw -
https://onelessstraw.org/
Plastic Pollution Coalition launched a "No Straw" campaign in collaboration with us in November 2015.
Have a look and take the No-Straw Pledge here: 
http://www.plasticpollutioncoalition.org/no-straw-please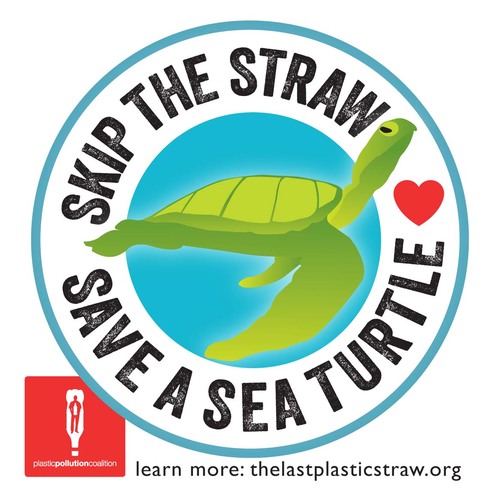 STRAWS the Documentary Film

My video and I have been part of the documentary STRAWS that has premiered in spring 2017. If you would like to know about it and check out screening dates, visit their website. 
http://www.strawsfilm.com/





A THANK YOU TO AARDVARK STRAWS!
Over the past two years AARDVARK STRAWS has been contributing to my GoFundMe Campaign by donating 15% of the sales of their sea turtle straws! A BIG THANK YOU!









THE STORY BEHIND THE VIRAL VIDEO

Research @ Texas A&M has produced a video telling the story behind our video. Enjoy!

FIRST AID KIT FOR SEA TURTLES!
Coming across injured sea turtles in our line of work is very common. So after talking to my university veterinarian about the incident, we have come up with the idea to develop a first-aid kit for sea turtles together with a guide-book and a training, which researchers can take with them into the field when they are working on studies with sea turtles in remote areas. The first aid kit would be for cases like ours where a sea turtle is found with injuries or foreign objects attached to them, such as fishing hooks or fishing line or -as in our case - a straw, and medical attention is unavailable or too far away. I will use money from this GoFundMe campaign to develop the first-aid kit together with our vet.

Organizer
Chris Figgener 
Organizer
College Station, TX