Sculpture Trail at Laurelwood Arboretum - Phase II
A SCULPTURE TRAIL at LAURELWOOD ARBORETUM
YOU'RE INVITED TO OUR GRAND OPENING - SEPTEMBER 18TH AND 19TH!
TWO GREAT DAYS...TWO AMAZING EVENTS!

"FAMILY, FUN & FOOD"
Saturday, September 18 from 11:00 AM - 3:00 PM

Food Trucks, Art Projects, Entertainment - Bubble Magician, Storyteller, a LIVE Dixie Land Band , a Juggler - one, all-inclusive price per person!  

FOR TICKETS & INFORMATION 


"TOURS, BREWS, & BBQ"
Sunday, September 19 from 4:00 PM - 7:00 PM

Adults Only

Private, guided tours, live music performed by Grant Swift, a chef-prepared barbecue (and dessert) + seasonal brews provided by 7-Tribesmen micro brewery and wines. One, all-inclusive price per person!  
FOR TICKETS & INFORMATION
 

   HELP SPREAD THE WORD.....HELP SPREAD THE WORD....HELP SPREAD THE WORD....HELP SPREAD THE WORD....HELP SPREAD 


WE HAVE SOME EXCITING NEWS TO SHARE: Thanks to ALL of YOU, we've increased our fundraising goal to $100K as we've exceeded the second phase goal of our project ($50,000) and have raised, to-date from both online/offline efforts, $67K!!!!


There are now 14 works installed. The most recent sculpture is a work by Bill Barrett, "Abstraction in Flight". Our audio tour, accessible from any smartphone is up and running,  and our printed Guide will be available for our GRAND OPENING weekend, September 18th-19th, 2021 at Laurelwood Arboretum.  Please join us to celebrate this accomplishment!
Our Pop Up Gallery featuring table top works from many participating artists will be open, once again, beginning Saturday, September 18th from 11 - 3 and every weekend thereafter until the park closes on October 31.
So many people have been generous in both their financial support and of their time to bring this vision - creating a 15-piece sculpture trail - to life. If you are looking to get involved there's lots more to do by contributing to this multi-year, education and enrichment project at
Laurelwood Arboretum
.  If you're not familiar with our magnificent park, Friends of Laurelwood Arboretum, a 501(c)(3), is a non-profit entity operates a breathtaking, 30-acre public garden in partnership with the Township of Wayne. 
The 15 site-specific locations and sculptures curated by Scott A. Broadfoot, will serve to enhance the park by complimenting its landscape and serene setting. In addition to docent led tours, school-age and adult educational programs will be developed. All sculptures are available for sale through an exclusive agreement with "Broadfoot and Broadfoot, A Collection of Fine Art," Boonton, NJ. A percentage of the proceeds will be donated to the Friends of Laurelwood and be applied to a capital improvement project (a deer fence) to benefit the park.
Educational programs are being developed for long term learners both and school age children including docent-led tours and self-guided audio. 
Works from amazing artists like Harry Gordon, Bill Barrett, Robert Heinrich, Jeffrey Breslow, Ken Hiratsuka, Robert Koch,  Martha Walker, Patricia Lavin, John Ritchie, and James Tyler (see his installation in the video below).  Explore Laurelwood Arboretum and you'll realize how these works of art have been thoughtfully curated and creatively placed for you to discover and enjoy!
YOUR HELP IS STILL MORE THAN EVER
to ensure we reach our capital improvement goal and to enable us to development related programs and curriculum.  Won't you consider contributing to this exciting effort?
PLEASE DONATE TODAY
through this
Go Fund Me Page.
If you would prefer to make a donation via a check instead, please  click
HERE
  . Download a donation form and mail it in with your payment.
Interested in getting involved and help with this exciting project? Please contact us through this Go Fund Me page!


Experience the installation process of Magic in the Air," created by Jeffrey Breslow. This lyrical piece of art is fabricated from a 168" x 37" x 41" piece of Vermont serpentine along with steel and granite. Small stones suspended 14 feet in the air, are moved by gentle breezes, creating moments of magic. This complex piece was delivered on a flatbed truck and offloaded by a crane.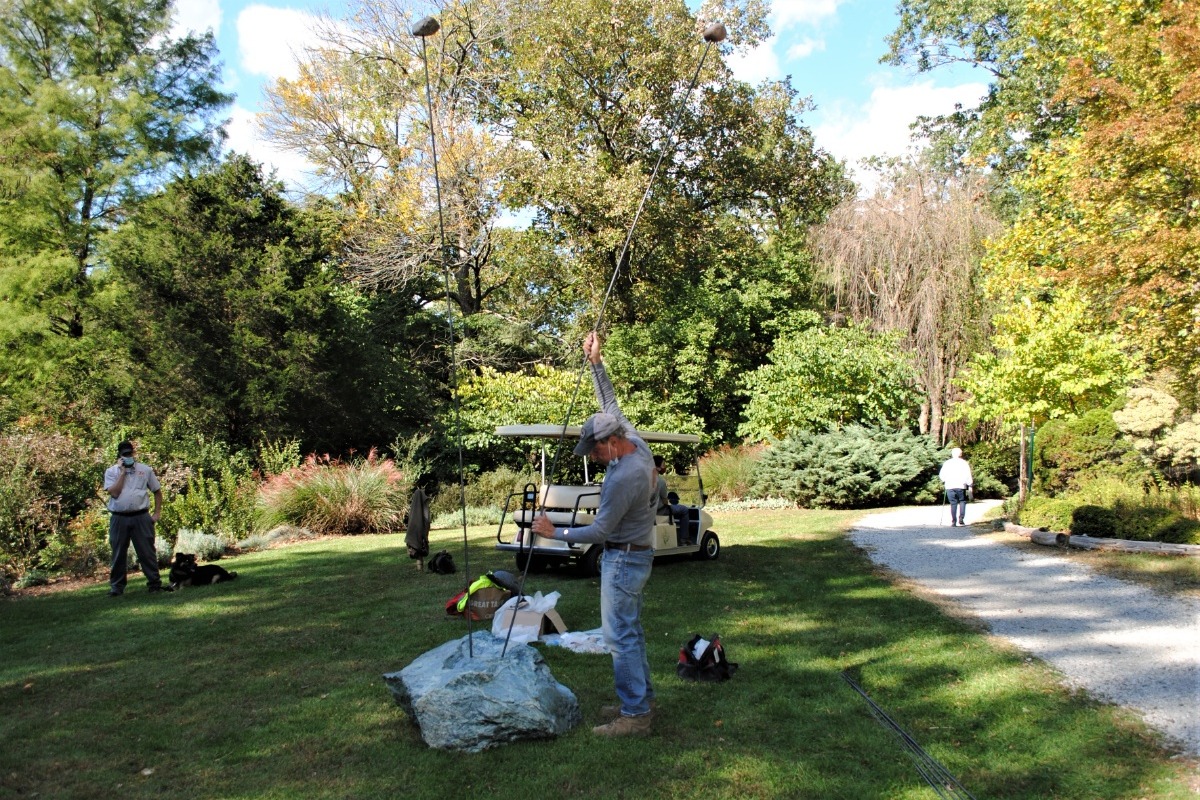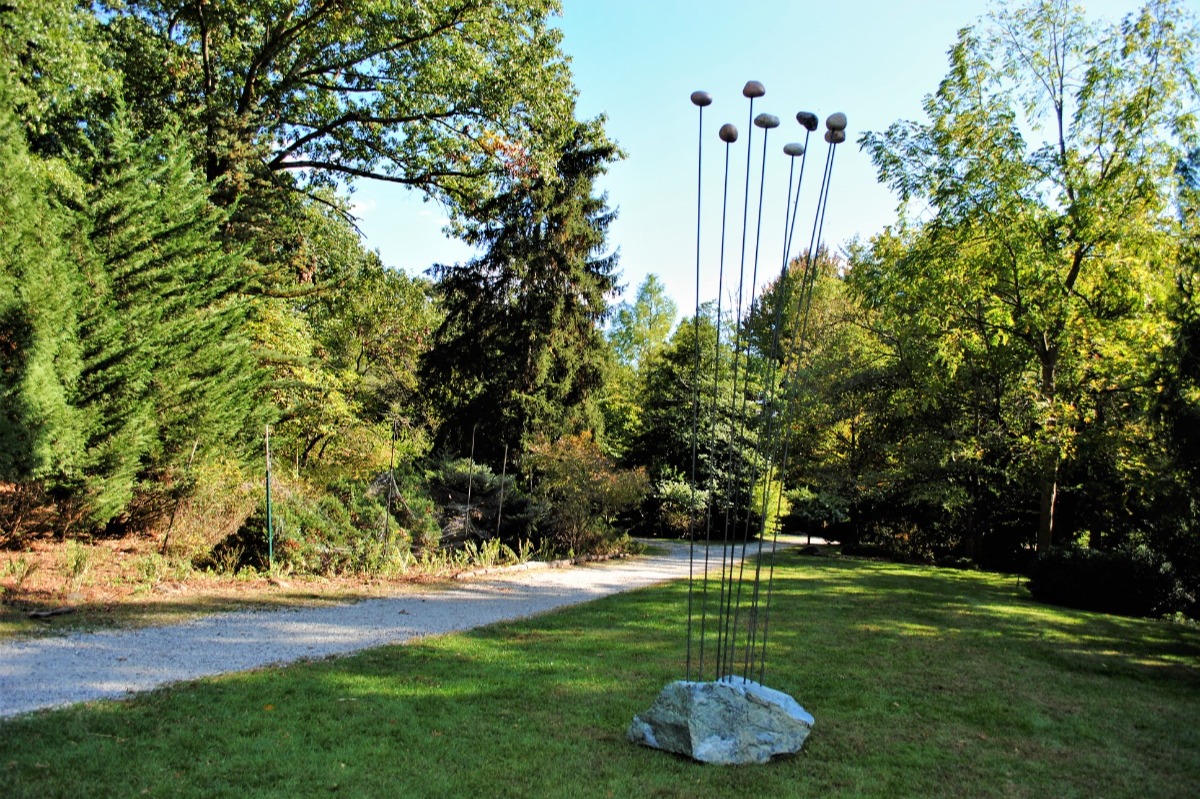 OXIDIZED POD" BY ROBERT KOCH

Removal and staging

Setting up the straps

Bolting for security

The finished piece...'seeded' in just the right place, no pun intended!




Check out the video of our very first installation by James Tyler's at Laurelwood Arboretum...so exciting!
Listen to sculptor, James Tyler discuss his inspiration for "Iyemoja" (part of the Brickhead series) and the creative process involved in creating this magnificent sculpture. 
Organizer
Leslie Reiser
Organizer
Wayne, NJ

Friends of Laurelwood Arboretum Inc
Registered nonprofit
Donations are typically 100% tax deductible in the US.